Borenstein's 25 Points Carry Huntington Over Lindenhurst
Senior Hunter Borenstein poured in 25 points to carry the Huntington boys' basketball team over visiting Lindenhurst, 45-32.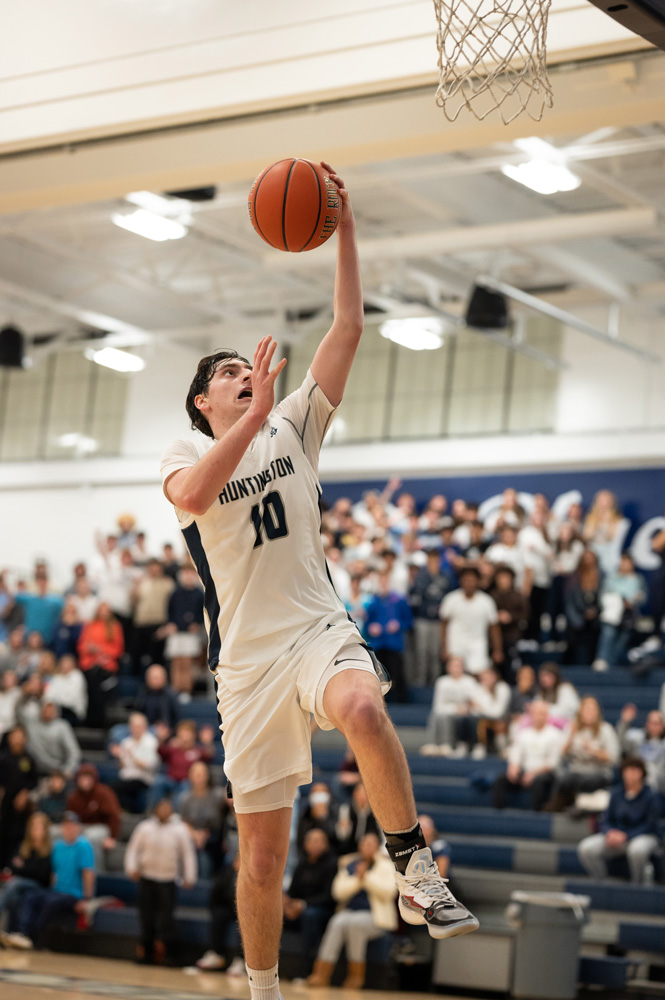 Borenstein was golden. His sharp shooting included four three-point baskets and five points from the free throw line. Senior Josh Stephen had 10 points. Junior Tom Girimonti added six points on a pair of three pointers.
A big crowd turned out for the game in Louis D. Giani Gymnasium. James Rosselli was the master of ceremonies, helping to keep fans pumped up throughout the game.
Huntington led 15-5 after eight minutes, but the Bulldogs rallied with a 13-8 second quarter run to narrow their deficit to 23-18 by halftime. The two teams battled to an 8-8 standoff in the third quarter. The Blue Devils took command in the final frame by outscoring Lindenhurst, 14-6.
First year Blue Devil coach Peter Lipka directed the action from the sideline, keeping Huntington in a defensive alignment that stymied Lindenhurst's offensive chances. Matt Curto led the Bulldogs with 12 points.
Freshman Jordan Jones also scored a basket from Huntington. Lindenhurst accidentally scored a basket for the Blue Devils in a free-for-all under the rim.
While Huntington has frequently struggled this winter, due in equal parts to varsity inexperience and injuries, the Blue Devils have never quit on Lipka and assistant coach Kevin Thorbourne. Borenstein has enjoyed several big games.
Huntington has eight games remaining. The Blue Devils host Brentwood tonight at 6:45 p.m. Huntington travels to Central Islip on Thursday for a 6:45 p.m. game. Contests will follow against West Islip, Half Hollow Hills East, Copiague, Smithtown West, North Babylon and Northport.