Supporting the Tradition of Excellence
Blue Devil Booster Club
---
Booster Club Information and Documents
About The Blue Devil Booster Club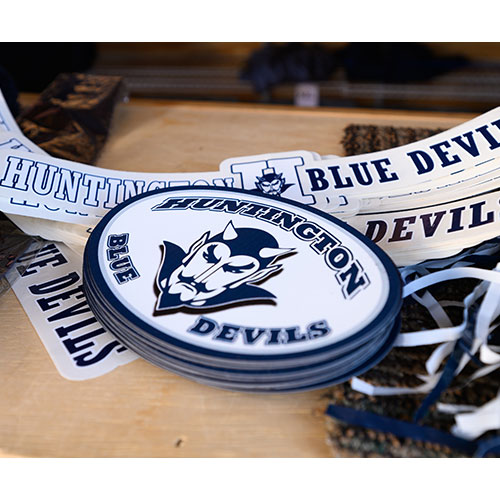 Integral Role
Through the years, the Huntington interscholastic athletics program has played an important role in the lives of students and community members. An integral part of the department of physical education, organized athletics in the Huntington School District dates back more than one hundred years. Since the inception of sports teams here, our students have won every possible honor bestowed on high school athletes.
Promote and Encourage
The Huntington Booster Club has been established to promote and encourage extracurricular activities, particularly athletic sports, for the students of the Huntington School District. The goals of the Booster Club are to provide financial support for annual awards, purchase of equipment, summer sports programs, and refreshments at athletic events and sports awards nights. The primary focus of the Booster Club is to financially enhance the district's physical education and athletic department budget in support of all sports. This is accomplished through annual membership dues and other fundraising throughout the course of the year. To fulfill our goals we ask that all families, particularly those with student athletes at Finley Middle School and the High School, support the athletic programs in the district by becoming a member of the Huntington Booster Club.
President's Message
Over the last 15 years many committed volunteers have worked to make the Huntington Booster Club a positive force. The primary purpose of the organization is to support the student athletes at Huntington High School and J. Taylor Finley Middle School. Toward this end, the group has strived to assist all of our school district's sports teams, coaches and student athletes.
The Booster Club has successfully raised nearly $1.5 million, which has been used for many purposes from funding grants requested by individual coaches to enhancing the interscholastic athletic and physical education programs for grades 7-12. The Booster Club has brightened up many of the high school fields with Blue Devil graphics and provided scoreboards at fields.
In order to maintain and strengthen the Booster Club, we are asking you to team up with us to help grow our membership. Your help and support are crucial to the continuation and growth of the Huntington Booster Club. We have found that many of the parents of our athletes are not aware of what the Booster Club does and how they can help. In fact, many of the parents of our student athletes are not members of the Booster Club. Accordingly, we are requesting that each of you become members of the Booster Club and also purchase a field banner by completing an application available online. Additionally, the Booster Club can work with your team at either the high school or Finley; your team captain or your parent representative to fulfill your team's specific clothing and spirit wear needs. The Booster Club can assist your team to find and order any items to meet your team's requirements. All profits from such sales are used entirely to support our sports programs.
The Booster Club exists solely to support the student athletes of the Huntington School District.
Please join the Booster Club and attend our events. Feel free to contact me directly with your ideas. Learn more about the Booster Club by visiting www.huntingtonboosterclub.com.
Sincerely,
David Evans
Booster Club Officers
President: David Evans
Treasurer: Wayne Ackerman (assisted by Paul Knieriem)
Grant Coordinator: Sharon Bilkey
Secretary: Susan Fallon/Bridget Vohs
Events: Susan Fallon/Bridget Vohs
Merchandise: Lauren Meagher/Carolina Addeo
Finley Coordinator: Liz Matthews
Marketing: Devon Perotti
Summer Camps: Timothy Madden
Booster Club Associate Members
Frank Rinaldi
Scott Mitek
Tom Galvin
Tom Carlson
Steve DiGioia
Blue Devil Booster Club Videos and Galleries
Blue Devil Booster Club
A Promotional Film - By Madeline Meidenmen and Nate Deegan
Finley Middle School Basketball Courts
A timelapse video of the reconditioning at Finley Middle School.
200+
Challenging Academic Courses
30+
Interscholastic Athletic Teams
90+
Colleges and Universities accepting 2020 HHS Graduates