Junior Harry Baliber Does it His Way
Once Harry Baliber puts on a Blue Devil uniform, he transforms from the mild-mannered teenager that has gained the affection and respect of his classmates and teachers to a hardnosed competitor that plays to win with the Huntington High School basketball and baseball teams. The junior is an all-around good guy with a great sense of humor and he earns good grades, too.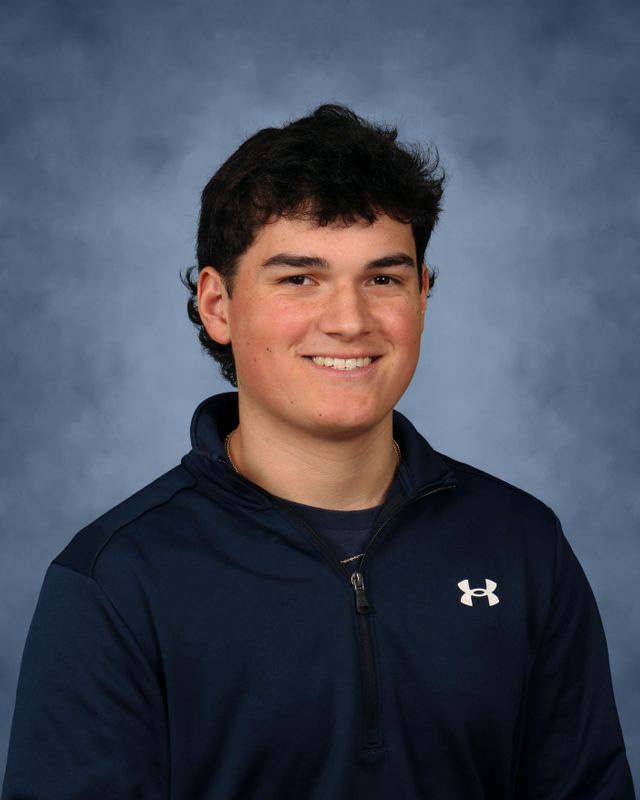 Mr. Baliber has always been athletic. His talents were obvious as early as kindergarten at Washington Primary School. He's grown into a confident young man who coaches and teammates can depend on when the chips are down.
The teenager has many friends, to be sure, but he also counts faculty members among his admirers. Mr. Baliber has developed close relationships with teachers Jennifer Fazin and Itzel Cedillo-Rosas.
"I had Mrs Fazin my freshman and sophomore year for Studio in Art and Creative Crafts," Mr. Baliber said. "She made those classes very enjoyable and I am still very close with her this year. Another teacher that has taught me a lot is Ms. Cedillo-Rosas. I have her this year for Spanish 4 and she has made learning the language a lot of fun. I look forward to her class every day."
The junior is also close to Blue Devil coaches Billy Harris, Rob Cappas and Peter Lipka. "Coach Harris and Cappas are my baseball coaches and they make baseball season fun and have taught me a lot," Mr. Baliber said. "Coach Lipka is my basketball coach and he has helped me improve my game on the court."
Mr. Baliber is starting to think about college and career possibilities. While he's still a long way from finalizing his plans, the broad outlines of his future are taking shape.
"I'm not really sure what college I want to go to yet," Mr. Baliber said. "All I know is I hope to stay in the northeast and play baseball in college. For majors, I hope to stay in the area of sports. I'm interested in majoring in sports management or physical education, but I am open to other options."
The teenager is currently playing on the Blue Devil varsity basketball team and he's slated to be the starting catcher on the varsity baseball team in the spring. He also plays third base.
Mr. Baliber volunteers with high school's Habitat for Humanity chapter and was chosen by his classmates as a Natural Helper, assisted fellow students who are navigating their way through challenging personal and family situations. He was recently inducted into the National Honor Society.
"Natural Helpers has made me grow closer to a lot of people, especially Mrs. [Stacey] Byrnes, who is great to be around and always makes my day better," Mr. Baliber said.
The junior has always prioritized his academics and this year in no different. He is enrolled in a full schedule of classes, including a pair of Advanced Placement courses.
"This year, I am taking Advanced Placement English Language and Composition, AP U.S History, Pre-calculus, Virtual Enterprise, Chemistry and Spanish 4," Mr. Baliber said. "Virtual Enterprise has been my favorite class so far. I have learned many useful business and sales tips that I can use in the future."
Huntington's Class of 2024 wouldn't be complete without Mr. Baliber as a member. "My experience at Huntington High School has been great," he said. "I have made a lot of great friends and had many great moments, but one that stands out was winning the Suffolk County baseball championship during my freshman year."
Outside of school, the teenager likes to keep busy. "I spent last summer hanging out with family and friends as well as playing a lot of baseball," Mr. Baliber said. "My team went all over Long Island and went to some out-of-state tournaments in August. My family and I also took a trip to Bethany Beach, Delaware before the school year started."
While June 2024 is still far off, Mr. Baliber's mind sometimes drifts off to what the future might hold. He has goals and high hopes.
"In 10 years, I would love to be working for a professional sports team," Mr. Baliber said. "It's my dream to work for the New York Yankees so I hope to accomplish that."