Trip to New Orleans Reinvigorates Habitat Volunteers
A recent trip to New Orleans, which has never completely recovered from the wrath of Hurricane Katrina in 2005, reinvigorated a group of Huntington High School Habitat for Humanity chapter members, who gave up their mid-winter vacation to volunteer and help construct a home for a family in desperate need of housing.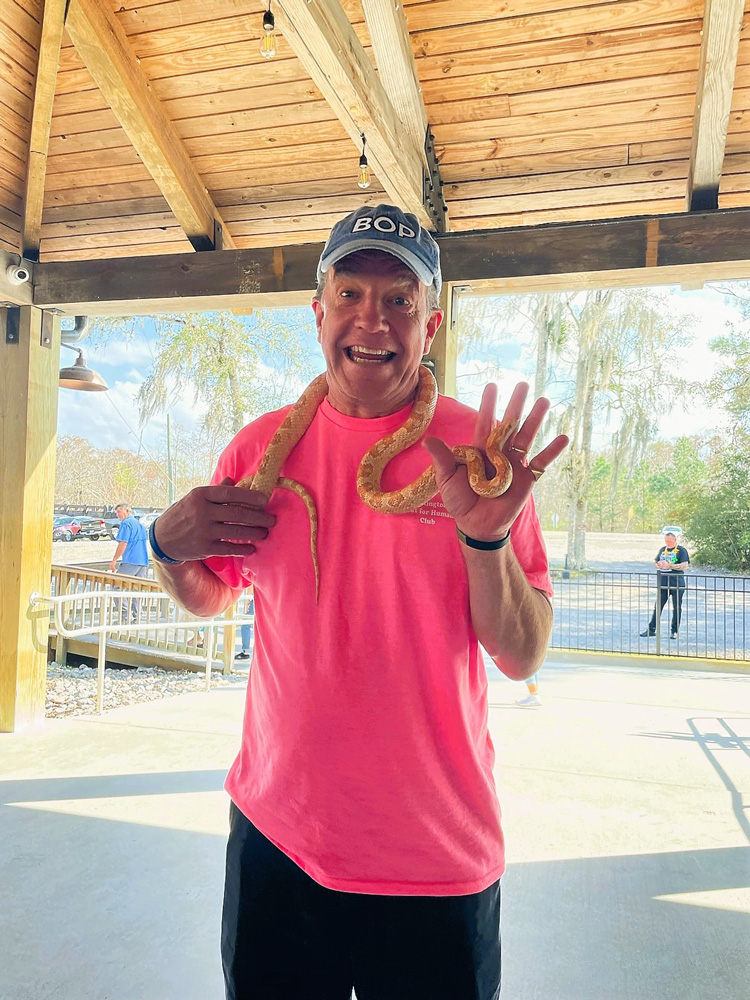 The student volunteers included Sana Amin, Anna Bell Young, Tyler Godin, Timothy Kusterbeck, Chase Williams, Kyle Andrea, Zaida Correal, Rylee Davis, Sophie Bradford, Megan Donaghy and Olivia Polinsky. The group was led by founding faculty advisor Robert Gilmor III and high school science teacher Sarah Hall.
This year's membership includes dozens of Huntington students, who are led by an executive board that features Olivia Polinsky (president), Victoria Befumo (vice president) and Sana Amin (secretary).
"New Orleans was such a great time," Ms. Polinsky said. "Our group volunteered at a Habitat for Humanity ReStore warehouse for three days and built enough walls, doors and windows for a two-family home. After the last day of building, the site leader took us for a tour of some of the Habitat homes in New Orleans. It was so rewarding and incredible to see both the Habitat homes, which had been built since Katrina and the broken levee and where the house we worked on is going to stand."
In their spare time, the group went to a Mardi Gras parade, took a swamp boat tour, visited the French Quarter and Tulane University and sampled the local cuisine.
"Overall, I had an amazing time on the trip," Mr. Kusterbeck said. "Not only did I get to help out Habitat for Humanity, but I also got to experience what New Orleans is like during Mardi Gras and enjoyed the great food. I loved learning how to build the house walls and seeing it all come together. It was a great experience and I highly recommend it to anyone who is considering doing it next year."
Habitat for Humanity is a worldwide organization dedicated to eliminating poverty and homelessness by building housing side-by-side with those in need.
"I had a wonderful experience in New Orleans," Ms. Davis said. "I loved the opportunity to visit another city and learn about its unique culture. Our time working on houses for Habitat for Humanity was truly a highlight of my year. I developed new skills and enjoyed the chance to serve the community. I also gained new friendships and strengthened current ones. Overall, it was an extremely rewarding trip and I am so grateful I was able to go!"
The Huntington chapter dates to 2003 when Mr. Gilmor was hired as a high school dean. He organized the club, which included a very energetic and enthusiastic group of young people who helped the group establish a foundation that has proved to be solid.
"I had a great time in New Orleans," Tyler Godin said. "It was a great experience working as a team to help make wall frames for a future home. Mr. Gilmor really planned the trip out well and kept us busy and having fun."
Those who journeyed to New Orleans aren't likely to ever forget the experience.
"I had a really great time on the Habitat trip," Ms. Young said. "In three days we finished all the walls for a house that is going to be built in the lower Ninth Ward of New Orleans. It was definitely a lot of work during the day, but Mr. Gilmor and Ms. Hall balanced that with great food at night in the French Quarter. Being a part of Habitat for Humanity in New Orleans is extra special because everyone down there knows the impact the organization has had since Katrina. Our group received a lot of 'thank you's.'" We all had a great time and laughed a lot."