H-ton Duo Exhibiting Art at Nightmare on Main Street
A pair of sensational Huntington High School students have been tapped to display their artwork in the Huntington Arts Council's Nightmare on Main Street exhibit.
Huntington High School artists Natalie Parrott and Jack Semelsberger are both exhibiting outstanding pieces in the show, which runs through November 12 at the Main Street Gallery at 213 Main Street in Huntington village. Eleven other Huntington UFSD students submitted works to be judged.
The exhibit drew almost 200 individual pieces from 145 artists. It's one of the highest submissions in the history of the show. Juror Lauren LaBella chose 41 pieces to be featured in the exhibit.
The Main Street Gallery is open on Tuesday through Friday from 11 a.m. to 4 p.m. and by appointment at other times. Call in advance for visitation on Saturday and Sunday.
Nightmare on Main is a themed show. Long Island students in grades 6-12 were asked to submit original artwork reflecting their interpretation of Halloween.
Each year the Nightmare on Main Street call to artists includes a statement from the juror to inspire the students to broaden their artistic interpretation of the Halloween inspired exhibition. This year, Ms. La Bella chose the following:
"During the Bubonic Plague, the Plague Doctor became a momento mori, a symbol for one's last earthly moments, as this was usually the last thing a person would see before meeting their death. The long beak of the mask was filled with herbs and spices that were believed to filter out the "bad spirit", protecting the wearer from those he was visiting; the long, waxy coat and hat protecting their skin and clothes underneath. A long staff was used to make contact with the bodies without having to touch them directly. This ominous uniform, once functional and commonplace, became a masquerade costume for those celebrating the Venetian Carnival, a time where one could conceal their identity while partying and living freely for a short time, once a year. This frightening yet beautiful disguise was just one of the many characters to choose from. Similarly, Halloween is a once-a-year opportunity to disguise yourself or be unknown, and to celebrate the darker parts of life. In the medium of your choice, show us how you interpret these concepts."
Jack Semelsberger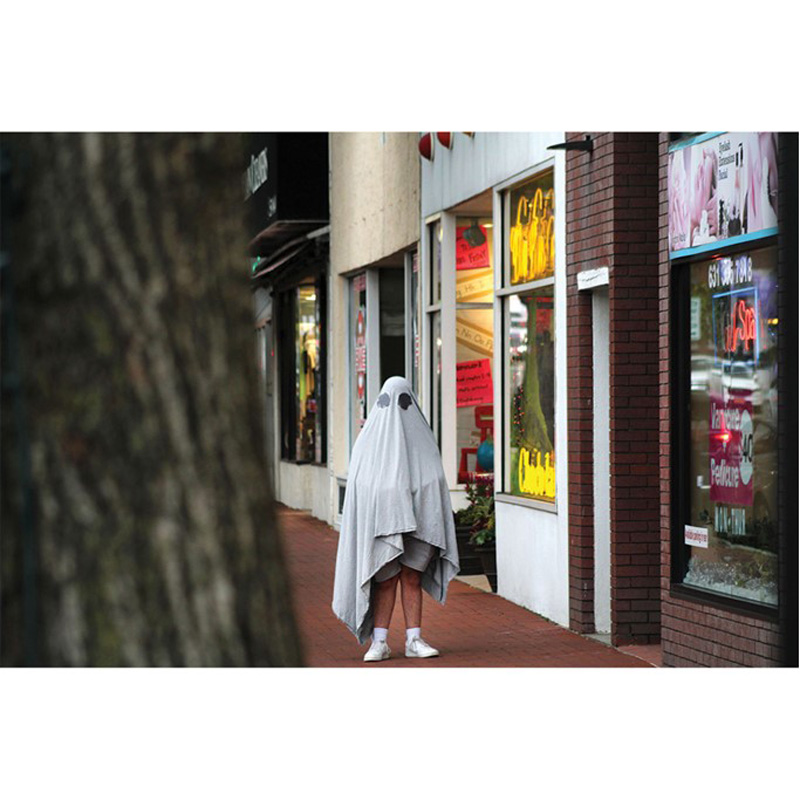 Titled "Main Street," Mr. Semelsberger's photograph measures 12" x 8" and sells for $50 without a frame. "The image presented in this show is a classic childhood 'bedsheet ghost' on Main Street, Huntington, NY," said the teenager in an accompanying artist's statement. "I find the idea of a nightmare-ish creature like a ghost living a normal life, very amusing and interesting to look at visually. Seeing a classic horror creation live an ordinary life, exploring Main Street in Huntington creates an interesting juxtaposition. The angle the photo was taken at creates a feeling of "capturing" the ghost, as a classic ghost hunter would."
Natalie Parrott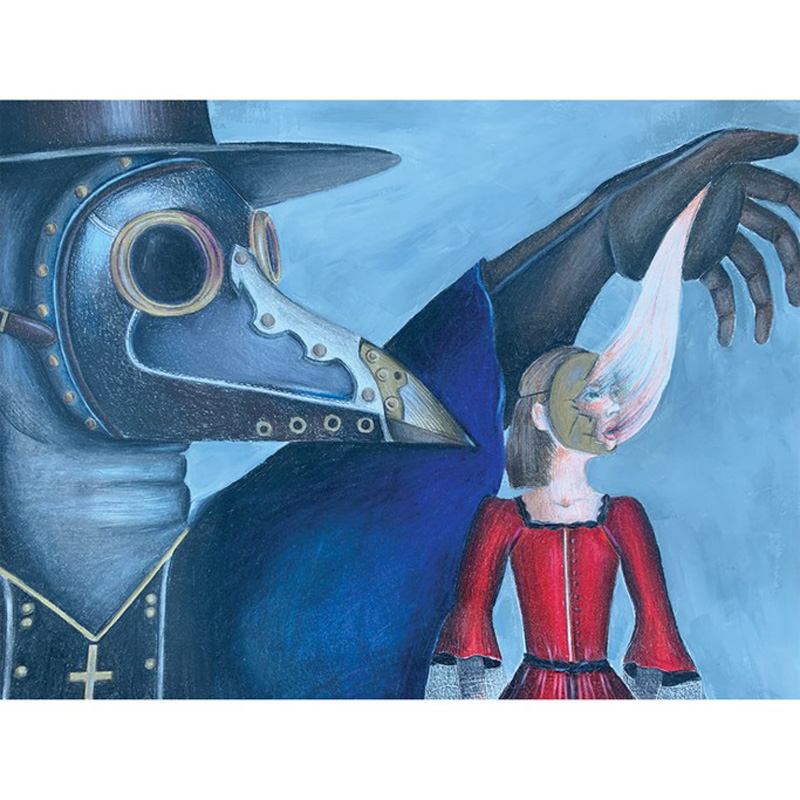 Titled "Extraction," Ms. Parrott's colored pencil and gouache paint piece measures 11"x14" and sells for $60.
"In my artwork," I depict a plague doctor in mainly blues and greys, resembling the cold, lifeless ideas it represents: death and lack of identity," said Ms. Parrott in an artist's statement. "In the mask's goggles, you see a slight red reflection of the woman in the right. She represents life with her warm colors or red, brown and beige. Her dress can be recognized as one which might be worn in a venetian carnival. She is wearing a mask to cover her identity, however the plague doctor is taking her identity, or her soul, from her. This represents a few ideas: the first one being the fact that plague doctors would be the last thing that people saw before they passed away, making them a sign of death. Therefore this work can be interpreted as a depiction of how many men and women died while under the care of plague doctors.
"The second idea would be that the plague doctor's masks are currently used as a symbol concealing your identify. In this artwork, the plague doctor is removing the woman's identity to represent this fact."