November 22 , 2022
A familiar face around Huntington UFSD is leaving. Woodhull Intermediate School Principal Scott Oshrin will depart next week. He has been appointed as an assistant superintendent in Commack. A transition is currently underway.
Woodhull's principal since July 1, 2021, Mr. previously served as Southdown Primary School's principal beginning July 1, 2014. He earned a Bachelor of Arts degree in sociology at Ithaca College in December 2004 and a Master of Science in elementary education at Dowling College in August 2006. He obtained state certification as an administrator through Stony Brook University in August 2012.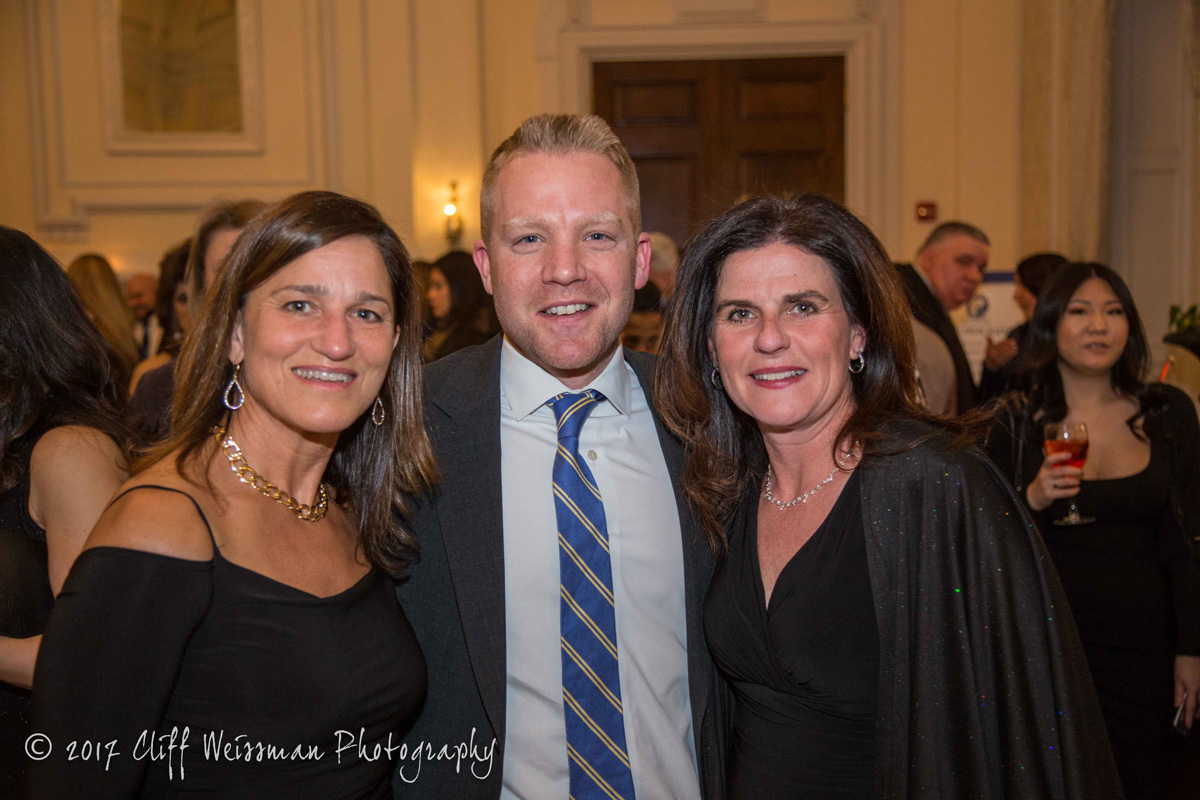 Huntington principals Donna Moro, Scott Oshrin and Traci Roethel at the 2017 HFEE gala. (Cliff Weissman photo.)
Mr. Oshrin has been appointed to serve as Commack's assistant superintendent for human resources, effective December 1. His final day at Woodhull is Wednesday, November 30.
"I'd like to thank Mr. Oshrin for his years of dedicated service at both Southdown and Woodhull," Huntington Superintendent James W. Polansky said. "I am sure he will always recall with great fondness the relationships he has built with students, staff and colleagues during his years in Huntington. On behalf of all of us, I wish him well as he takes on his new role and am sure he will approach it with the same level of commitment and professionalism as he demonstrated here."
During his years in Huntington UFSD, Mr. Oshrin has developed many fruitful relationships, including closely collaborating with Mr. Polansky.
"I would like to thank Mr. Polansky, his cabinet and the board of education for giving me the opportunity to serve as a principal in Huntington since 2014," Mr. Oshrin said. "I would also like to thank the faculty and staff at both Southdown and Woodhull. It has been an absolute pleasure to work alongside each of you. I have learned and grown so much as a result of working with such a dedicated group of educators."
Prior to coming to Huntington, Mr. Oshrin served as assistant principal of Birch Elementary School in the Merrick School District for three years. He spent five years as a classroom teacher and as a math and reading academic intervention services teacher at James H. Vernon Elementary School in the Oyster Bay-East Norwich Central School District.
"What makes Huntington so special is the amazing group of students and families," Mr. Oshrin said. "I am thankful and proud of the relationships built within the community. I am also proud to have worked with all of the Huntington principals, directors, and chairs.  Huntington students, staff, and families are lucky to have your leadership."
Huntington School Board members have appointed Stephanie Campbell to serve as Woodhull's new principal. She is currently working with Mr. Oshrin to insure a smooth changing of the guard.
"Congratulations to Mrs. Campbell on her appointment as the new instructional leader of Woodhull," Mr. Oshrin said. "After spending some time helping to prepare for her transition, I have no doubt that she will be a fantastic addition to the school. I wish her many years of happiness and success in Huntington."
Mr. Oshrin is an active member in a number of professional learning organizations. He is also president of District School Principals Association, the professional organization of Huntington UFSD's administrators.
"I look forward to seeing all of the amazing things taking place in the district through the website," Mr. Oshrin said. "Please accept my sincere appreciation for your support through the years."