November 10 , 2022
Last weekend's Huntington High School drama club production of "Almost, Maine" was a success by just about any measure. The show brought audiences to its feet and it left the actors and stagehands feeling exhilarated.
Huntington drama club faculty advisor Michael Schwendemann was show's director and he also handled musical staging. Michael Zignon was the technical director and Victoria Hart was the student director. Carrie Semelsberger and Michael Schwendemann coordinated set dressings. The stage backdrop is from Grosh Backdrops & Drapery and Carrie Semelsberger and Aria Hannah headed the costumes department.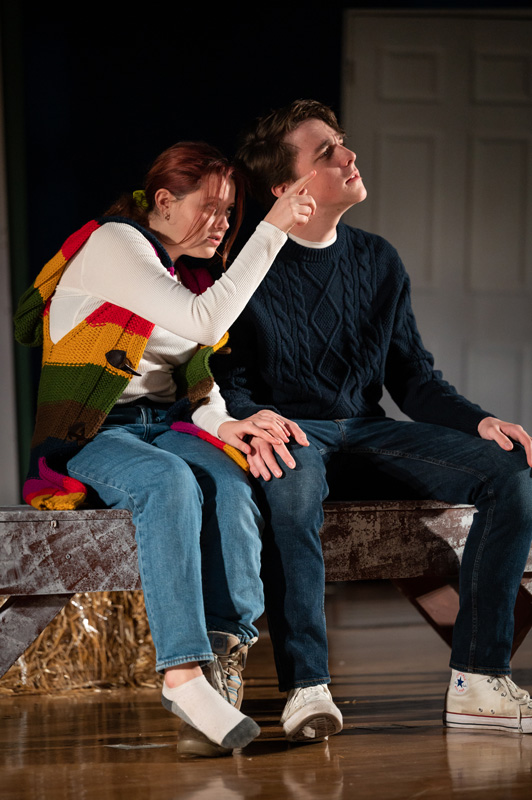 The show was a lot of fun for both the cast and audience. (Darin Reed photo (1)
The cast included Layna Abraham, William Berry, Dylan Brinn, Michaela Dopico, Landry Flynn, Mason Gomez, Emily Kustera, Maggie O'Toole, Sofia Rodriquez, Alexa Schirripa, Kyra Scott, Jack Semelsberger, Sam Soric, Josephine Sullivan, Lily Tierney, Alex Tine and Sophia Tine.
"I think everything went really well this fall with the show," Ms. Dopica said. "Everyone worked really hard and it all came together really nicely, with the set, props, costumes and acting."
The stage crew consisted of Ethan Ambrosio, Lily Froggatt Bale, Kellee Benitez, Hannah Byers, Ada C., David Chavez, Koi Crowder, Dianna D., Katerina Damiano, Rihard Davis, Annika Galvin, Jonah Gillenwater, Sofia Gomez, Mariana Diaz Gonzalez, Matthew Jimenez, Clarissa Marcelino-LaQua, Danielle Mendikyan, Rachel Learned, Renata Meiram, Ibukun Olabomi, Reina Andrade-Ortez, Jillian Pascucci, Toni Reyes, Deandre Simmons, Anne Tyrrell and Madeline Zelaya.
"I thought the show went great," Ms. Kustera said. "It was such a fun experience and I was so grateful to work with an incredibly talented cast. Despite all the challenges we faced along the way, I think we put out a pretty wonderful production and I'm so thankful to all those who came to see it."
As usual, the final week of rehearsals ratcheted up the pressure for perfection and everyone associated with the play came through in stunning fashion.
"I think everything went beautifully regarding the show," Ms. Rodriguez said. "Mr. Schwendemann never fails to do an amazing job directing. Our cast was incredibly talented. Our stage crew was dedicated and got the job done and the whole process from auditions to closing night, was some of the most fun I've ever had. It was a really wonderful experience and I'm so grateful to have been a part of it."
Always a perfectionist and worrier, Ms. Schwendemann was remarkably relaxes in the days and hours before the actors took the stage. The veteran director must have known he had a smash hit on his hands.
"I feel that everything went really well this fall with the show," Ms. Sullivan said. "Everyone worked really hard to help put on an amazing performance."
Everything just seemed to click during all three shows spread over Friday and Saturday.
"I think the show went great," Ms. Schrippa said. "Like all things we had our ups and downs, but in the end everyone worked together as a team to put on something we are all proud of."
The cast included some new faces along with veterans of past productions who are high school acting powerhouses.
"I feel like the show went really well overall," Ms. O'Toole said. "We all worked really hard and everything fell into place very nicely. Although we had our hiccups along the way, it turned out great and I'm so proud of everyone!"
The Huntington High School was an enchanting place to be on Friday and Saturday nights as well as at the Saturday afternoon matinee, to which local senior citizens were invited to attend for free.
"I feel everything went really well," Ms. Abraham said. "I am so proud of how everyone did and I'm beyond excited that all of our hard work paid off."
How does the high school drama club manage to hit the ball out of the park year after year? No one knows the secret other than talented teenagers who work hard and are guided by a master of the stage in Mr. Schwendemann.
"I think this year's production went very well," Ms. Scott said. "The cast director and stage crew did an amazing job at making this play work. I'm so excited to start working on the musical this spring with all of my old and new drama club friends. I also look forward to meeting all the new incoming freshmen."
Everyone associated with the play put their heart and soul into the production and by Saturday night the entire group was exhausted.
"I feel like Huntington High School's fall play 'Almost, Maine' went really well," Mr. Gomez said. "The feeling and pacing of it all was great; very professional. 'Almost, Maine' is my first play performance at Huntington High School, so I'm so excited for what comes in the future."
Huntington's drama club continually "ups its game," and sets the bar just a little bit higher for future productions. Club members thrive on such challenges.
"I think that the play turned out phenomenal," Mr. Brinn said. "Working with Mr. Schwendemann is always a pleasure and I think the cast really worked their butts off to make this show the best it could be. Mike Zigon, the stage crew director, and his crew really helped the show be the best it could be. This is definitely one of the best drama club productions I've had the pleasure of being a part of."
As the cast and crew walked out of the high school auditorium late Saturday night a sense of satisfaction permeated the atmosphere.
"I feel like in the end, the show really all came together," Mr. Flynn said. "The cast and crew did a terrific job, which was reflected by the audiences' phenomenal reaction."