November 7 , 2022
Junior Reese Rinaldi and seniors Gianna Forte and Hope Bilkey all claimed All-League honors and helped pace the Huntington High School varsity girls' soccer team this fall.
The Blue Devils faced serious challenges in an inordinately tough league, but the players did their best and represented Huntington well. The 24 player squad was coached by John Walsh and Vincent Tannazzo. Forte and Bilkey were the team captains.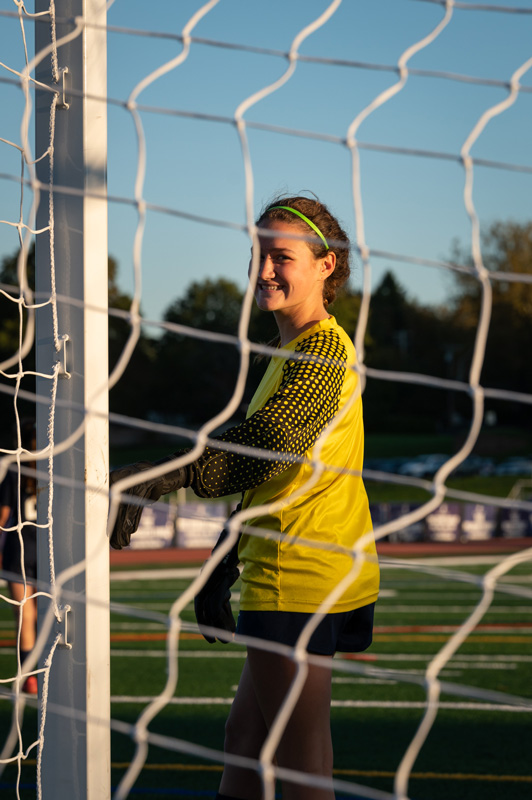 All-League goalie Reese Rinaldi. (Darin Reed photo)
"We were a young team that had a hard time competing with more experienced teams," Walsh said. "We believe our young players will grow together as we move forward."
Forte and Bilkey have been mainstays on the field for the varsity for several seasons. They both played their hearts out for Huntington as seniors. "Hope was able to run down some breakaways by our opponents and Gianna took all of our free kicks, which worked out well," Walsh said.
Rinaldi also played well as the team's goalkeeper. "Reese grew as a goalie and kept us in some games," Walsh said.
The team raised monies for the American Cancer Society and also staged a practice at J. Taylor Finley Middle School and then stayed and watched the seventh and eighth graders play a game.
The addition of a second girls' soccer team at Finley is expected to pay dividends in the near future. "Having two teams will make a great impact on the program," Walsh said. "The two coaches are on the same page as I am." The second team allowed twice as many players to participate this fall.
Huntington will be losing Forte, Bilkey, Sana Amin, Gabriella Miller, Soraya Ortega-Salgado, Jillian Panos, Neha Rathore and Brenda Salvador.
The Blue Devils will return eighth grader Ava McDonald; freshmen Ruby Hoffman, Cameron Smith and Jolie Weinschreider; sophomores Jamie Garcia Sorto, Kaylee Smalling and Devon St. John; and juniors Veronica Cocoman, Katherine Estrada-Morales, Emersen Evans, Yuliana Hernandez-Perla, Jessica Maixner, Caroline McGreevy, Lily Mitek, Riley Murtagh and Reese Rinaldi.