November 7 , 2022
The J. Taylor Finley Middle School football team was a work in progress from the first day of the season to the final whistle. The squad grew in size and skill and battled its way through the highs and lows that come with the sport.
Finley was coached by teachers Jordan Ioviero, Greg Dieterich and Jonathan Garland. Brendan McNulty, Erick Anariba, Blake Bender, Richardo Berry and Colby Curran were the team's captains.
"When the season first started, we had 37 players," said Ioviero, the team's head coach. "The coaching staff and all of the players went around the school and tried to recruit as many players as we could to join the football team. Within a week that number went up to 55, and by the end of the season we had a roster with 56 players on the roster."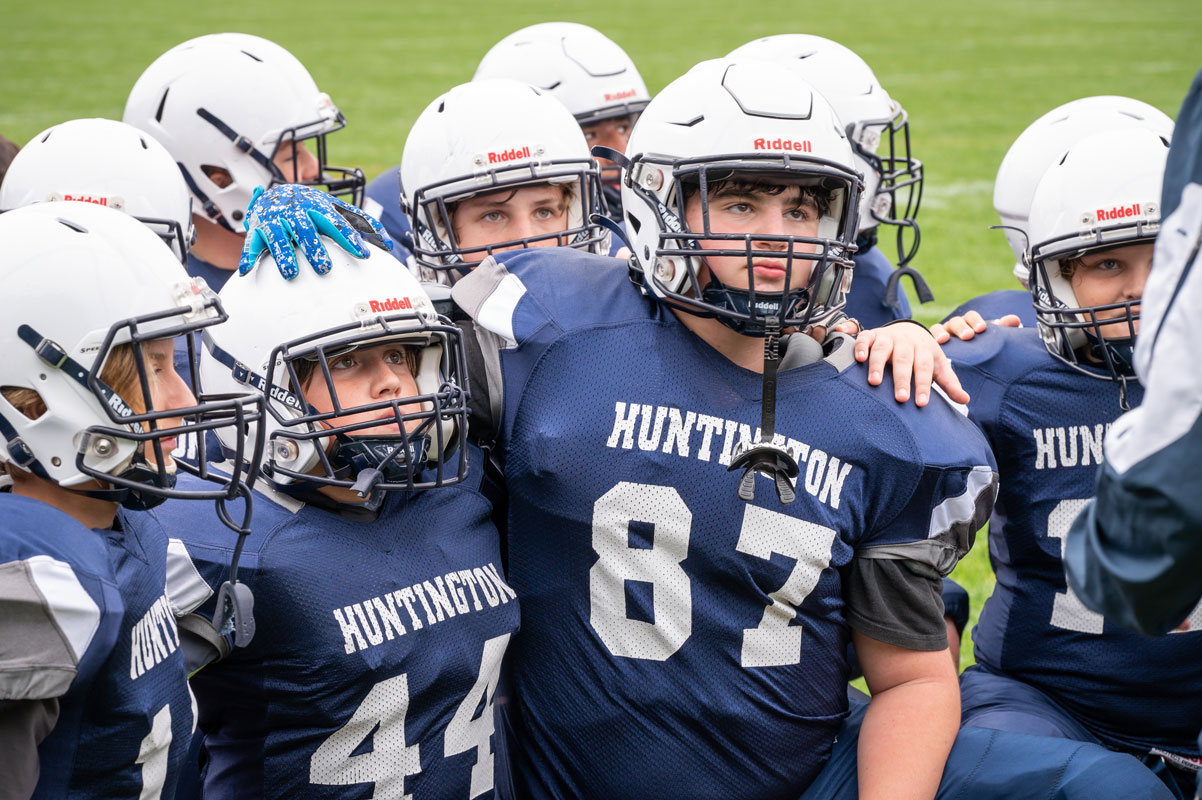 Finley football players had each other's backs. (Darin Reed photo.)
Finley's "A" team consisted of Erick Anariba, Blake Bender, Ricardo Berry, Rasiere Blizzard, Alex Castro-Simpson, Edgar Castro, Colby Curran, Patrick Hassett, Zach Matthews, Brendan McNulty, Shates Miller, Joseph Rivers, Eli Rodriguez, Charles Rosselli, Darwing Ruiz Meza, Shamell Spratley, Patrick Tortora and Ryan Waters.
The "B" team featured Victor Aviles, Nicholas Bartasi, Marcus Brewer, Ben Burke, Elias Caldwell, Nikolay Caldwell, Hayden Cantave, Rocco Caruso, Luis Chavez, Aidan Collins, Alex Colonna, Jude Creegan, Micah Cummings, Marcello Dhir, Dylan Diaz, Kingsley Evans, Joshua Garcia, Braedan Kline, Brady LaCosta, Jack Larson, Edgar Loeza, Logan Mazure, Dylan Michaelson, Jeramiah Miller, Grady Mindich, Jory Morgan-Page, Jordan Nuefville, Daniel Piaz, Matthew Pepe, Trevellyan Peters, Wesley Preville, Jeremy Ramirez, Mario Redondo, Jose Walter, Brett Wilson, Sha'Quan Wilson and Kevin Zuniga.
"Our best team accomplishments this year were our two wins against Stimson and Nesaquake," Ioviero said. "Against Stimson, our team rushed for 281 yards and two touchdowns. We threw for 131 yards, two touchdowns, and a two point conversion. Our defense posted a shutout as we went on to win the game 25-6. The following week we faced Nesaquake. With under a minute remaining in the game, the score was tied 6-6. With the game on the line, Rasiere Blizzard scored on a 68 yard touchdown run to secure the win for us. That run was the most exciting moment in our season."
The roster included many first year players. "Everyone worked hard six days a week and practiced in the pouring rain to make sure they improved their skills," Ioviero said. "The players were determined to get better and came to practice on their days off to watch film and to get better as a team. Watching our games taught the players what they needed to do to improve and helped us prepare for our opponents."
Finley dropped its first two games, including a close contest at Candlewood. "By week three we started to put it together," Ioviero said. "We went on to beat a very good Stimson football team. They brought a lot of pressure and our team captain and quarterback Brendan McNulty handled it with great poise. He helped lead us to a 25-6 win against our crosstown rivals. Unfortunately the following week he injured his elbow in practice, which caused us to have to make several changes and adjustments. The following week we won 12-6 in a thrilling win within the final minute of the game. The week after that we tied 6-6 and in our final game we lost a close game 15-6."
Ioviero said the Finley defense "played great football" over the last four games of the season. In three consecutive games, the defense held opponents to only six points in each contest. "The coaching staff is very proud of how well they played," Ioviero said.
The season kicked off on the first day of school and ran for almost two months. "I would like to thank my assistant coaches Greg Dieterich and Jon Garland for all of their hard work and dedication to the football team," Ioviero said. "We will miss this fine group of young men as they move on to play football at the high school level. It was a special year, filled with great memories, some of which included team breakfasts and film sessions, pizza parties, marching in the homecoming parade as a team and countless other great experiences throughout the daily football grind together."