May 18, 2022
No one who performed in last Friday night's K-Factor talent show at Huntington High School will ever forget the experience and neither will anyone in the large crowd filling the auditorium.
Staged by the high school's Key Club chapter and generously supported by folks of all ages across the community, the event showcased dozens of talented performers and raised funds to benefit kids fighting cancer at Stony Brook Children's Hospital and their families.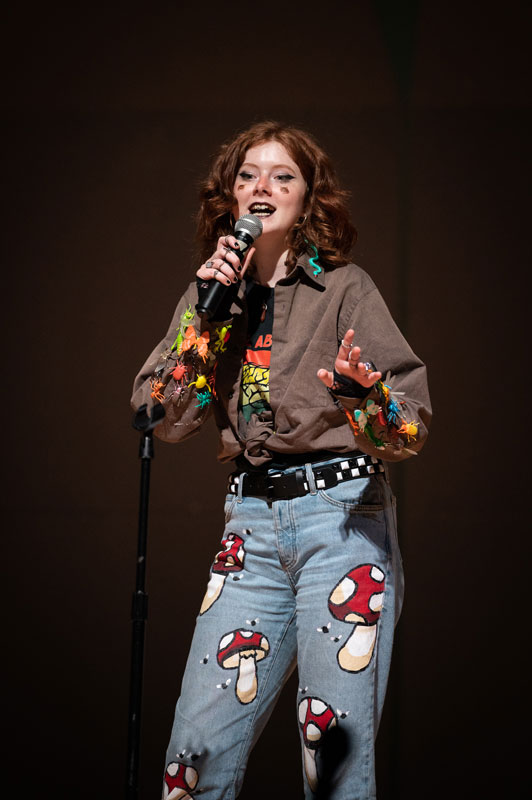 Exceptional performers helped K-Factor raise thousands to benefit kids with cancer. (Darin Reed photo)
"Friday's show went extremely well," Key Club President Charlotte Cheshire said. "We are all so proud of all the performers, members and officers who helped to make it such a special night. The set list was full of so many unique performances, which made each act enjoyable. There was this tangible feeling of joy from everyone in the auditorium to be a part of such a special event and to be together like this for the first time in two years. So many students, families and alumni came to show their support."
The COVID-19 pandemic prevented the show from being held in the auditorium for several years. Organizers could only guess at how turnout would be for this year's edition, so when throngs arrived and filled the large space spirits soared.
"The show has become such a staple in our community that people continue to come back every year, show their support and watch such a fun show," Ms. Cheshire said. "Ashley Genao won first place, which was a full-circle moment because she won her first year performing as well! Naysa Escobar and Zaida Correal won second place and Josie Sullivan won third. Mrs. [Kelly] Krycinski and Mike Zaigon played their new song, 'Lift' to begin the second act."
Ms. Escobar and Ms. Correal concluded their thrilled dance performance by honoring CC, a young girl who is undergoing treatment at Stony Brook Children's Hospital. The Huntington teenagers presented the youngster with flowers.
This year's show was once again dedicated to Rachel Antorino, the daughter of Huntington High School English teacher Aimee Antorino. Rachel lost her battle with leukemia in August 2018 when she was only 14 years old. In her memory, Ms. Antorino created the foundation, Rachel's Dance for the Cure to help relieve the financial burden placed on families of pediatric cancer patients.
Visit www.rachelsdanceforthecure.org to learn more about Rachel's Dance for the Cure, which accepts donations year-round.
To view the program, act titles and show details click on this link:
https://www.canva.com/design/DAE7tHj6EyQ/q3x-tEamMsz4J0y5HkGnZg/view
"I am so thrilled about how K-Factor went," Key Club Treasurer Alexis Kaloudis said.  "Our Key Club did a fantastic job. I'm really grateful to everyone who helped out. I want to give special thanks to Mrs. [Patrice] Boyle for her help in selling tickets. All of the performers were incredible; thank you for putting on an awesome show. I am proud to have been involved in such a successful show for a great cause."