July 27 , 2022
The Huntington High School junior varsity baseball team was versatile this past spring. First its hats didn't arrive for the season and then its new uniforms failed to show. But the Blue Devils showed up and made the most of it under first year head coach David Moriarty.
Several snafus came together to torpedo the team's uniform and hat order and rainy weather interfered with numerous scheduled practices and games. But through it all, the 13 players and their coach soldiered on.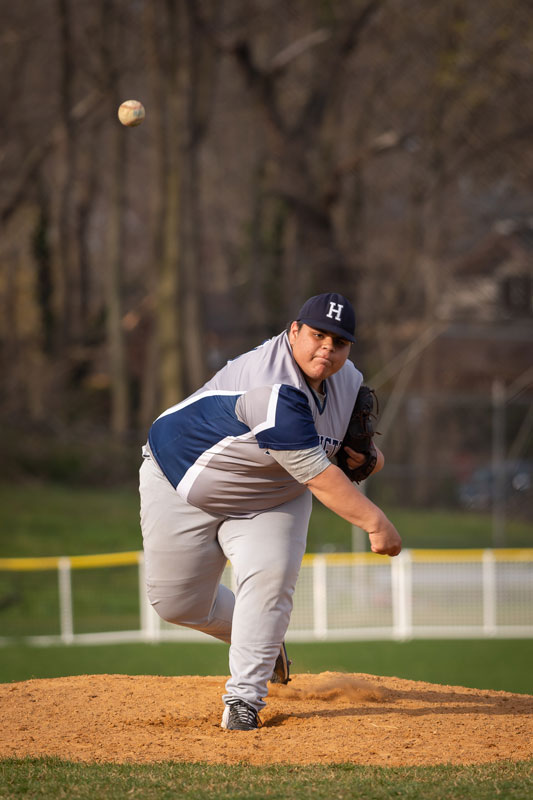 The Blue Devil JV used the season as a learning experience. (Darin Reed photo)
Huntington was led by freshmen Harry Uvena, George Mueger and Jake Severine. Uvena starred at pitcher and infield. "Harry hit for average and power and was a lockdown fielder," Moriarty said. "He is a fantastic team player and played many different positions to help the team."
Mueger also displayed power at designated hitter. Severine was the Blue Devils' catcher and he led the team in stolen bases.
A three game sweep of Copiague to end the season while the highlight of the spring. "At our home game during the series we won on a walk-off hit by Jibreel Murtaza in the bottom of the seventh inning," Moriarty said.
Anthony Addeo, Sal Barone, Trystan Clark, Griffin Kanzer, Justin Lardizzone, Julian Lehman, Michael Liotta, Nicholas Sclafani and Jose Villatoro rounded out the roster.
"We developed a lot as a team," Moriarty said. "By the end of the season our players were supporting each other and lifting each other up both on and off the field. I am really proud of their development."
Looking ahead to next spring, Moriarty expects changes in the roster. "I will likely lose at least a few to varsity," he said. "We also have a pretty decent group coming up from Finley, so we will see what they have to offer."