July 1 , 2022
Kaleef Riley is this year's recipient of the Peter Steen Memorial Scholarship Award. The Huntington High School Class of 2022 member plans to attend Wagner College in the fall and play on its NCAA Division I football team.
The Blue Devil two-sport varsity star was formally presented with a handsome plaque and $1,000 stipend at the 54th annual Blue Devil senior athletic awards ceremony in the high school auditorium. Mr. Steen's family was on hand to make the formal presentation to Mr. Riley before a crowd numbering in the hundreds.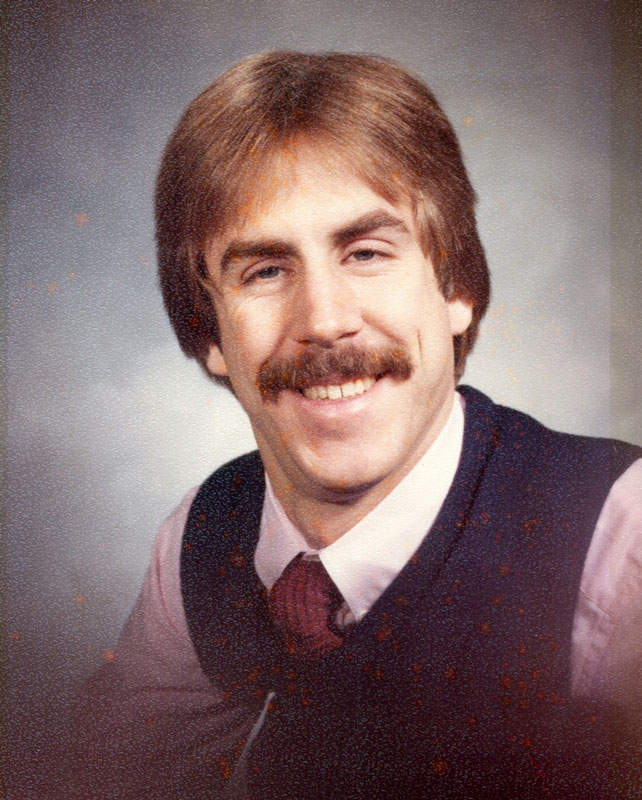 Peter Steen graduated with Huntington's Class of 1979.
"A member of Huntington's Class of 1979, Mr. Steen suffered a devastating spinal cord injury during the summer preceding his junior year and was confined to a wheelchair for the rest of his life," master of ceremonies Michael Schwendemann said. "Despite missing an extended period of school time as he underwent intensive rehabilitation, Mr. Steen was still able to graduate on time. Voted Huntington High School's Homecoming Day king in 1978, he later earned an undergraduate degree at Stony Brook University and worked as a stockbroker, financial planner and inventor."
Mr. Steen was seriously injured while playing in a summer lacrosse game in the community. "He never lost his zest for life or surrendered his hope of walking again," Mr. Schwendemann said. "As a Huntington sophomore, he had been the junior varsity football team's leading rusher and the JV lacrosse team's top scorer. When Mr. Steen passed away on December 9, 2016 he was mourned by his family and loyal friends and classmates. He will always be admired for his perseverance and positive outlook on life. He will never be forgotten at his alma mater."
A two-way starter for the Blue Devil varsity football team who garnered All-Division honors, Mr. Riley was also a four year varsity wrestling starter and was the league tournament runner-up last winter. He was nominated for the Peter Steen Memorial Scholarship Award by Huntington wrestling head coach Travis Smith.
"Kaleef has had to overcome many obstacles in his life at such a young age," wrote Mr. Smith in his nomination letter. "He suffered a traumatic loss in his life and had to grow up with a huge missing piece to his support system. He had to overcome extreme adversity at such a young age, but he did not let any of this get in his way. He didn't miss a practice in four years. Whether he had transportation or not it didn't matter to Kaleef; he wasn't missing an opportunity to get better. There were many times when Kaleef would walk to practice just to make sure he did not miss a chance to improve his skills. He is a motivated and dedicated individual. He takes great pride in his studies, earning honor roll status and having a 3.2 GPA."
Several members of the Steen family became emotional during the ceremony. Mr. Riley beamed during the presentation and said he was "honored" to be chosen as this year's award recipient.
Peter Steen Memorial Scholarship Recipients

2022 Kaleef Riley
2021 Alexander Bellissimo
2020 Anna Wickey
2019 Alyssa Sorensen
2018 Nicole Leslie
2017 Elizabeth Berejka