January 14, 2022
The Huntington varsity girls' basketball team needed to rally to remain perfect on Thursday night. The Blue Devils came from behind to beat rival Smithtown West, 60-49 and improve to 12-0.
Huntington trailed 13-10 after eight minutes and 27-25 at halftime. The momentum then swung sharply as the Blue Devils went on an 18-7 run to break the game open.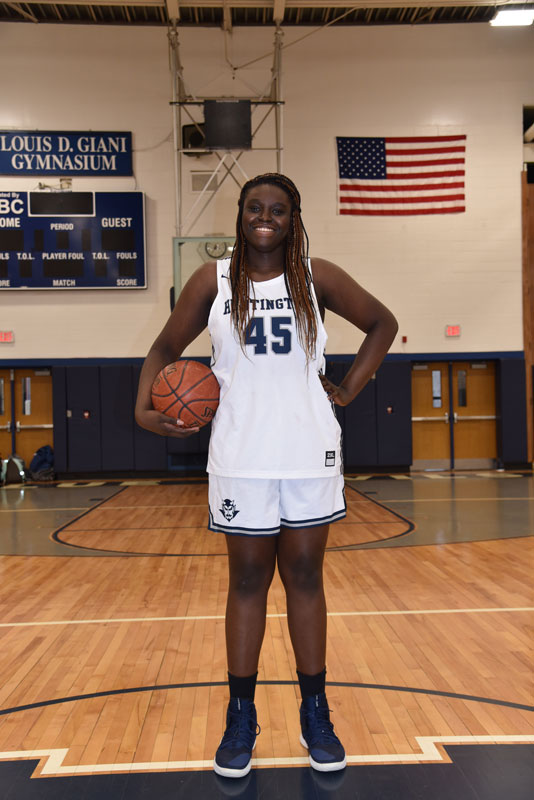 Senior Junie Nosile had her best game this year with 18 points.
Emily Plachta turned in another stellar performance, tallying 23 points, 13 rebounds, six steals and five assists. Junie Nosile had 18 points and eight blocks. Katie Browne added 10 points and five steals.
Huntington was uneven over the first half of the game, missing shots, turning the ball over and committing fouls. But then the shots started dropping and the deficit started to shrink.
The game was played at Harborfields because Huntington's court was damaged this week by flooding and is in the process of being replaced. Harborfields Superintendent Rory Manning and Director of Athletics Rob Franco both came to the Blue Devils' rescue by offering their gym for the varsity and JV games on very short notice.
Huntington benefitted from a strong supporting cast. Makaylah Frazier had four points and Teddi Carnesi scored three points. Gianna Forte added two points and great defense.
Plachta was nine-for-nine from the foul line. "Emily led us again tonight," head coach Mike Kaplan said. "We were all frustrated with our slow start. But once we settled into our game, it all came together nicely."
The Blue Devils play at North Babylon Tuesday.