January 11, 2022
The Huntington varsity girls' basketball team's win over visiting Copiague on Monday was the 149th victory of head coach Michael Kaplan's career with the Blue Devils. It's the most ever by a Huntington girls' basketball coach.
Kaplan came to Huntington 2011 after serving as an assistant coach at Harborfields. The Commack graduate obtained a bachelor's degree at SUNY Brockport where he played on the intercollegiate basketball team.
The victory over Copiague in Louis D. Giani Gymnasium allowed Kaplan to pass Robert Kratzke as Huntington's winningest girls' basketball coach.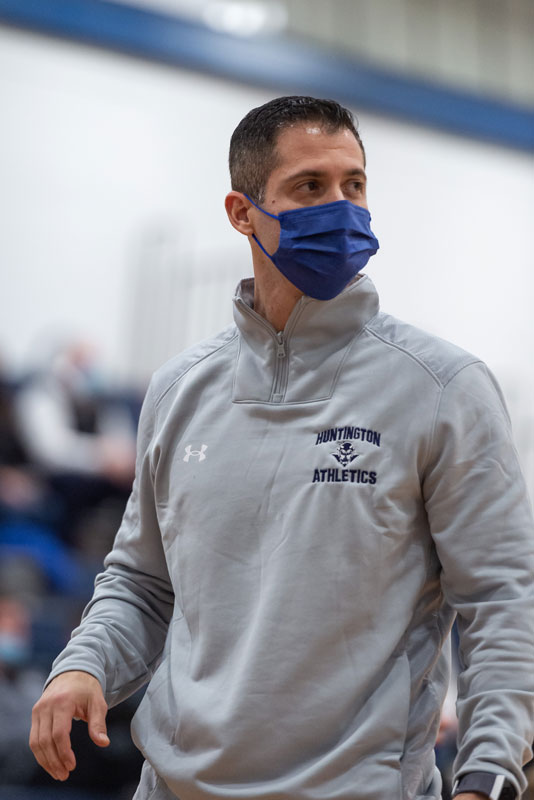 Mike Kaplan is now Huntington's winningest girls' basketball coach ever. (Darin Reed photo.)
"I am very honored and grateful to be a part of such an amazing school district," said Kaplan after the game. "The administration and  community have always gone above and beyond to support the athletes, coaches and Huntingtin girls' basketball. Although this is an amazing accomplishment, it would not exist without all of the hard work, dedication and sacrifices my previous and current players have made to make Huntington girls' basketball so successful."
Kaplan went on to share credit for the milestone. "I can't thank my coaching staff enough, especially Coach Marissa  Bergmann, who has been coaching with me since my very first season at Huntington," the new record holder said. "She has been an intricate part in the successful development of all of our players both on and off the court. I also want to thank Coach Albert Cardenas, who has volunteered and dedicated the past five years to making our players better."
In 12 seasons as the Blue Devils' head coach, Kaplan has a record of 149-72. Huntington won league titles in 2014, 2015, 2016 and 2021. The team reached the Section XI Class AA finals in 2015.
Huntington is off to an 11-0 start this winter. The Blue Devils are putting a veteran team on the court that has proved to be formidable against every opponent to date.
"I have truly enjoyed coaching at Huntington all these years and can't wait to watch these athletes succeed," Kaplan said.