January 4, 2022
The reconstituted Huntington High School varsity bowling team and a new Unified Bowling program are both proving to be very popular with participating students. While the varsity Blue Devil squad has struggled to win against some very powerful opponents, the team has been surprisingly competitive.
Superintendent Jim Polansky helped spearhead the effort to bring back an interscholastic team in Huntington after it had been cancelled 30 years ago and relegated to the annals of Blue Devil history.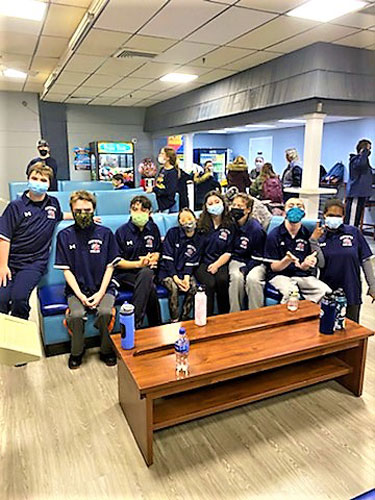 Some of the Blue Devil Unified bowling team members.
The Huntington athletic department turned to high school physical education teacher Christopher Taylor to serve as the new team's coach. Meanwhile, Huntington UFSD is among the first districts in Suffolk to develop and sponsor a Unified bowling team. Both teams are practicing at Larkfield Lanes in East Northport, where they also play home matches (and away matches against Northport and Harborfields, which also bowl at the same facility.)
Coach Taylor has proven to have just the right touch to get students interested and keep them motivated. Since Huntington doesn't sponsor separate boys and girls teams, everyone is able to bowl together. It has been working out very well.
Team members are a dedicated group. They have taken advantage of Larkfield Lanes' invitation to practice outside of normal team activities and several have even joined a Sunday morning league.
"The bowling team is honestly something I never expected to be a part of," senior Sophia Marchetta said. "It's been an inspiring experience bowling alongside the Unified Special Olympics team and we hope the program continues as many of our sophomores have bought their own gear. We often come on our own in smaller groups to practice and Larkfield Lanes has become like a second home. Anthony Amitrano, Andrew Sullivan and I have joined a Sunday morning league to bowl with students from other schools. Overall, we are extremely proud to be a part of this team and hope to gain more members as we improve throughout the season."
Linda Costello-Roth is the Unified bowling team's coach and that program is off to a great start, too. Unified bowling is a varsity level sport that features Special Olympians paired with general education students who serve as teammates and assistants on the co-ed rosters.
The Blue Devils have four lanes for use daily. Huntington works alongside teams from Northport and Harborfields. Northport has dozens of students also involved with its Unified team and Harborfields has taken the first steps for formally establish a Unified squad.
Coach Taylor is pleased with how the team has come together and the effort shown by the bowlers. Coach Roth is equally happy with the Unified squad, which includes a great mix of boys and girls.
"Bowling has been an amazing experience thus far," sophomore Jack Semelsberger said. "All the members of the team have really started to connect and get along better as a group since we started. Our main goal right now is to keep up with practicing, as many of the schools we face have had teams established for much longer than our team. A team that lasts the next couple of years and brings in more people looking to have fun and try out bowling would be great to help our ability in games and overall be good for Huntington."
Sophia Marchetta and Anthony Amitrano are the team captains and the duo is setting an excellent example for the rest of the squad.
"Bowling is going great for the first year," Amitrano said. "When I heard there was going to be a bowling team, I was excited to join since it was a sport I had previously enjoyed with my family and friends. So far, the kids are enjoying it as they've been starting to buy their own bowling balls, which shows great commitment to the team. I feel that a lot more kids will be joining in years to come as our current members are motivated to gain awareness and encourage others to give it a try!"
It's not too early for underclassmen to start thinking about participating in next year's bowling program. Interested or just want to learn a little bit more about it? Send a message to Coach Taylor at ctaylor@hufsd.edu or Coach Roth at lroth@hufsd.edu.