February 14, 2022
Four performances of Disney's "High School Musical Jr." simply enchanted audiences last weekend as two completely separate casts of Woodhull Intermediate School and Jack Abrams STEM Magnet School students performed their hearts out on the Huntington High School stage.
With shows on Friday, Saturday and Sunday, this was a special treat for everyone. The actors and stage hands shined during each performance and audiences ate it all up.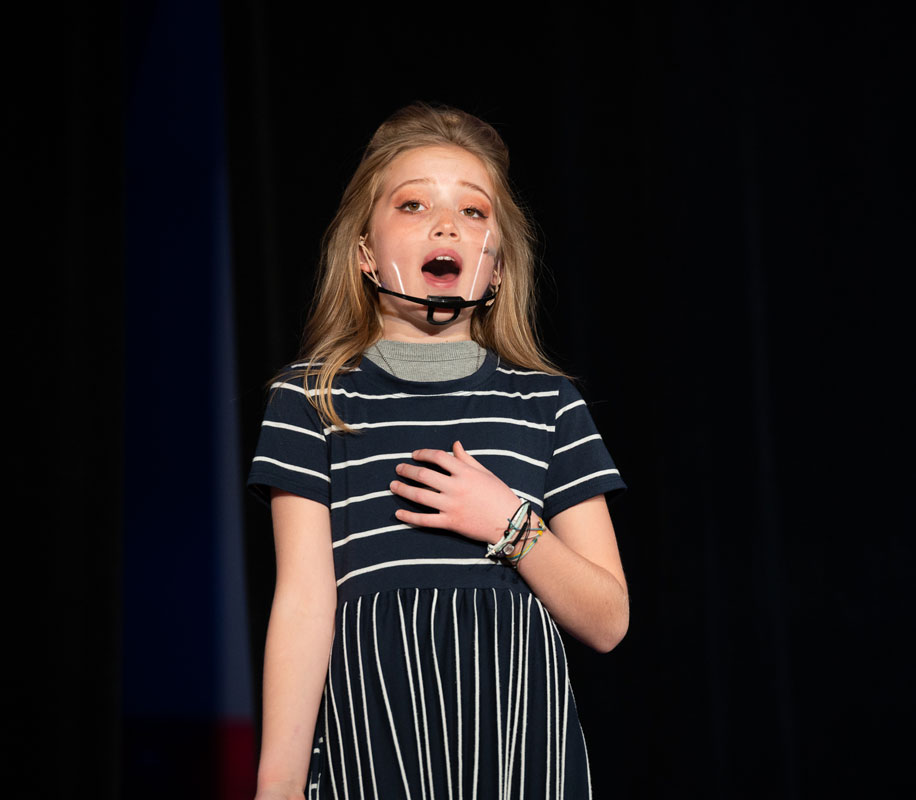 Jack Abrams STEM Magnet School actors and stage crew members were exceptional during the musical performances. (Darin Reed photo.)
The musical was co-directed by Huntington High School alums Stephanie Shea and Jennifer Szilagy-Cové. The stage crews (one for each school) were advised by Glenn Deveau and Chris Deveau.
The Woodhull School cast was featured on Friday at 7 p.m. and Saturday at 2 p.m. The Jack Abrams STEM Magnet School cast took to the stage on Saturday at 7 p.m. and Sunday at 2 p.m.
"It was such a pleasure to see the talent from both schools back on stage; to witness the casts and crews truly enjoying themselves; and to hear the joy from the audiences," Superintendent James W. Polansky said. "Just a terrific weekend! Thank you to directors Stephanie Shea and Jenn Cove for their hard work and passion, for bringing out the best in our children and for navigating though rehearsal challenges well beyond their control over the past few months. Congratulations to all"
Both of the co-directors were professionally trained in acting, singing, dancing and directing.  Ms. Szilagy-Cové professionally works directing shows across Long Island and as a casting director
Ms. Shea studied at New York University, graduating with a bachelor's degree in secondary education in May 2018. She obtained a juris doctor degree at Hofstra Law School in May 2021. She currently works in the field of corporate compliance.
Two casts and four performances are a first for Huntington UFSD. Actors and drama club advisors came together for weeks of rehearsals and last weekend's shows made it all worthwhile.
Woodhull rehearsals were held on Monday and Wednesday and Jack Abrams STEM students practiced every Tuesday and Thursday. The final weeks were spent at Huntington High School.
If any of the intermediate grade level actors were nervous performing on the high school's huge stage and in its cavernous auditorium, no one seemed to notice. The youngsters were poised, remembered their lines and cues and complemented each other throughout all four performances.
The show's running time was about 60 minutes with a 15 minute intermission. Teacher aide Debbie Caravetto and Huntington freshman Emily Kustera, who served as stage manager, were essential ingredients in the string of successful shows.
Dozens of students from both Huntington UFSD schools were in the cast and crew. "The last time we did an in-person production with Huntington ('The Wizard of Oz') was only weeks before the pandemic hit," Ms. Szilagy said. "It's been a huge adjustment getting these kids ready for the stage, but it's also been extremely fulfilling and worthwhile. Nothing can replace in-person performance so we're at the very least ecstatic to be able to offer these students the opportunity to do that once again."
While they didn't attend school together, Ms. Shea and Ms. Szilagy both served separate terms as Huntington High School's drama club president.