September 17, 2021
An influx of new young swimmers has boosted the size of this year's combined Walt Whitman-Huntington High School girls' swimming and diving team's roster. The squad easily turned back a challenge by Sachem East in the first meet of the season, 89-76.
Huntington has 15 girls on the team, including five seventh and eighth graders who met the qualification standards for participating on the high school level. Whitman has combined with Huntington team's in the sport, similar to what many other Long Island high schools have done.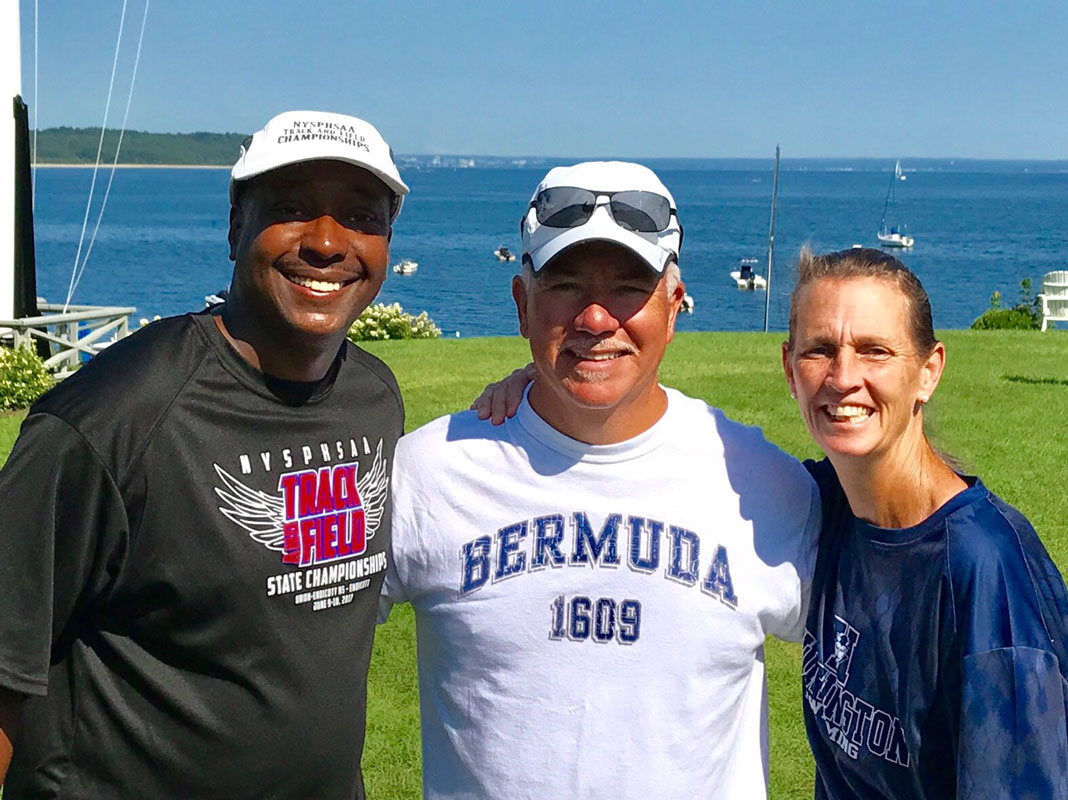 Huntington head coach Chris Helmke is flanked by Rufus Shepard and Meg McConnell.
Coached by Blue Devil staff members Christopher Helmke and Meg McConnell and Whitman's Rufus Shepard, the team features a great group of swimmers and divers. The early weeks of the season saw the squad practice outdoors at the Head of the Bay Club and then move indoors to the Huntington YMCA pool on September 9.
Huntington is captained by seniors Caelan Clayton and Ainsley Proctor. "The swim team is looking good this year," Clayton said. "We have a lot of new girls on the team, which is great."
The combined roster also includes Blue Devil seniors Simonne Bielski,Sydney Cordeiro, Rachel Deegan, Abigail Lewis and Grace McCallion; junior Kathryn Montefusco; freshmen Isabelle Gregorio and Josie Sullivan; eighth graders Jessica Lee and Riley Sullivan; and seventh graders Gemma Bedelli, Avery Joynt and Ella Van Horn.
Montefusco is the team's undeniable star, having qualified for the New York State championships multiple times. The teenager continues to chase a state title, perhaps multiple state crowns and only a fool would bet against her doing it.
"Swimming is going well," Proctor said. "We have a large team this year and I'm very excited. We have a lot of first year varsity swimmers, which is exciting because they can really get the feel of what it's like being on a team. We are a really close knit group of girls and we are looking like we're going to have a very successful season!"