November 9, 2021
As the hour approached for the J. Taylor Finley Middle School field hockey team to take the field for its first practice, only four players were in the fold. New head coach Marissa Bergmann didn't sound any alarms. Instead, the physical education teacher went about talking up the sport with seventh and eighth graders and before you knew it, the roster was filled with 16 names.
Captained by eighth graders Domenica Elgart, Katie Cocoman and Emily Barba this year's Finley field hockey team put the program back on the Suffolk map, winning a pair of games, tying in two others and being competitive in all.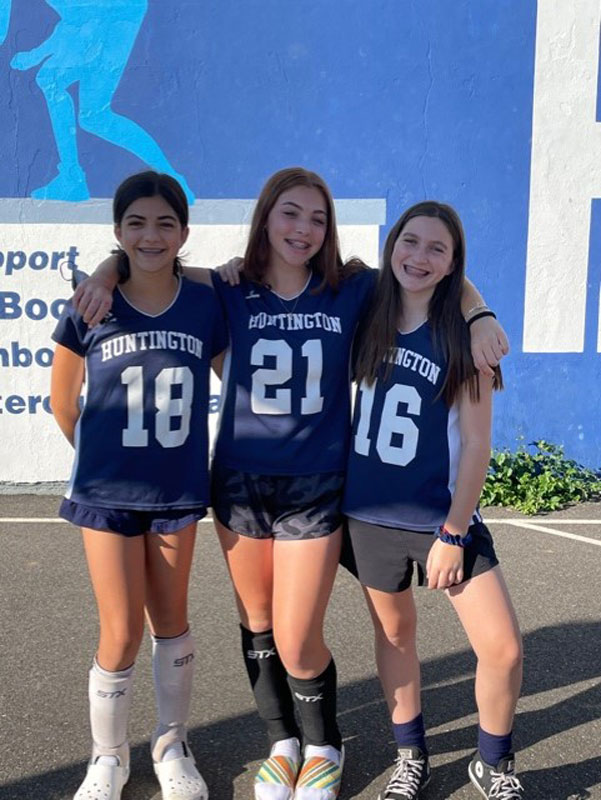 Finley field hockey team captains Emily Barba, Domenica Elgart and Katie Cocoman.
Bergmann was effusive in her praise for her players. "Domenica Elgart has great stick skills and did a great job in the forward position for us," the coach said. "Louisa Skrobela did a great job as a forward, advancing the ball when we needed her to. She is a tough player."
Giana Anfolisi was still another skilled Finley forward. "She had many fast breaks this season with great ball control," Bergmann said. Seventh graders Amelia Carino, Lauren Dopico, and Deveren Flynn and Kennedy Banner also shined at the forward position.
Sophie Hoffman was Finley's star at midfield, tallying a team high three goals. "She is an outstanding midfielder who can drive the ball for us and makes great decisions on our free hits," Bergmann said. "She is a tough player with great field hockey skills."
Seventh grader Chloe Donovan "did a great job all around for us" Bergmann said. "Whether it was defense, forward or midfield, she was excellent. Emma Sobocienski and Sofia Van Arsdale did a great job as midfield players with great ball control."
Finley's defense was anchored by Katie Cocoman, Elliot Mau and Madelyn Falk. "All three girls did not let anything go by them," Bergmann said. "They kept us in the game many times."
Goalies Mia Johnson and Emily Barba were strong in goal, recording eight saves each. "Emily was also one of our top midfield players," the coach noted. "She has amazing stick skills."
The highlight of the season came in late October at a home game against visiting Northport.
"We played them earlier in the season and lost by one goals with 45 seconds left in the game," Bergmann said. "The girls were determined to not let that happen again. Sophie Hoffman scored in the second quarter off a great assist from Gianna Anfolisi. We then had to play excellent defense for the next 25 minutes, which we did. It was a great team win. Our defense was outstanding that game. Our goalies made some amazing saves and our midfield had great ball control and decisions on free hits. I am so proud of them for all their effort."
Bergmann plans to recruit current sixth graders to play for Finley as seventh graders next fall. The coach's goal is to increase the number of players in the middle school program.
"I am proud of all my players," Bergmann said. "The majority of them have not played field hockey before. They have had tremendous growth from the start of the season to the very last day. They worked hard all season. Each game we did a great job and competed well. All of our games were competitive unti the last few minutes. This is a wonderful group of young ladies who work hard and never give up. They came to try out for a sport that they have never played and became a great family. I am proud to be their coach."
Nine current seventh graders are eligible to return next fall, forming a solid nucleus moving forward. "I look forward to another year of watching them grow," Bergmann said. "If we win some games that would be great, but the goal is to improve their level of play while having fun."