November 4, 2021
It looks to be a fierce battle when the Huntington High School and Bellport football teams collide on Saturday afternoon in a Suffolk Division II semifinal game. Kickoff is set for 1 p.m.
Admission to the game is free. It will be played at Joe Cipp Field at Bellport High School. Huntington is seeded No. 7 in the playoff bracket while Bellport is in the No. 2 spot. The Blue Devils fell at home to No. 1 Lindenhurst last weekend, 16-7. The Clippers topped Smithtown East in the final regular season game, 48-6.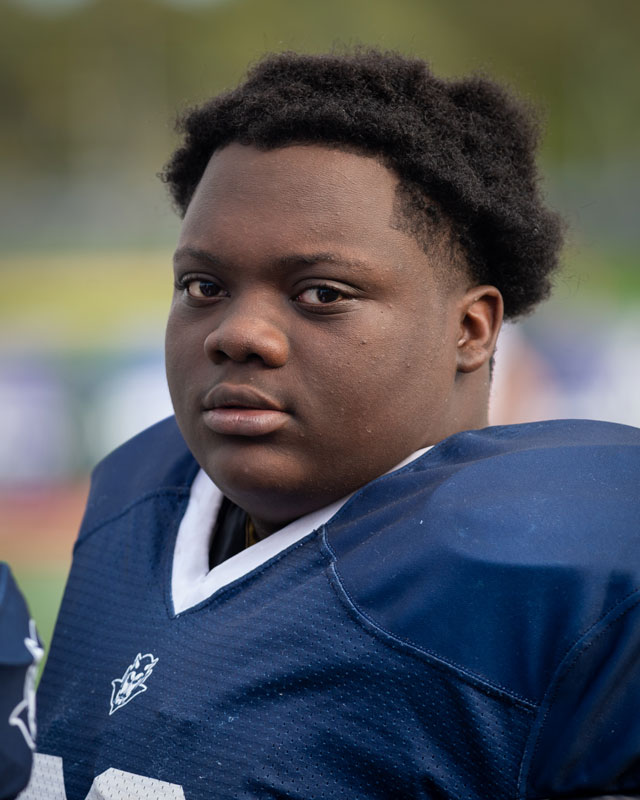 Isaiah Thomas is one of Huntington's key lineman. (Darin Reed photo.)
Huntington enters the game with a 5-3 mark. The Blue Devils have outscored their opponents by a 204-86 margin. Bellport is 7-1. The Clippers have scored 267 points and surrendered 98.
Huntington is coached by Steve Muller, Kevin Graham, James Byrnes, Ronald Wilson and Andrew White. The Blue Devils are captained by Josiah Melendez, Robert Smith, Lucas Petrizzi and Liam McDonald.
Bellport has defeated Newfield (34-8), North Babylon (30-28), Lindenhurst (47-14), Half Hollow Hills East (24-16), Connetquot (42-0), West Islip (21-10) and Smithtown East (48-6). The Clippers dropped the season opener to Northport, 17-14.
Huntington's wins came over Smithtown East (36-14), Smithtown West (34-0), Long Beach (28-7), Centereach (42-14) and Copiague (44-0). The Blue Devils have fallen to West Islip (14-13), Northport (21-0) and Lindenhurst (16-7).
"We've played some great games with Bellport over the years," Muller said. "One thing that we can always be sure of is they will be well coached and put fast, aggressive and skilled players on the field. They make you earn it every play of the game. We pride ourselves on being ready and we'll come to play."