May 17 , 2021
The J. Taylor Finley Middle School football team enjoyed an excellent spring season, compiling a 5-1 record and showcasing numerous promising players.
Coached by Jordan Ioviero, Andrew White, Patrick Reilly and Timothy Mattiace, Finley defeated Kings Park (28-0), Candelwood (18-0 – scrimmage game), Nesaquake (7-0), East Northport (25-12) and Northport (20-12). The team dropped its only contest to Stimson (26-12).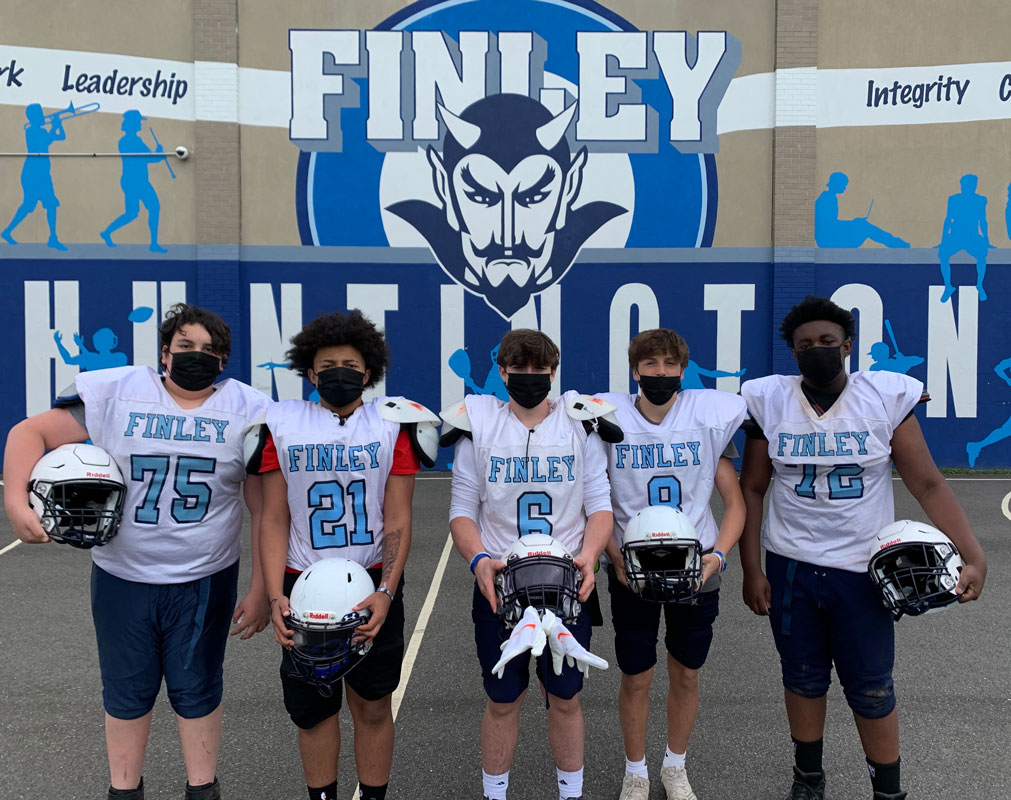 Finley football captains Ethan Naima, Adrian White, Tim McDonald, Tom Kline and Nile Williams.
Finley's top players included Timmy McDonald, Tommy Kline, Will Fallon, Thomas Smith, Adrian White, Kevin London, Joseph Boeckman, Sean Posillico, Nile Williams, Dylan Heller, Ethan Naima, Fergie Sierra Ortiz, Jordan Thorbourne, Frank Algieri and Geovanny Castillo.
"Timmy McDonald was our team captain," Ioviero said. "He led our team in touchdowns, rushing, yards from scrimmage and tackles. Timmy is an excellent leader and had the respect of everyone on our team. He did all the things that the coaching staff asked of him and then some. His work ethic, attention to detail and determination to be the best player on the field was on display all year long. I know he is going to do great things on the high school level and I can't wait to see what his future holds, both in football and in life."
Nile Williams also starred on the team and played an outsized role in Finley's success. "Nile was the anchor of our defensive line and played one of the most important positions for us at left tackle," Ioviero said. "We ran behind him all season long and he made some key plays in very important moments for us. He was a pleasure to coach. I can't wait to see him play in high school. He, too, will be successful in whatever he puts his mind to and I am looking forward to seeing what his future holds as well."
Finley's players enjoyed the feeling that winning and being competitive in every game gave them. The team learned the value of hard work and took delight in their individual and team success.
"I am so proud of all that we accomplished in such a short season," Ioviero said. "Our players worked very hard all season long. I am also very proud of how they handled themselves in regards to COVID-19 testing and navigating through all the ins and out that this unique season brought our way. We spoke about the meaning of the term 'twigs in a bundle' and how if you try to break a single twig, it breaks very easily, but if you put many sticks in a bundle, you are unable to break them when they are together. Each one of our players did the right thing and worked so hard together to help keep our season going, and to win football games along the way."
Finley practiced six days a week and put in lots of extra time to help master the intricacies of football. "We preached paying attention to all the little details from things as simple as warmups, all the way to reading defenses and making calls at the line," Ioviero said. "I know that this group will be ready for the junior varsity and that they will help the JV win at the high school level."
Finley's top returning players next fall look to be quarterback and inside linebacker Frank Algieri and offensive and defensive lineman Fergie Sierra Ortiz.
The team's leaders at individual positions included:
Offense:
Running Back: Timmy McDonald, Thomas Smith, Adrian White
Tight End/Wide Receiver: Kevin London, Joseph Boeckman, Sean Posillico
Quarterback: Will Fallon, Tommy Kline, Frank Algieri
Offensive Line: Nile Williams, Dylan Heller, Ethan Naima, Fergie Sierra Ortiz, Jordan Thorbourne
Defense:
Inside Linebacker: Timmy McDonald, Kevin London, Frank Algieri, Tommy Kline
Outside Linebacker: Thomas Smith, Sean Posillico, Joseph Boeckman
Defensive End: Adrian White, Geovanny Castillo, Dylan Heller
Defensive Tackle: Nile Williams, Fergie Sierra Ortiz, Jordan Thorbourne, Ethan Naima