July 30, 2021
Joan Marie Balsari was one of a kind. She held unshakeable opinions about everything and she didn't hesitate to share them with anyone willing to listen. But, she also loved to hear what everyone else had to say, too. She was a great conversationalist.
A longtime Washington Primary School teacher, Mrs. Balsari passed away in October 2011 after a 17 month long battle with breast cancer. After surgery and follow-up treatment, the veteran educator seemed well on the way to a full recovery. She returned to her classroom and to the school life she so cherished.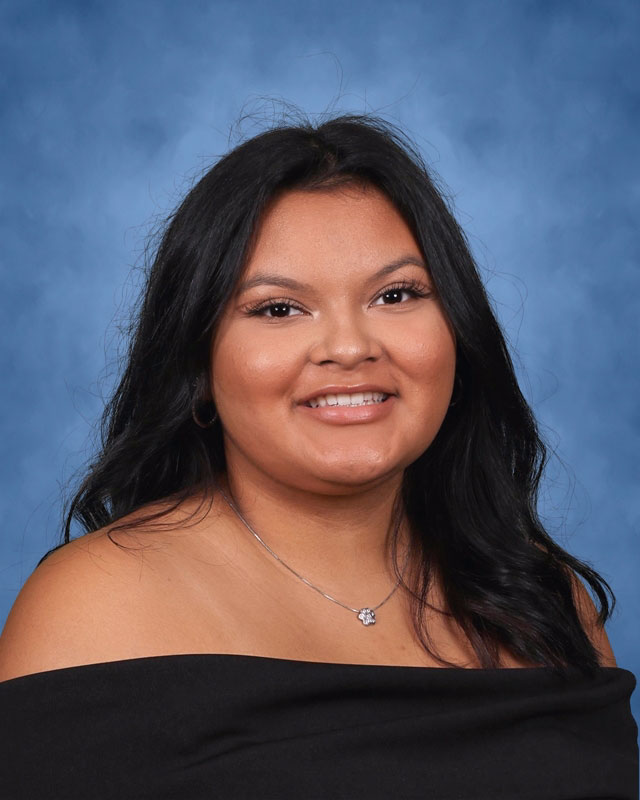 Providence College bound Angelica Hernandez captured the Joan Marie Balsari Memorial Scholarship Award.
When Mrs. Balsari's condition rapidly deteriorated over a period of less than two weeks, her colleagues were left speechless. After she passed away, the Associated Teachers of Huntington, the professional organization of the district's teachers, announced it would establish a $1,000 scholarship in Mrs. Balsari's memory and present it annually for the next decade.
ATH Vice President Joseph Cohen stepped up to the microphone in the Huntington High School auditorium to announce that the tenth Joan M. Balsari scholarship recipient is Angelica Hernandez, one of the Class of 2021's top members. The teenager is headed to Providence College in Rhode Island where she plans to study for a career as an elementary school special education teacher.
Inducted into the high school's National Honor Society, Italian Honor Society and Art Honor Society chapters, Ms. Hernandez graduated as a Distinguished Senior, a distinction given to those who have compiled academic grade averages of 90 or better in every semester over the past four years.
Ms. Hernandez said the "driving factor" behind her success has been dedication. She works very hard until she has reached her goal. The teenager said she surrounds herself with positive people who always root for her.
The new Huntington alum participated in many extracurricular activities during high school including Grandfriends and AWOD (the acronym for the A World of Difference club), which strives for a discrimination free world. She will always remember Grandfriend's senior citizen senior prom and all the fun that everyone shared at it.
Ms. Hernandez was among the nominees for the Jewish Community Relations Council of Long Island's Students Building Bridges Award. She graduated with many happy memories ranging from helping at the high school's freshman orientation program to the first homecoming related bonfire.
Joan Marie Balsari loved Huntington
Born to a Huntington family on July 16, 1950, Joan Marie Balsari attended elementary and secondary school here and graduated from Huntington High School with her future husband, Dennis in 1968. The couple's only child, Denielle graduated from Huntington in 2003. She is currently a teacher in Commack.
Prior to coming to Washington School, Mrs. Balsari worked as a teacher aide and then as a short and long-term substitute teacher in the district from February 1989 through June 1996. She earned an Associate of Arts degree at SUNY Farmingdale, a bachelor's degree at SUNY College at Old Westbury and a master's degree in reading at Dowling College. She obtained teaching certification in ESL through Adelphi University and secured certification as an administrator through Stony Brook University, where she received an advanced graduate certificate.
Mrs. Balsari was a no-nonsense educator who was adored by her students. During quiet reading or writing time in her room, the gifted teacher was known to play classical music to put her students at ease. At the end of the school day she should would often go home for a few hours and then return to her classroom to work on projects or plan lessons late into the evening.
Known for her laughter and overall sense of humor, Mrs. Balsari had a way of cutting through all the fluff and getting to the point. She'd sometimes let her students teach the class, putting them up at the blackboard and encouraging them to explain concepts to one another. She continues to be missed by the colleagues she left behind.
Joan Balsari Memorial Scholarship Recipients
2021 Angelica Hernandez
2020 Sadie Walters
2019 Katherine Burton
2018 Joel Alfaro
2017 Leanne Daly
2016 Julia Garetano
2015 Darya DeSimone
2014 Evelyn Brandon
2013 Alexandra Reinertsen
2012 Samantha Bindrim