September 16, 2020
The Covid-19 pandemic has upended everyone's life in some way, including Huntington High School Class of 2020 alum Caitlyn Palermo. She was planning on attending Biola University in California to study film production, but is instead taking remote classes at Nassau Community College while she waits for the public health crisis to abate.
Biola University is located southeast of Los Angeles, about 45 minutes from Hollywood. Founded in 1908 and located in LaMirada, California, southeast of Los Angeles, Biola boasts an enrollment of about 4,000 undergraduates and another 2,100 graduate students. The university offers a highly regarded film program.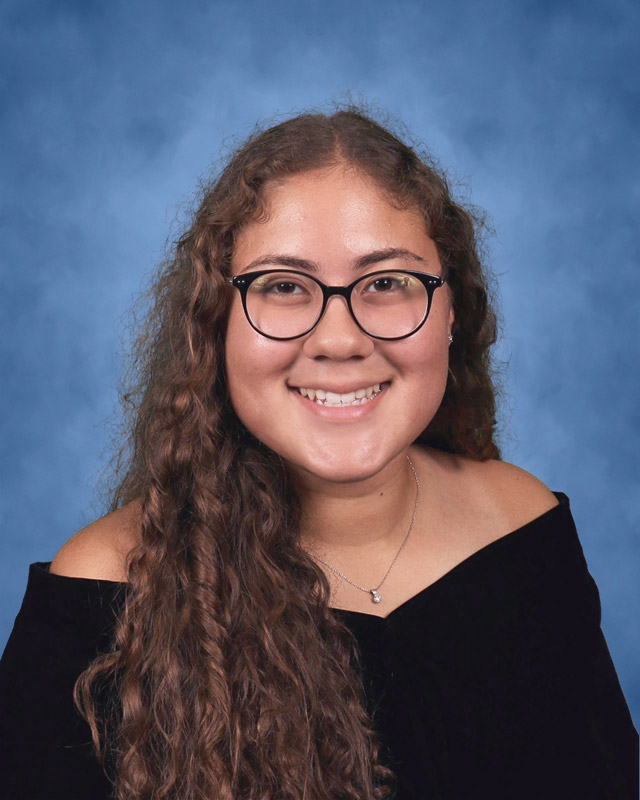 Huntington High School Class of 2020 member Caitlyn Palermo.
At Nassau, Ms. Palermo will complete some of the core curriculum requirements that are required of students at every college. When the pandemic relents, she will be ready to dive into studying film.
A member of Huntington's National Honor Society, Art Honor Society and Spanish Honor Society chapters, Ms. Palermo was one of the best young filmmakers in the state, if not the nation, at the time of her graduation last June. She's won a string of big awards for her work and earned the respect of teachers and teenagers throughout the metropolitan area.
Ms. Palermo's short film, "Not Enough" placed in the top ten percent at this year's People of Color International Film Festival. The film featured Huntington High School English teacher and drama club faculty advisor Michael Schwendemann along with graduating seniors Robert Jean-Gilles and Neil Jean-Baptiste.
The films submitted to the festival and accepted were scaled on a 0-10 basis with "Not Enough" receiving an astonishing score of 9.7.
In the summer run-up to her senior year, Ms. Palermo and classmate Jennifer Low attended the Manhattan Film Institute's summer program in Greenport. It was there that Ms. Palermo gained more experience, learning new techniques and refined her skills. She created a film titled "Obolus," which has been chosen as an Official Selection at the New York Film Festival.
At Huntington, Ms. Palermo developed a very close working relationship with teacher Heather Swan, who leads the high school's video arts program. The pair's personalities meshed well and the teenager worked hard to get as much as she could out of the program.
"Mrs. Swan has been a great teacher and encourager and the last four years have been amazing," Ms. Palermo said. "She's the realist person I know and has prepared me to enter the real world."
The teacher was equally complimentary about her student. "It has been my pleasure working with Caitlyn for the past four years," Mrs. Swan said. "When she stepped into my class as a Video I student, everything she produced was with diligence and the utmost creativity. I was fortunate to have Caitlyn as my video intern this past year. Watching her assist the Video I students with patience and kindness was another reason why they looked up to her. It was my honor to watch her technical and leadership abilities soar over the past few years, especially as she guided the 10 Day Film Challenge teams to success landing in the Top 10 for three years in a row. I am so excited to see what the future hold for her and I will miss her greatly."
Ms. Palermo cites hard work, determination and her faith as the keys to her success. She said she enjoyed developing many "wonderful" relationships with friends and staff members. She played several seasons of basketball and starred on the Blue Devil tennis team as its captain, garnering All-Division honors.
The teenager has navigated through some very difficult times. Ms. Palermo's father, Luis, was a 23-year Nassau Police Department veteran. He raced to Ground Zero following the terrorist attacks on September 11, 2001 to assist with search and rescue efforts. Like so many others involved in similar work, he was diagnosed with cancer in 2011 and passed away from acute lung disease in September 2017. Prior to his death, the Nassau Police Department promoted him to its elite Bureau of Special Operations.
Ms. Palermo and her father were especially close, so his passing was nothing less than devastating. But she has worked hard every day since to make him proud. Along the way, she has made everyone else proud, too.
"Personally the best part of Huntington was my senior year of tennis, but overall, I'm thankful to everyone who I've encountered at Huntington since my first day at Washington Primary School," Ms. Palermo said. "I have met a lot of different people over the past 13 years and have learned so much from peers and teachers."