October 6, 2020
Jordan Forte has known for nearly a year that she will be attending Stony Brook University. The Huntington High School senior gave the Seawolves' women's lacrosse team a verbal commitment as an underclassmen. But while she's excited about the future, the teenager is also determined to make the current year one that she will always remember.
Ms. Forte committed to Stony Brook last November, so she won't be under any of the typical senior year pressure to decide where she wants to go to college. Instead, she plans to enjoy every single day of her final year of high school and she hopes the COVID-19 pandemic doesn't stand in the way of many of the most cherished events.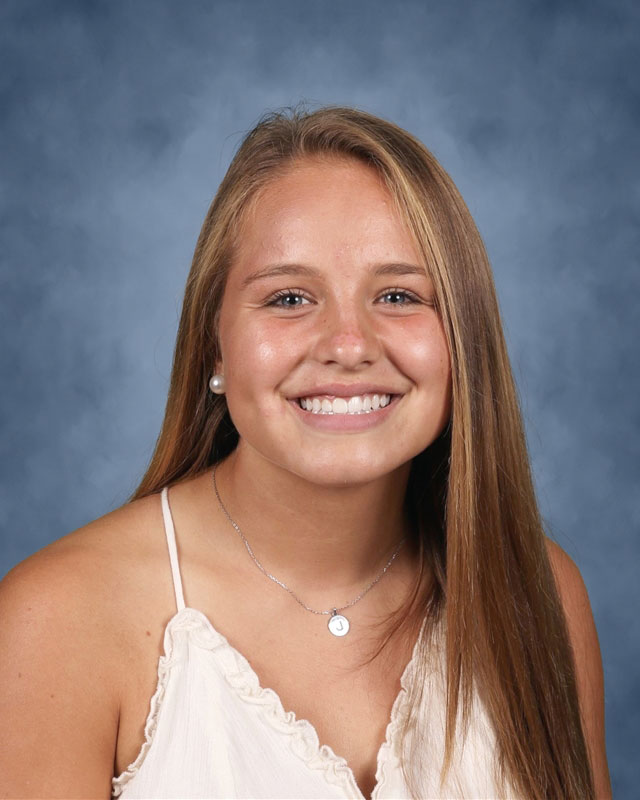 Huntington senior Jordan Forte.
"I am most looking forward to my internship with Mr. [Peter] Fusco and getting to learn about being a teacher in the classroom," Ms. Forte said. "Mr. Fusco has been someone I have wanted to intern with since my freshman year. I am also looking forward to Advanced Placement Environmental Science with Ms. [Nicole] Cooper. This year I am also taking Economics, Calculus, Participation in Government, Bible Literature and Humanities."
Ms. Forte is a three-sport athlete, playing on the Blue Devil soccer, basketball and lacrosse teams. "I am really hoping sports happen this year being that they have all impacted me so much in different ways," she said.
The teenager's closest friends include Ainsley Lumpe, Charlotte Maggio, Abby Maichin, Gigi DeVoe, Bella Algeri, Taylor Case, Alexa Amorison, Torin Bograd, Aidan Bender and her sister, Gianna Forte.
"I have had several teachers that I've enjoyed especially Mr. [Joseph] Cohen, Ms. [Camille] Tedeschi, and Coach [Todd] Jamison who have all helped me not only with school, but with life," Ms. Forte said. "Mr. Cohen has been my rock since freshman year. He has helped me academically and I can really go to him with anything, Coach Jamison has been there for me all through high school. He has helped me with college and is always down to give the best life advice. And last Ms. Tedeschi, who I just had last year and who helped me so much educationally and helped me find my best study habits."
The senior is very comfortable with her choice of colleges as well as playing lacrosse for the nationally ranked Stony Brook team. The mere thought of it gets her excited.
"Once I had my visit at Stony Brook I fell in love with everything the university has to offer me," Ms. Forte said. "Not only is it a top NCAA Division I lacrosse program, but it also offers high level education and offers a physical therapy program, which I hope to study. When I went on my visit all of the coaches were so nice and the girls on the team really made it feel like a family atmosphere and that's when I knew it was the place for me."
Ms. Forte's advice to incoming Huntington ninth graders? "Live in the moment and enjoy everything and take advantage of all the opportunities you are given," she said.
With pre-season training beginning this week and with the interscholastic sports program scheduled to kick-off on January 4, 2021, Ms. Forte is looking forward to getting back into a Blue Devil uniform.
"I wouldn't trade my experience at Huntington for anything," Ms. Forte said. "I have enjoyed every moment of it. I have made so many amazing friendships that will last a lifetime. Whether in school or on the sports fields I never failed to smile."