November 18, 2020
President of Huntington High School's Class of 2021, Taylor Case is a dynamic young woman who has accomplished so much over the past four years. Teachers are united in their belief that the teenager has a very bright future as she goes about pursuing her dreams in the business world.
Ms. Case's organizational skills and drive to succeed while keeping every aspect of her life in perspective has impressed classmates and faculty members alike.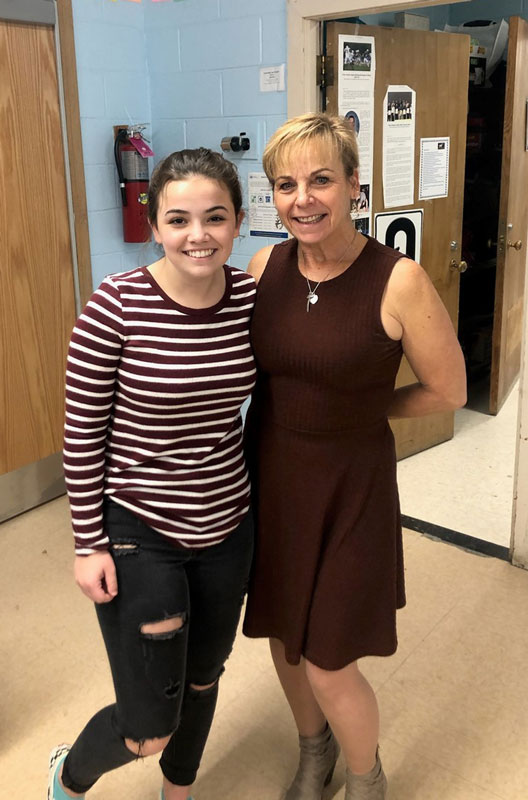 Huntington senior Taylor Case with high school business teacher Suzi Biagi.
Just because she is a senior, doesn't mean the teenager is planning to coast through the year. Far from it. "I've been looking forward to taking Advanced Placement Research with Mrs. [Kristina] Morell," Ms. Case said. "I took AP Seminar last year and it honestly was a pretty intense class where I had to put a lot of time and effort in, but it has easily been the most rewarding class I have ever taken and has helped me so much with my research and writing skills. I had Mrs. Morell in tenth grade for English and was super excited to have her again. Although our class is extremely small, there is a really great work dynamic and everyone really helps each other and I'm so happy to be able to continue the course sequence."
Inducted into Huntington High School's National Honor Society as well as its English Honor Society, Spanish Honor Society and Social Studies Honor Society chapters, Ms. Case has been a Natural Helper in each of the past four years, assisting classmates as they work through personal and family issues.
"I also joined the environmental club last year and I'm excited to participate again this year," Ms. Case said. "Additionally, I run cross country, which I am super hopeful for a potential last season."
Ms. Case's main extracurricular activity has to be considered the high school's student government. "I was super excited to be elected as president this year," she said. "I am really looking forward to being able to lead our grade this year and help to maintain as normal an atmosphere as possible."
"I've had a lot of teachers that have really been there for me through high school," Ms. Case said. "I've been very close throughout the years with my ninth grade science teacher, Mr. [Joseph] Cohen, my cross country coach Ms. [Elizabeth] Vogelsang and my student government advisors Mrs. [Amelia] Saggese and Mrs. [Jordan] Schessler, who I have been working with for four years now one teacher."
Ms. Case said she has also been "extremely close" with Huntington business teacher Suzi Biagi. "I have had five classes with Mrs. Biagi throughout high school and she has done so much for me," the teenager said. "Last year I was the CEO of my Virtual Enterprise class and she and I would spend countless hours after school working and on phone calls creating assignments. I really have developed such a strong relationship with her and I'm so lucky to be able to call upon her for anything I ever need help with and will probably continue to ask her for help and life advice down the road."
A healthy social life is important to Ms. Case and she enjoys one. "I've made a lot of great friends at Huntington, including Bella Algieri, Alexa Amorison, Jordan Forte, Gigi DeVoe, Charlotte Maggio and Ainsley Lumpe," she said. "I've also built a really close team and family dynamic with my cross country team, which has been so amazing because I have made so many amazing and supportive people because of it."
Ms. Case's advice to incoming freshmen? "Enjoy every stage of high school for what it is," she said. "Enjoy the excitement of being a freshman and joining as many clubs as you can manage. Enjoy tenth grade when you officially aren't the youngest anymore. Even enjoy junior year, as stressful as it gets. And enjoy senior year and being the oldest of the school and all the freedoms and privileges you get. Trust me it goes so much faster than you think and really try not to look ahead too much or you'll miss out on four amazing years."
The teenager is currently very interested in the University of Rhode Island, Bentley University, University of Connecticut and Boston College. "I am looking to study marketing and potentially business management," Ms. Case said. "Huntington's business courses, especially Virtual Enterprise, have really helped me realize how interested I am in business and have made me super excited to study in that field. A lot of the schools I'm applying to have super great programs for business and overall are places I could really see myself growing as a person."
Ms. Case has a way of remaining remarkably upbeat during the most challenging of times. She will leave an indelible mark at the high school when she graduates.
"My experience in Huntington could not have been any better," Ms. Case said. "The relationships I have developed with the staff here will be those I can call upon for years down the line and I think it is a place where the staff really cares about your happiness and success. Although the Class of 2021 hasn't been able to experience a full four years of Huntington, which is disappointing, I can really say I made the most of the short time I have had here and cannot say enough great things about Huntington!"