May 6, 2020
Nina Cartwright has had a dream for many years. The Huntington High School Class of 2016 member has wanted to be a pilot and fly for as long as she can remember. She took a step closer to making that dream a reality by graduating from the United States Naval Academy at Annapolis this spring.
In the 2012 J. Taylor Finley Middle School yearbook, when Ms. Cartwright was asked "What do you want to do as a career?" she answered without any hesitation: "I want to be a pilot and fly."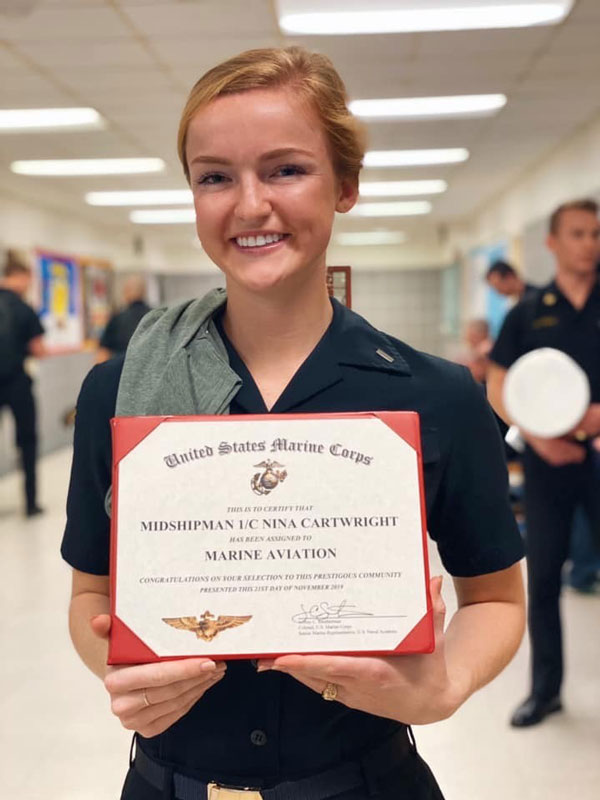 Nina Cartwright will be training to become a US Marine Corps aviator.
The Huntington alum will enter The Basic School in Quantico, Virginia in August. All Marine Corps officers pass through TBS. After she completes that training she will head to Florida to attend Pensacola Flight School.
Making it through four grueling years at the Naval Academy is no small feat. The demands are enormous, to say the least, but Ms. Cartwright emerged unscathed. "I've loved it, met the best friends I could ever ask for and got to do and see so many amazing things so early in my military career," she said.
During her years at Huntington High School, Ms. Cartwright starred on the Blue Devil indoor and outdoor track and field teams, excelling in pole vault and setting program records in the event.
The Huntington grad will be on temporary duty for a few months before heading to TBS at Quantico. She will spend six months there and then begin flight school at Pensacola.
Ms. Cartwright and her fellow midshipman were set to participate in the USNA's grand commencement, which was scheduled to include a speech by President Donald Trump and a 30 minute air show by the famed US Navy Blue Angels.
The COVID-19 pandemic led to the public outdoor commencement being cancelled and a "virtual" ceremony being held in its place. Rescheduling the ceremony is a no-go at USNA since graduating and being commissioned happen simultaneously and can't wait since the graduates are all set to move on to other commitments and assignments.
As a small consolation, smaller private ceremonies are planned for this month for smaller groups of midshipman where the grads will be able to wear their dress uniforms as they would have done had the larger commencement not been cancelled.
Ms. Cartwright's parents, brother and sister are all proud of her for having made it through four very tough years at Annapolis. Her family says that her accomplishment sets a "fine example" for Huntington Blue Devils, "which shows anyone can do and become anything they want to be, if they study hard and set their mind to it."