January 17, 2019
Adil Gowani is playing professional soccer in Mexico. The Huntington High School Class of 2012 member started thinking about his future long before his graduation. All that contemplation and planning has paid off and he expects more good times ahead.
Mr. Gowani was an All-Conference player for the Blue Devils. He won the team's MVP Award at Huntington's senior athletic awards banquet in June 2012.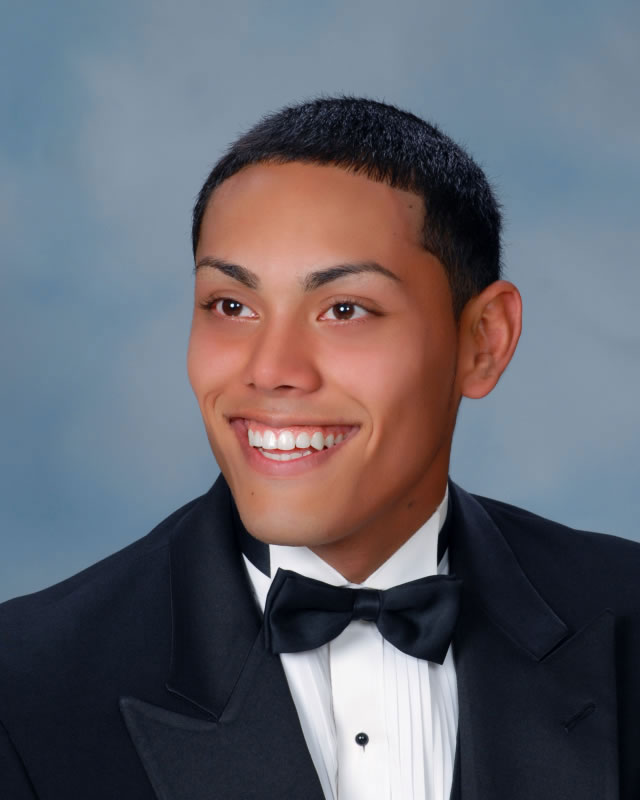 Adil Gowani as a Huntington High School senior.
"After my junior year of high school; my second year of playing varsity soccer under Coach [John] Pagano and assistant coach [Jason] Suarez, I knew it was time to start looking into college options and figure out where I wanted to continue my soccer journey," Mr. Gowani said. "I looked around and applied to many schools and, of course, reached out to the coaches. My family's financial status wasn't so great, so I knew I had to find something that fit our budget and make sure it wasn't out of pocket."
The former Blue Devil star recalls how many NCAA Division III reached out to him, "but I knew I could do better, Mr. Gowani said. "I made a decision to attend Nassau Community College in the spring of my senior year and continue my education and practice my passion, which was soccer. I got introduced to the coach through a friend who had been playing at Nassau a year before I got there and he told me they can help me get to a Division I or Division II school after my two years at Nassau."
Nassau was sixth in the country and reached the regional semifinals during Mr. Gowani's freshman year. He was the team captain as a sophomore and led Nassau to the regional finals. "After that year my coach helped me get connected with many coaches in Division I and Division II," he said. "I ended up staying at Nassau for one more semester because I had to help out around the house and couldn't leave my parents with everything."
Mr. Gowani had been in contact with many college coaches at that point and was in the midst of trying to determine his next move. He finally made up his mind that Mercy College, an East Coast Conference school local in Dobbs Ferry was the best landing spot. "They offered me the best scholarship and I wouldn't be paying for my education, which was what I was looking for," he said. "It wasn't too far from home and my parents could come to all my games. I played for mercy for two years and I was named captain in 2017. We broke school records."
The Huntington alum studied business administration at Mercy College. "After the 2017 season was over, I knew I had to follow my dreams," Mr. Gowani said. "I've always wanted to play in Mexico, where my mother is from. I had uncles that have stepped on professional fields to play and I always asked myself 'Why not me?' I bought a one way ticket to Mexico City in December 2017 and was ready for whatever came my way. I went to many different states in Mexico such as Toluca to train with Toluca FC and Querétaro to train with Los Gallos Blancos, but everyone closed their doors due to my age, which was 23. One trainer from Queretaro really seemed to have interest in me and told me he can help me with a team in the second division of Mexico."
Mr. Gowani was sent to Mexico City to train with a coach of Vikingos FC in la Segunda División Serie B de Mexico. "I impressed the coach and was offered to start my career as a professional soccer player," he said.
"I stayed with Club Vikingos from January to June of 2018, when I got offered another contract, but with a different team named Club Deportivo Sporting Canamy," Mr. Gowani said. "I started training with Canamy the first week of June and had a big tournament coming named Copa Var. This tournament was big for me because it was being televised and I could get a lot of recognition from it. I trained very hard every day trying to improve and the day came. June 20 2018 was the day I stepped on the field in the Mexican federation ready to go to war and win a game. At first I was nervous seeing the cameras the photographers and all the media around. I soon blurred them out of my mind when that whistle blew, all I wanted was to win that game and keep moving up to win that tournament."
Mr. Gowani's team did indeed win that game and it kept right on winning throughout the week to reach the finals. "Unfortunately we fell short in the final and lost in a penalty shootout," he said. "Not for nothing, but it was an amazing experience playing on a field where the Mexican national team hosts training sessions when they are getting ready for international games. Now it was time to focus on the season that was coming up around the corner and I had to sign my season contract. A couple of my friends on that team had left because they had been offered more money on other teams in the same division and it was something to think about."
The former Blue Devil great ended up leaving Sporting Canamy for another team in the south of Mexico named Tuxtla FC. "I wasn't sure if it was the right decision because I had to try out, but I went with my gut," Mr. Gowani said. "I flew out of Mexico City that week to Tuxtla Gutierrez and started training with a new team I was hoping to be on. I had a seven day trial and had to impress the coaching staff in order to be offered a contract. After a long seven days of double training sessions a day I received news that they wanted to evaluate me a little more. I didn't know what to think. I thought I had made a mistake, but two days later I was called into the office before training and a contract was put in front of my face. I was thrilled to see what was in front of my eyes and we agreed on my contract."
Four months later, Mr. Gowani's team is ranked third in the Segunda División Liga Premier de Mexico Serie A. "I am content in Mexico, but I am really looking forward to coming back to the United States to continue my career," he said. "I have a couple trials lined up with some USL teams and hope to be back playing in the states where I am closer to my immediate family."