September 7, 2017
Emily Coleman always knew she would be a teacher. The Huntington High School alum recently kicked off her career in second grade classroom at Bass-Hoover Elementary School in Stephens City, Virginia.
One of the most popular members of Huntington's Class of 2013, Ms. Coleman was known for her warm smile and easygoing manner. She studied for her undergraduate degree at Bloomsburg University in Pennsylvania and it was a perfect match.
"College was truly the best four years of my life," said Ms. Coleman earlier this week. "I was able to meet so many friendly and outgoing people. Going to Bloomsburg University allowed me to get out of my comfort zone and try new things I never thought I would. I became involved in numerous activities and created memories that will last a lifetime."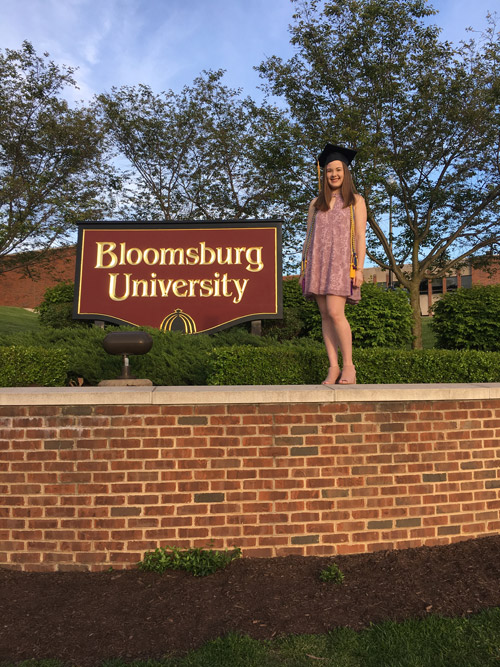 Emily Coleman following her
Bloomsburg University graduation.
The Huntington Rotary Club awarded Ms. Coleman a $3,000 scholarship as a senior. An award winning photographer, she participated in numerous high school extracurricular activities, including Key Club, Habitat for Humanity, Young Leaders and Relay For Life, of which she chaired the luminaria committee.
When asked to describe an activity she participated in that embodied the Rotary motto of "Service Above Self," Ms. Coleman described her experiences with Habitat for Humanity. A member since her freshman year, she was involved in five of the club's "builds," traveling to Mobile, Alabama in 2012 and to New Orleans as a senior, spending a week at a time constructing homes.
"Habitat has taught me many things, such as leadership, patience, cooperation and how to deal with responsibility, but above all, it has taught me respect," Ms. Coleman wrote in her scholarship application. "Respect for those people who give up their spare time to help someone else in need. That is what true selflessness is."
As her college graduation neared, Ms. Coleman put her longstanding plans into action. "I had always dreamed of moving south one day," she said. "I enjoy traveling so I wanted to experience a different part of our world. When I attended job fairs at the end of my senior year, I looked at teaching positions on both the east coast and down south. I interviewed with someone from Frederick County, Virginia and knew I had to give it a chance. After visiting the area I knew this would be the step I had to take to fulfill both my dream of becoming a teacher and moving down south."
Those who know her well believe Ms. Coleman is a natural standing in the front of a classroom. "I have known I wanted to be a teacher for as long as I can remember," she said. "I remember being back in first grade and struggling with reading. My parents hired my kindergarten teacher, Mrs. [Meghan] Kenny to tutor me. The dedication she showed to helping me and the relationship I formed with her along the way is what inspired me to become a teacher. It takes one person to change a child's life and I hope to be that person for many children."
The Huntington alum is excited to be starting her career on the faculty at Bass-Hoover in Virginia. "I want to be a teacher that shows my students they can do whatever they set their minds to," Ms. Coleman said. "I want my students to know that everyday counts and that each and every one of them is unique. One thing I have learned from teaching so far is that some of my students do not have a steady role model in their lives and for some of them, I am that constant figure. I have realized that being that role model for these students is a huge responsibility, but it is something that I truly value and cherish being that I am that one person that can really make a difference in their lives."
Huntington teachers remember Ms. Coleman as a "kind soul" and it probably won't be long before her students feel the same way about her. "I would like my students to see that learning goes beyond the classroom and is a life-long journey," she said. "I want them to know that they can be whoever they want to be and that they all have potential. Over the course of a school year, I want my students to grow as individuals and gain confidence in themselves so they can achieve their dreams later on in life." 
A member of Huntington's National Honor Society chapter as well as the Art, English and Italian honor societies, Ms. Coleman's family taught her the importance of never giving up, which combined with her strong work ethic and dedication to accomplishing her goals has served her well through the years. Helping others has always been one her top priorities.
"I want my students to remember that I will always be there for them over their life-long journey of education," Ms. Coleman said. "I want them to know when they leave my classroom at the end of the year that my door is always open and they can always come back for more help."