June 30, 2017
As one school year comes to a close and a new one officially begins, Huntington Superintendent James W. Polansky is reflecting on how far the district has come and where it is headed.
"This year, administrators, faculty and staff worked diligently to address a broad range of goals related to student growth and achievement, instructional differentiation, K-12 STEM/STEAM opportunities, long-range fiscal planning, energy and cost savings initiatives, infrastructure and technological upgrades, parent engagement and the home-school connection, universal pre-kindergarten, and educational advocacy," said Mr. Polansky in a letter to the school community. "In spite of federal and state challenges that continue to impact education on the local level, we have maintained our focus on what matters most; ensuring that our children are learning and that we continue to grow as a district."
Mr. Polansky assumed the post of superintendent on July 1, 2011. Since then he has been relentless in his quest to improve teaching and learning in classrooms across the district. Under his leadership, the district established Jack Abrams STEM Magnet School in September 2013 and reinstituted a full-day kindergarten program in September 2014 following a three year absence.
"Over the past year, we have designed and upgraded curricula across the grade levels and in numerous disciplines," Mr. Polansky said. "Administrators and teachers have engaged in meaningful professional development. Student growth has been evident not only in core and special areas, but also in their social and emotional development. Extracurricular, enrichment and support opportunities have also expanded and will continue to do so."
A graduate of SUNY at Albany (BA cum laude), Mr. Polansky earned a Master of Business Administration degree at Hofstra University and an advanced graduate certificate in educational administration at Stony Brook University. He holds permanent teaching certificates in biology/general science, chemistry, Earth science, mathematics and business/distributive education.
Clearly a district on the move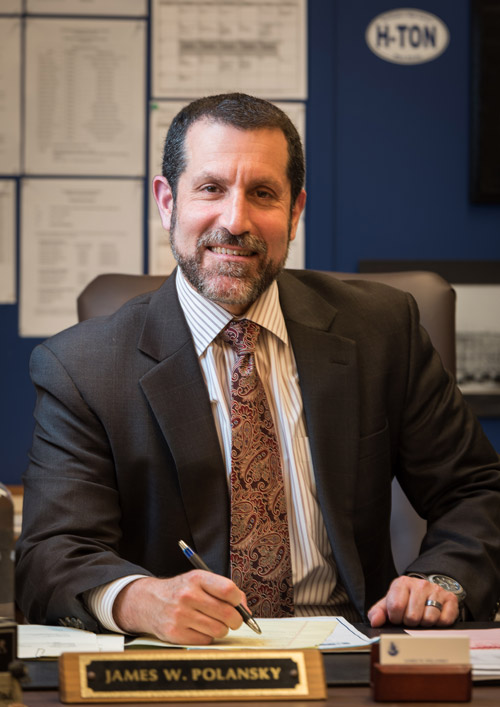 Huntington Superintendent
James W. Polansky. (Darin Reed photo.)
Huntington is clearly a district on the move. "Our students have shined in the classroom throughout the year," Mr. Polansky said. "We have continued to enhance our elementary, middle and high school STEM programs. Our dual language program continues to thrive, with the majority of our sixth grade students coming from the program achieving mastery on the Regents-level Spanish exam. Secondary elective programs, once again, offered something for students of all interests. We can boast of among the finest visual/performing arts and interscholastic athletic programs offered by a school district. Huntington High School graduates have, once again, been admitted to many of the finest colleges and universities across the country."
Mr. Polansky came to Huntington from the South Huntington School District where he worked as assistant superintendent for personnel and district services for a year. He earlier served as principal of Walt Whitman High School for 6½ years.
Named New York State Principal of the Year by the School Administrators Association of New York/National Association of Secondary School Principals/Metropolitan Life in 2010 for his fine work "turning around" Walt Whitman High School, Mr. Polansky had previously been the school's assistant principal from July 2002 to April 2004.
The Huntington School District is reaching new heights under Mr. Polansky's leadership. Students are excelling academically and earning county, state and national recognition in the fine and performing arts, athletics and even humanitarian initiatives. Huntington High School's Class of 2017 captured nearly $19 million in scholarships and grants and gained acceptance into many of the best colleges in the country.
District will never rest on its laurels
Huntington never plans to sit still and rest on its laurels. "As a district, we continue to progress in terms of our 1:1 computing device initiative," Mr. Polansky said. "While the initiative will reach through grade 12 in the year to come, we will not lose sight of the fact that technology represents a resource used toward achieving a goal, as opposed to the goal itself. We have focused and will continue to focus on students' social and emotional well-being through the provision of ongoing programs and supports, and, more importantly, through serving as active listeners."
Mr. Polansky began his career in education at Syosset High School, where he worked as a science teacher from September 1991 to January 2001. He coached wrestling, soccer, baseball and softball there and was the mentor/coach of Syosset's Envirothon science team.
After obtaining state administrative certification, Mr. Polansky served as the Oyster Bay-East Norwich Central School District's K-12 director of science, a position he held from January 2001 to July 2002, when he became Walt Whitman's assistant principal.
"To better engage our external stakeholders, we have worked toward building stronger relationships with key state educational leaders, community leaders and others to advocate for legislation in support of strategies to support student opportunities and sustainable funding for schools," Mr. Polansky said. "Thanks to the Huntington community, a responsible budget has, once again, been approved, which will allow us to maintain or enhance programs and instructional resources across the district, as well as improve the district's infrastructure through critical capital work."
The recipient of the New York State PTA Distinguished Service Award, Mr. Polansky is an honorary lifetime member of the PTA. He plays an active role in the New York State Council of School Superintendents and the Western Suffolk BOCES superintendents' consortium. He has also served on the School Administrator Association of New York State (SAANYS) government relations teams for several years.
Always brimming with new ideas
"I'd like to thank all of Huntington's staff members for the individual contributions, dedication, talent, energy, care and collegiality that they bring to their work," Mr. Polansky said. "Additionally, I'd like to express my gratitude to building PTA and PTA Council members, as well as all parents and family members throughout the district, for contributing to the very important home-school partnership. Together, we are making a visible difference for our students, families and community."
Always brimming with new ideas to help make for a better experience for students on every grade level, Mr. Polansky is just as energetic today as he was in July 2011 when he became Huntington's superintendent of schools.
"Educating our children and preparing them for a successful future is important and influential work," Mr. Polansky said. "In ways large and small, every member of our school community has made a positive difference for our kids this year."