June 16, 2017
After a few early bumps in the road, Olivia Stamatatos has settled nicely into Cornell University. Huntington High School's Class of 2016 salutatorian is on a pre-med track and as she heads into her sophomore year at the storied Ivy League college she is thriving.
"During my fall semester, I initially experienced difficulty with the transition to Cornell's academically rigorous environment," Ms. Stamatatos said. "Although I had a relatively light course load, I was still overwhelmed by the prospect of being a student at such an esteemed university. However, once I adapted to my new environment, I loved every minute that I spent both inside and outside the classroom."
As the days and weeks progressed, Ms. Stamatatos fell into a productive routine. "I especially enjoyed attending weekly office hours for general chemistry and cell biology," she said. "I not only established close relationships with my professors, but also met some of my closest friends."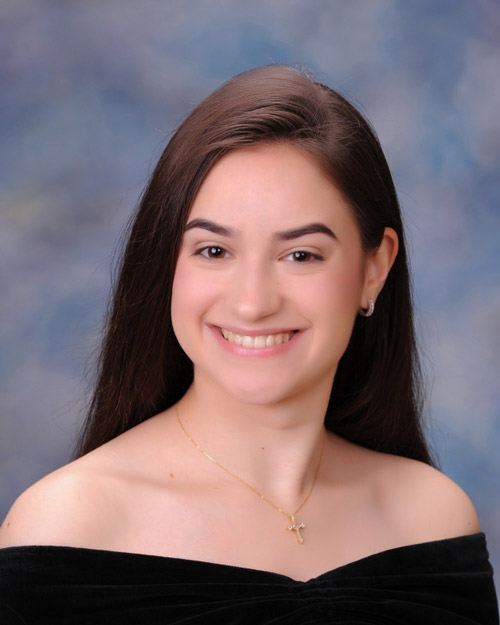 Olivia Stamatatos was salutatorian
of Huntington's Class of 2016.
An active member of Cornell's Pre-Professional Association Towards Careers in Health (PATCH), Ms. Stamatatos said the organization enables her to volunteer at blood drives and learn from current medical school students about the medical school application process.
The Huntington alum recently declared as a pre-med and pre-dietetics students. "I plan on taking multiple chemistry and nutritional science courses next semester," Ms. Stamatatos said. "I would also like to bring music back into my life, which I failed to do during my freshman year. Therefore, in subsequent semesters, I hope to be a member of the Cornell wind symphony and, possibly, a flute ensemble."
With all of that said, what excites Ms. Stamatatos the most is becoming a teaching assistant for one of Cornell's general chemistry supplemental courses. "The course truly opened my eyes to the applications and the beauty of chemistry and I hope that I will not only assist the incoming freshmen by sharing my knowledge, but will also convey the same passion and perception of chemistry that was passed down to me when I was a freshman," she said.
The Huntington grad is looking forward to taking a break from her formal studies for the next few months. "Despite my excitement for upcoming semesters, I have every intention of appreciating and enjoying my summer," Ms. Stamatatos said. "Since I have limited experience in the medical field, I plan on volunteering at Huntington Hospital as either a perioperative ambassador or a mother/baby ambassador. For recreational enjoyment, I will brush up on my music, take ballet classes at my old studio and, most importantly, spend time with my family." 
Ms. Stamatatos made good use of all of her opportunities at Huntington High School and she's well on her way to doing the same thing at Cornell. She has always led a well-balanced life and it has served her well as she pursued interests in and out of the classroom.
"Overall, my freshman year at Cornell University has been nothing short of unforgettable," M. Stamatatos said. "Any students at Huntington High School who have a genuine passion for learning and a desire for self-discovery should apply to Cornell. With all the opportunities that are available for students to explore their interests and discover who they really are, I feel as if I have already undergone tremendous growth as a person and a student. I cannot wait to see what the next three years hold in store for me!"