January 11, 2017
The Huntington High School baseball program is one of the oldest in the state, but in all those seasons, Corey Miller is the only Blue Devil to ever win the league Most Valuable Player Award.
The Huntington baseball team has been taking the field for more than 100 years and the Blue Devils have had many exceptional players put on the blue and white uniform, but Miller stands alone as the only one to ever be named league MVP.
A member of Huntington's Class of 1982, Miller was tapped as Suffolk League III MVP following the 1981 season. The teenager starred at shortstop, batted .390 and stole 23 bases in 25 attempts to set a new Blue Devil record. He also produced team highs in runs scored and runs batted in.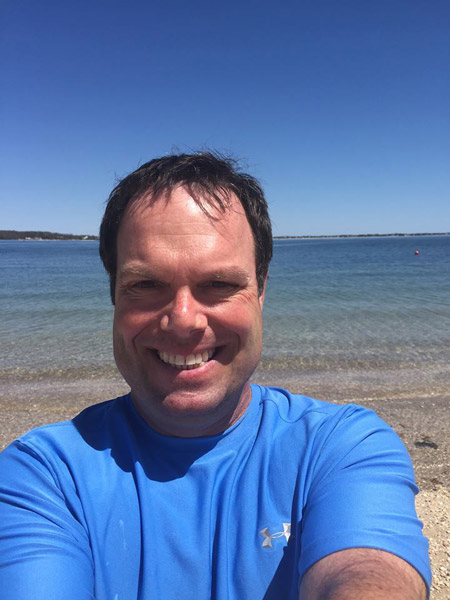 Huntington alum Corey Miller
with the local waters in the background.
Huntington's longtime head coach Ray Borowicz called Miller "one of the finest players" he ever coached. The Blue Devil great was among eight finalists for the county MVP Award.
Miller played shortstop for two seasons under Borowicz. After Borowicz was hired to coach at SUNY Buffalo and Bob Brush was installed as the new head coach, Miller moved into the catcher's position as a senior.
Although best known at Huntington as a baseball star, Miller also played two years of varsity football under head coach Joe Lucey and assistant coaches John Paci and Andy Mitchell.
Following his high school graduation, Miller headed off to the University of Virginia, where his brother, Brad, a member of Huntington's Class of 1979 was also enrolled. The pair played a season together on the UVA baseball team. Miller played for UVA all four years of college.
Ironically, while he playing for UVA, Miller competed against former Huntington teammate Glen Deren, who was on the James Madison University team.
After earning an undergraduate degree in economics at UVA, Miller worked on Wall Street for many years, toiling on the floor of the New York Stock Exchange. He went on to obtain an MBA in finance at New York University. The Huntington alum has most recently been working in the money management/hedge fund industry.
"Eight months ago I started working for a tech firm started by an old Huntington High School friend, Ihab Saad," Miller said. Mr. Saad was also a member of Huntington's Class of 1982. He later earned undergraduate and graduate degrees at Dartmouth and Columbia, respectively.
Since 1986, Miller has worked on the sidelines for the New York Jets. "I have had many different roles, including holding the chains, but I'm now kept busy as an assistant to one of the officials; the head linesman. I basically help him with any game day administrative work."
There was a time when Miller's father, Clint, could also be found on the sidelines of professional football games, handling a variety of functions. There are photographs of him holding the chains at the Polo Grounds in 1962 during a game between the New York Titans (the predecessor of the Jets) and the Denver Broncos.  
"Dad started as a very young person and worked continually in a role until his death in 1993," Miller said. "We spent seven years working together on the field."
Miller worked several Jets games in the late 1990s when Huntington Class of 1990 member John Paci III was a quarterback on the team. "It was great fun as John had served as our water boy as a young kid when I played football for coach Paci," Miller said
Both of Mr. Miller's parents were teachers in the Syosset school district. "My mom (Lois) was a biology teacher and dad taught physical education and coached all three track teams during the year," he said. "Mom still lives in Huntington in the house we grew up in."
Although he has moved on to a wonderful career, Mr. Miller will always remember his days at Huntington High School and as a Blue Devil. "The bottom line is that I am most thankful for the district support so many years ago, especially by those gentleman who coached me on the playing fields," he said.