February 28, 2017
There never was any doubt that Queens College would fall in love with Holly Grabowski. The Huntington High School Class of 2016 member has an irresistible personality and the enthusiasm she displays while pursuing her music studies is infectious.
The teenager knew she wanted to be in a "vibrant environment filled with culture and opportunities" and she's found it. "Everything at Queens College is going really great," Ms. Grabowski said. "I've developed a lot of amazing friendships so far. It's an incredible feeling being able to attend a school where everyone around me shares the same passion for music as I do. The talent I've witnessed by my peers is incredible. It is crazy how amazingly talented many performers are at my school."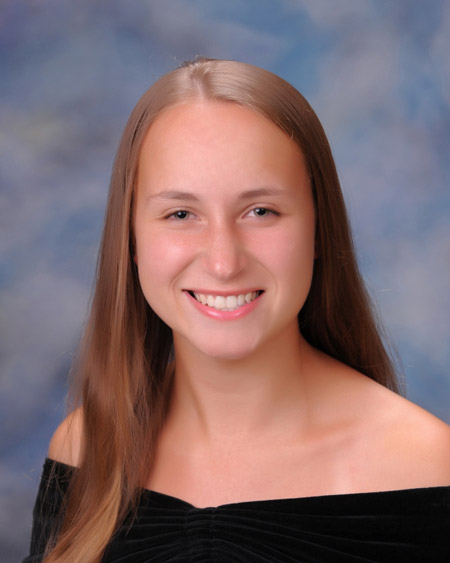 Huntington Class of 2016 member Holly Grabowski.
Ms. Grabowski is studying in the Aaron Copland School of Music at Queens College. She plays the viola and is one of the best, earning a perfect score on her high school All-State audition.
An integral member of the Blue Devil marching band, Ms. Grabowski's high school years were also filled with assisting classmates as a Natural Helper and earning academic awards.
Ms. Grabowski's interest in teaching and love for music grew throughout her experiences with Huntington's music faculty, including Frank Battista, Chelsea Jablon, Brian Stellato, Jason Giachetti, Christina Bhasin, Lisa Leonardi and Nicole Castaldo. She developed fruitful relationships with high school math teacher Joann Ferazi and science teacher Judy Pazienza, too.
A period of adjustment was required as Ms. Grabowski transitioned from high school to the demands of college. "Although I had to learn quickly to balance my time and work, I'm pretty much used to it now," she said.
The Huntington alum is living on the Queens College campus and is capitalizing on its convenient location. "Being only 10 minutes away, it's easy to go to Manhattan," she said. "I've seen my friends perform in music gigs only blocks away from the Empire State Building. Walking to class every day, I have a perfect view of the New York City skyline, which is so beautiful."
Being one of the top music students and leading young musicians in the state gave Ms. Grabowski many opportunities when it came time to choose a college. She doesn't regret her ultimate decision.
"I'm so glad I chose this college because I'm not even done with my first full year and I'm already loving everything I'm learning and the memories I've made so far," Ms. Grabowski said.
The Huntington grad's goal is to land a position as an orchestra teacher. Her major will also certify her to teach chorus, general music and band.
Six months into her freshman year, the teenager recently reminisced about the long process of choosing a college. "I wish I could go back in time and tell myself Queens [was the place for me] because it just is a great atmosphere to be in," Ms. Grabowski said. "I used to think it was an easy school and such, but the work is definitely challenging and you're surrounded by all types of talented people and you really have to work hard, but it's so worth it."
Every day offers an opportunity for a new adventure on the Queens campus. "It's a great music school," Ms. Grabowski said. "One of the cool things about the college that I really happen to like is the incredible diversity here. My music school is filled with people of all ages from all parts of the world. I know people from China, Spain and Malaysia and listening to them and their views on things is incredible. You really take a lot from that."