February 27, 2017
Holly LoTurco has settled into Duke University so well that she compiled a 4.0 grade point average her first semester. Huntington High School's Class of 2016 president earned a spot on the Dean's List "with distinction," one of only 844 students on the campus to capture the enhanced designation.
Ms. LoTurco took classes in chemistry, abnormal psychology, political economy and a writing class based on art history during the fall semester. She is currently enrolled in organic chemistry, neuroscience, cultural anthropology and Italian.  
"So far, I have thoroughly enjoyed all of my classes and professors," the Huntington grad said. "College is very different from high school in that there is a lot more freedom to take classes that are of interest to you. I definitely look forward to going to class a majority of the time."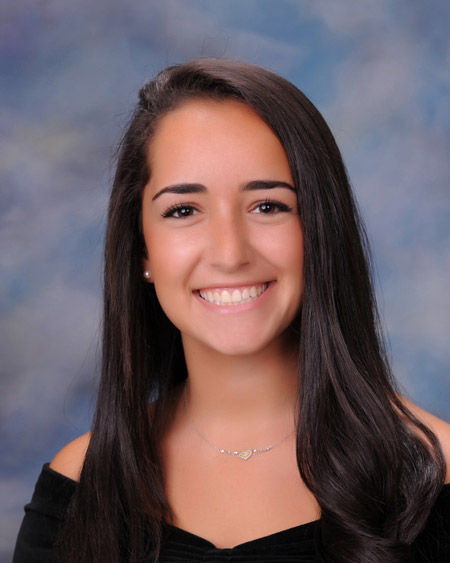 Huntington Class of 2016 member Holly LoTurco.
Ms. LoTurco is considering the possibility of majoring in neuroscience or perhaps psychology. "As of now, I am following a pre-med path in terms of classes with the hope of going to medical school after college," she said.
Magnificent four year run
The teenager headed off to Duke after concluding a magnificent four year run at Huntington High School. She used every day to better herself in some way, earning fine grades and taking on leadership positions with several extracurricular organizations.
One of the central figures on Huntington's elite mock trial team, Ms. LoTurco was named a Distinguished Senior last spring after compiling a minimum 90 academic average during every semester of high school. An Advanced Placement Scholar with Honor, she was inducted into the National Honor Society, English Honor Society, Social Studies Honor Society, Spanish Honor Society and Math Honor Society, of which she served as vice president.
Captain of the Highsteppers competitive dance team, Ms. LoTurco volunteered with Huntington's Habitat for Humanity chapter, too. She even found time to travel to Europe and Peru with EF Tours, joining many classmates on the enjoyable trips.
Ms. LoTurco's transition from high school to Duke was made just a bit easier by having her brother, Justin and close friend, Liz Corrao on the same Durham, North Carolina campus. The pair graduated together with Huntington's Class of 2015 and starred on the mock trial team in its first year of existence. Ms. Corrao was a Highstepper captain, too.
The Huntington grad really will be a Blue Devil forever. Just like Huntington High School, Duke's mascot is a Blue Devil.
"My first impressions of Duke came in all shapes and sizes: the diligence of the students, the intelligence of the faculty, the attractiveness of the campus, the array of cultures and backgrounds, the pride that every person has in being a Blue Devil," Ms. LoTurco said. "Initially, the ambiance of the Duke students was very intimidating. It seemed as though every student was brilliant and somehow already had the whole 'college thing' figured out, but in actuality, it was a big transition for everyone. Having my brother and also [Huntington alum] Liz Corrao here definitely allowed for me to feel settled in much faster. All of the upperclassmen were very welcoming and willing to help each step of the way, whether with classes, getting involved with clubs or just life advice in general."
Admired and deeply respected
Ms. LoTurco was admired and deeply respected by her Huntington classmates and teachers. Repeatedly elected to student council office, her presence will never be forgotten around the high school building.
"Huntington High School greatly aided in the smoothness of my transition," Ms. LoTurco said. "In particular, I think that after having taken AP classes during high school, I am now more prepared to put in the time when it comes to doing work and studying.  I also think that Huntington promotes such a great sense of community, which is something that every student will take with them throughout their years after high school. Huntington definitely gave me not only a place to be proud to call my hometown, but also a solid foundation academically and extracurricularly to build upon in college. I don't think I will ever be able to thank the Huntington faculty enough for how much they prepared me for the years after high school."
Her classes and the work associated with them take up a significant amount of Ms. LoTurco's time, but she's a dynamo and just as she did at Huntington High School the teenager has dived into an assortment of extracurricular activities.
"I have been able to get involved in a few different organizations on campus," Ms. LoTurco said. "I am a member of CHANCE Tutoring, which provides tutoring services for public school students in the Durham area once a week. I am also a member of Pancakes for Parkinson's, which is a club that primarily fundraises for Parkinson's research by hosting events during which we make and sell pancakes.  During the beginning of second semester, I decided to rush the sorority Tri Delta as well, which has definitely been a big source of social interactions in addition to philanthropy opportunities."
Studying abroad in South Africa
Ms. LoTurco plans to participate in a month-long Duke University study abroad program in South Africa this summer. "I am super excited to be a part of it," she said. "The program is centered on global health issues. We will mainly be studying South African traditional medicine and their public health systems. We will be analyzing the expanding impact infectious diseases are having on the South African population and hopefully be able to aid some of the health care systems. Once I return home, I am hoping to be able to shadow a local physician over the summer in order to see if that is a career I would like to go into."
The Huntington grad's high school experience was so wide ranging it's hard to believe anyone could have possibly been more ready for college life than Ms. LoTurco was when she graduated last June. Yet, the move to Duke still required a period of adjustment.
An intimidating transition
"There really is no sense in pretending that the transition to college is not intimidating, because it undoubtedly is," Ms. LoTurco said. "However, this intimidation allows for some of the most amazing experiences to arise. I have not even completed two full semesters yet and I already feel like I have grown tremendously as a student and as a person. It is almost inevitable that with the dramatic increase in responsibility, you will grow as a person. My advice to incoming college freshmen would be to put yourself out there and to go out of your comfort zone. I do not think this can be said enough times. There are so many interesting individuals, with so many fascinating traditions and stories and it is worth getting to know as many people as you can. One of the biggest mistakes I think a college freshman could make is getting to college and then solely surrounding him or herself with people similar to those they have been around their entire life. By going out of my comfort zone, I have met students from countries I had never even heard of and have heard stories that I thought only ever happened in movies."
One of the top students academically in Huntington's Class of 2016, Ms. LoTurco had many opportunities to attend top tier U.S. universities. She doesn't regret the choice she made.
"Duke is definitely a college I would recommend to those that want a balance of academics, social life and school spirit," Ms. LoTurco said. "It is a place full of amazing opportunities and resources. Duke has already exceeded my expectations and I do not think I could have found a better fit."