February 14, 2017
Dawn Dunlop has traveled a long way from her alma mater. The Huntington High School Class of 1984 member is the commander of NATO's early warning and control force in Casteau, Belgium and Geilenkirchen, Germany.
The Huntington alum is a major general in the U.S. Air Force. General Dunlop leads a 17-nation organization responsible to the Supreme Allied Commander Europe for providing airborne early warning, battle management and command and control capability for the NATO alliance.
As a Huntington senior, General Dunlop earned the President's Academic Fitness Award and was the 1984 recipient of the Robert A. Cushman Award, presented in memory of a former longtime Huntington High School principal who retired in June 1968. She played on the Blue Devil volleyball and basketball teams.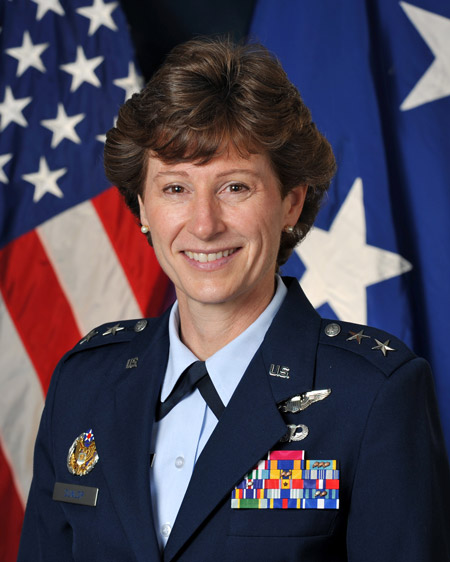 Huntington grad Dawn Dunlop is a NATO commander.
Following her high school graduation, she attended the U.S. Air Force Academy in Colorado Springs, earning a bachelor's degree in engineering sciences in 1988. She went on to obtain a master's degree in aeronautical engineering 1989 at Columbia University where she studied as a Guggenheim Fellow. She earned a second master's degree in 2002 at the Air Force's Air Command and Staff College in military operational art and science.
A command pilot with more than 3,500 flying hours, primarily in the F-22, F-15C, F-15E, T-38, F-16, and NE-3A aircraft, General Dunlop's combat time came as an F-15E pilot during Operation Provide Comfort during the Gulf War beginning in April 1991. Her operational and fighter assignments include command at the squadron and wing levels.
The Huntington alum has carried out many staff assignments, including chief of the Air Force F-35 integration office, chief of US Senate liaison and special assistant to the US Secretary of Energy as a White House Fellow.
The Huntington grad was one of the first women ever selected for a combat aircraft assignment and has flown F-15E missions in Iraq and in military exercises throughout Europe. She was the top graduate from the US Test Pilot School and was the chief pilot for the largest F-15 avionics and weapons upgrade as well as the operations officer for the F-22 test force during the two years prior to the aircraft's fielding.
General Dunlop played four years of varsity volleyball at the US Air Force Academy, winning All-Conference and Academic All-American honors. She is still among the leaders in several statistical categories for USAF volleyball.
The 1984 edition of The Huntingtonian, the Huntington High School yearbook, lists a quote chosen by General Dunlop to appear beside her senior year photo: "Don't part with your illusions. When they are gone, you may still exist, but you have ceased to live."
Retired Huntington social studies teacher Andy Athanas was an assistant high school basketball coach when General Dunlop played for the Blue Devils. He remembers the NATO commander as a "great kid" and "very hard worker and a very good player."
Georgia Deren McCarthy, a former teammate and Huntington's current district director of physical education, health and interscholastic athletics recalls General Dunlop well and wasn't surprised at all to hear of her US Air Force career and her position with NATO. "She had the type of personality to make a very good military officer," Ms. McCarthy said.
General Dunlop's assignments have included serving as deputy chief for air operations in Kosovo and chief of counter air defense systems at the Pentagon. Immediately prior to her current post she was director of plans, programs and requirements for the Air Force's air education and training command and was responsible for a $6.9 billion budget and developing the USAF requirements for recruiting, training and education.
The Huntington alum earned the Brigadier General Charles E. "Chuck" Yeager International Aeronautical Achievements Award in 2006 and has appeared in Smithsonian Magazine for her work with the Wright Flyer, the plane built in 1903 by the famed air enthusiasts, the Wright Brothers.
While General Dunlop is a long way from her hometown, her former teammates and coaches haven't forgotten the sharp play, pleasant personality and desire to be the best she could possibly be she exhibited all those years ago at Huntington High School.