February 10, 2017
Hannah Burnett is a starting player on one of the best college lacrosse teams in the country. The Huntington High School alum scored 33 goals and added 10 assists last spring to help lift the University of Massachusetts to the Atlantic 10 Conference title and an appearance in the NCAA Division I national tournament's Elite Eight round
Burnett was a splendid athlete for Huntington, capturing All-County honors in both soccer and lacrosse and playing two years with the basketball team. By the time she graduated in June 2013 she was one of the top scorers in the history of the Blue Devil lacrosse program.
"We are currently coming off of a huge season," said Burnett earlier this week. "Last year we made it to the Elite Eight for the first time in 36 years. We upset both Princeton and Cornell in the first two rounds of NCAA's and eventually lost to Maryland who made it to the national championship. The feeling of being one of the last teams standing in the tournament was indescribable and it was awesome to make it that far knowing our program hadn't been there in decades."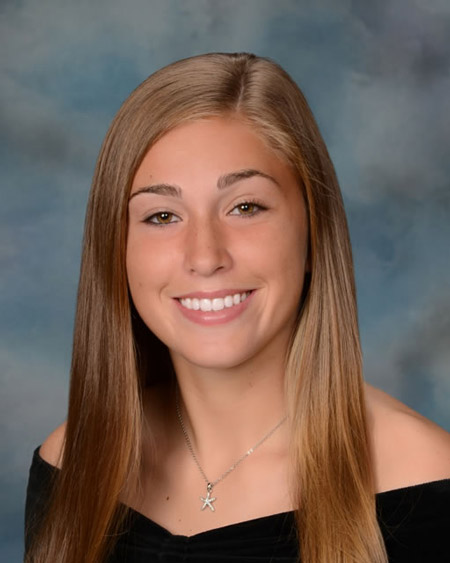 Hannah Burnett as a Huntington HIgh School senior.
UMass compiled a 20-2 mark last spring and won the conference crown for the eighth straight season. The team set an NCAA record for the most consecutive conference wins with 40.
"I am really excited for this upcoming season," Burnett said. "We are coming into the season ranked No. 15 in the nation and we have a lot of returnees so we're excited to see what we can do this year. We have some big games on our schedule, including Boston College, Syracuse and UConn. If we can get some out-of-conference wins this year, it would be huge for us in the long run." 
The Huntington alum originally attended the University of Florida, where she earned Southeastern Conference All-Academic recognition as a freshman. An injury limited her to appearing in five games with one goal and five groundballs.
Burnett moved into the UMass starting lineup last April. In her first game in the new role she scored a career high six goals and added an assist against St. Bonaventure. Two days later she notched four goals and an assist against LaSalle to garner A-10 Conference Player of the Week honors.
After missing nearly her entire freshman season because she was injured, Ms. Burnett was given a redshirt year, so she has two seasons of eligibility remaining at UMass.
The Huntington grad is carrying a double major in sports management and marketing in the Isenberg School of Management at UMass. A member of the university's student athlete advisory committee she was recently inducted to the National College Athlete Honor Society for students with a GPA of 3.5 or higher.
"Isenberg is ranked as the No. 1 public business school in the Northeast so the opportunities for academics here are endless," Burnett said. "I am hoping to pursue a career in the field of sport marketing when I graduate."
The former Blue Devil star is looking to have her best season ever this spring. In the first round of last year's NCAA Division I tournament, Burnett had a goal, two assists, two groundballs and two draw controls in an overtime win against Princeton. She had two goals and an assist in the conference championship game against Richmond.
Burnett was repeatedly named a New York State Scholar Athlete in both soccer and lacrosse while playing for Huntington. A member of Huntington's National Honor Society chapter, she captured the President's Education Award for Outstanding Academic Excellence as a senior.
"When comparing high school to college, it really is night and day," Burnett said. "As a student athlete in college, you have to find a balance between school, academics and social life. You are in class all morning, then you have practice in the afternoon, you get some dinner and then you have to do your homework. It's a non-stop cycle all week long and time management is really key to staying on top of your work. In high school, you don't have to stress as much because you know you are in school for a certain amount of time, practice is only two hours, and then you go home. In college there are so many different factors like film, lift, study hall, travel, meetings and night classes that you have to be aware of. If you don't organize your week, it is easy to fall behind."
Transitioning from high school sports to college has also required many adjustments. "Athletically, the difference is huge, too," Burnett said. "The overall pace of the game is so much faster in college and everyone was the best at their respective high school so everything is much more competitive. Our coaches preach that every day is an opportunity to get better so everyone really buys into the system and comes out to play their hardest day in and day out. I love how competitive it is because it just makes you better as a player." 
As she starts to see daylight at the end of the college tunnel, Burnett is happy with the choices she has made and she hasn't second guessed herself one bit.
"UMass has become my home away from Huntington," Burnett said. "Not only do I have a great opportunity with lacrosse, but I am part of a family here. The friendships I've made are ones that I will have for the rest of my life and the experiences of making it to the Elite Eight and winning our conference is something I will never forget. I am so grateful that I was given a chance to start a new chapter of my life at this school. I can't wait to see what this season has to offer. Transferring from Florida to UMass was the best decision of my life."