September 23, 2016
His classmates, teachers and coaches always knew he was a special kind of guy and Ryan Mulligan has proved it many times over. The 2011 Huntington High School grad recently played a role in saving the lives of more than a dozen people during a frightening episode at sea halfway around the world.
Mr. Mulligan played on the Blue Devil football and lacrosse teams and earned top honors academically, too. He went on to graduate from the United States Merchant Marine Academy in 2015 and has embarked on a career at sea.
Serving on the cable laying merchant ship Dependable, Mr. Mulligan and his crewmates came to the rescue of a fishing boat carrying 16 fishermen that sank in the Arabian Sea last Saturday about 30 nautical miles west of Mumbai, India.
The fishing boat "Dutta Sai" went down in poor weather and its entire crew was thrown into the sea. The Dependable's crew went about saving as many of the fishermen as possible. Two divers entered the water on Saturday and went missing in the rough seas at night. They were finally spotted and rescued the next day. A 15th fishermen who was missing was also eventually rescued. It is believed that only one man was lost. (Some reports indicated there were 17 men aboard, but there is some confusion on this point.)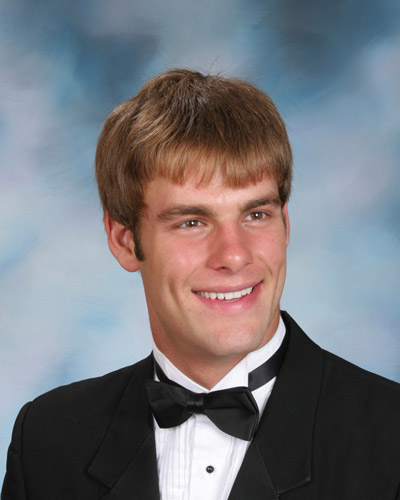 Ryan Mulligan as a
Huntington High School senior.
"It was an absolutely amazing experience I will never forget," Mr. Mulligan said. "We came across a group of maybe five or six men holding onto a bed in the middle of the ocean. We were actually only a short distance offshore, but I wasn't really aware of that at the time. The weather here has been rough being the tail end of monsoon season and ships don't typically sink on sunny days. The fishing boat these men were on sank at 6 a.m. and we came across them at 12:10 p.m. Some of the last survivors weren't found until about 4 p.m. That's an extremely long time. None of the men had any floatation devices. Some held onto that bed. One had a jug of water and the rest were literally just swimming as 15 foot swells came crashing over them and monsoon rains were pouring. The water temperature was 85 and I think that's the only reason we were able to save all of them."
The Huntington grad said the crew of his ship handled the situation "perfectly." He wrote to his mother to alert her to what happened and assure his family he was safe.
"We threw out life rings and the pilot ladder and lowered the gangway as far as we could," said Mr. Mulligan about the rescue operation. "There were people on both sides of the vessel so we had men on both sides. Three security guys, Matt (a shipmate) and myself put safety harnesses and lifejackets on and went down the gangways to help pull the people out of the water. That was by far the most intense and heroic thing I've done in my life. It was pretty hectic and there was a lot of yelling trying to communicate what was happening, but it was all executed perfectly. Since we were all outside in the bucket-sized rain for hours, most of our radios weren't working so we couldn't communicate to the bridge or engine room easily to start or stop thrusters when the men in the water came too close or let them know where to maneuver."
A National Football Foundation & College Hall of Fame Scholar Athlete Award recipient, Mr. Mulligan starred on the Huntington football and lacrosse teams. President of Young Leaders, a community based youth development organization, the Blue Devil alum was known for always doing what needed to be done, regardless of how tired he was, with no excuses offered. He sought out "every bit" of extra help he could fine and was determined to find success knowing that hard work always has a way of paying off.
Mr. Mulligan put all the lessons he learned at Huntington High School and the USMMA to good use during the daring rescue in the Arabian Sea last weekend.
"With dynamic positioning I was amazed at the precision we had with bringing each person right along the side of the bow and slowly having them move aft towards the gangway as they were pulled along with the life ring," Mr. Mulligan said. "The fisherman were so weak that most of them could not climb the ladder so sometimes one of the security guys would literally climb down the pilot ladder almost into the ocean and pull the guy up. The crazy part was that sometimes, I was that next guy on the gangway and halfway down the pilot ladder pulling the security guy or the fisherman up, just as some wave would be crashing up against the side. We were all strapped into those fall arrestors."
After pulling a half dozen fishermen from the water, the Dependable's crew learned there were many more still lost at sea. "So we all went high up on deck to look out for other survivors," Mr. Mulligan said. "Sure enough, one here, go back up and look, two there and then maybe another on the other side. Eventually after about four long hours we had found all but one and we started breaking people off to rest and get dried off. At this point there was an Indian Coast Guard and Navy boat in the area looking as well. The Navy boat was cool because they put on the afterburners and showed up in no time, I mean literally all of a sudden I looked up and saw this huge navy ship right off our beam. The visibility was down from 10-12 nautical miles normally to only two nautical miles, which made it extremely hard to search for anything and the 15 foot swells meant that you could see this little head with brown hair in the water for a few seconds and then he would be behind a wave for another few. It is amazing that we found anybody at all being that you could only see a few hundred wards away from the ship."
Mr. Mulligan said many of the fishermen looked like kids. While they all expressed gratitude, many were extremely weak. "I carried one of them up the gangway onto the ship because his entire body was just like JELL-O," the Huntington alum said. "We got them the care they needed and gave them beds to rest on and some guys gave them clothing."
Few people know what it feels like to save a man's life. Mr. Mulligan is now among that small circle. He's a long way from home, but those who know him probably won't be surprised when they hear of his heroics. He's always been the kind of person that people expect great things from.
"It was an amazing experience that I will never forget and I am proud of myself that I did everything I could to help the situation," Mr. Mulligan said. I was so proud to be part of a crew that executed their mission so well."