September 22, 2016
Kyle O'Brien hasn't missed a single step during his transition from Huntington High School to SUNY Maritime College. The Blue Devil Class of 2016 alum captured Skyline Conference Rookie of the Week honors for his sensational early season performance at the Bard Raptors Invitational.
O'Brien starred on the Huntington cross country, winter and spring track teams. Named a Distinguished Senior after compiling an academic grade average of 90 or higher during every high school semester, the teenager was one of the leading member of last year's senior class.
The 6'1, 155 lb. O'Brien grabbed All-League and All-County honors with the Blue Devils as a senior and captained all three teams during his final two years in a Huntington uniform.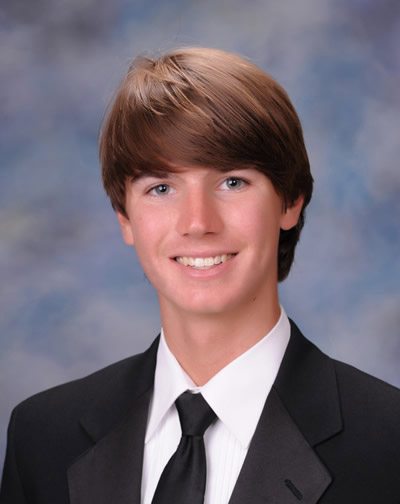 Huntington Class of 2016 member
Kyle O'Brien.
O'Brien put forth a strong effort last Saturday at the Bard Raptors Invitational, finishing fifth in a field of 151 runners. The Huntington alum covered the 8K (4.97 miles) course in 27:06.00, which is fifth fastest all-time for Maritime College. His superb effort helped Maritime finished fifth among the 20 competing teams.
In his first ever college race one week earlier, O'Brien placed 26th in a field of 97 in the Fordham Fiasco at Van Cortlandt Park in the Bronx, covering the five mile course in 29:34.86. He will race again for Maritime on Sunday at the York Invitational at Van Cortlandt Park.
"I chose SUNY Maritime because I love being by the water and working in a structured environment," O'Brien said last spring. "After sailing for my summer club team for several years and discovering my love for traveling back when I went to China with Mr. [Joseph] Leavy in ninth grade, this school seems like it would offer the best of both worlds and allow me to work on the water and travel the world."
O'Brien advanced to the Long Island regional finals in the National History Day competition as a high school sophomore. Vice president of the orchestra committee, he was also a Natural Helper and a National Honor Society member.
After considering SUNY Geneseo, Ithaca College and Syracuse University, O'Brien decided to attend SUNY Maritime College. The teenager plans to pursue a Bachelor of Science degree in marine transportation, which incorporates business administration, management, international business, transportation management and marine operations. "This will allow me to graduate with a US Coast Guard unlimited deck license," he said.
"SUNY Maritime College is one of six state maritime academies in the United States," according to the school's website. "Located 30 minutes from mid-town Manhattan, Maritime College educates dynamic leaders for the global maritime industry. Offering 11 undergraduate majors, including five ABET-accredited engineering programs and two master's degree programs, a distinctive hands-on approach to education prepares students for career success. Graduates have traditionally had nearly 100 percent job placement within three months of graduation."