September 21, 2016
Olivia Stamatatos is already on her way toward mastering all the ins and outs of Cornell University, the Huntington High School Class of 2016 salutatorian's home for the next four years.
Ms. Stamatatos has enjoyed her classes in the opening weeks of the fall semester. The intellectual powerhouse had her choice of some of America's best colleges before deciding the Ivy League campus in Ithaca, New York was the place she wanted to be.
"Everything has been going pretty well so far," said Ms. Stamatatos last week. "I'm still not used to just how large the campus is. Walking everywhere has definitely been a bit of a hassle, but it also helps me relax and collect my bearings before I go to my next class."
Cornell's campus consists of 4,800 acres. Nearly 22,000 undergraduate and graduate students are enrolled. The school was founded in 1865 and is regarded as one of the finest in the world.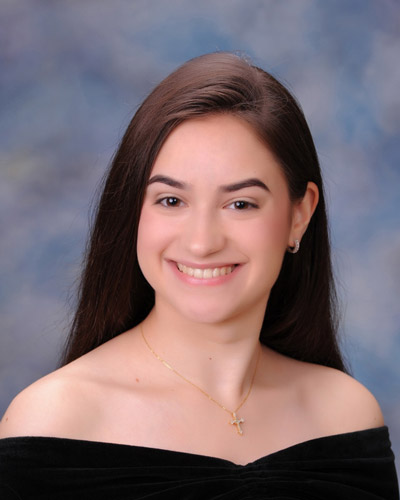 Olivia Stamatatos was salutatorian
of Huntington's Class of 2016.
"I can't believe that I'm already in my fifth week of classes," Ms. Stamatatos said. She had her first lab practical last Wednesday and is rapidly adapting to life at Cornell and college in general.
"Although I am still learning how to adjust to my responsibilities as a college student, I am exorbitantly excited to expand upon the breadth of my knowledge and to start the next phase of my life," Ms. Stamatatos said.
President of the Italian Honor Society, Ms. Stamatatos was also a member of six other academic honor societies. A wonderful flute player in Huntington's wind ensemble, she also studied at the Lynch School of Ballet and has performed in many productions. A member of the high school Mathletes, she excelled in every academic discipline.
The teenager cites the "unwavering love and support from family, friends and educators" for helping inspire her "to reach for the stars."
Ms. Stamatatos plans to pursue science studies in Cornell's College of Human Ecology.