November 29, 2016
Courtney O'Bryan and John Bosco will always be remembered at their alma mater. Their classmates and teammates turned out in droves last Saturday for a flag football tournament held in honor of the two Huntington High School alums who lost their lives in twin tragedies.
Now in its second year, the Turkey Bowl tournament drew more than 400 players and two or three times as many fans to the Blue Devil athletic fields last weekend. While the games featured fierce play at times, a carnival type atmosphere pervaded the rest of the area. The event raised money for scholarships awarded annually in honor of the two well-liked alums.
The Turkey Bowl raised scholarship funds
to honor two Huntington alums.
"The 2nd Annual John Bosco & Courtney O'Bryan Memorial Turkey Bowl honors two amazing kids taken from us way too soon by tragic accidents," stated the event website. "John and Courtney were caring, compassionate, funny, friendly and non-judgmental people who gave everything they had and expected nothing in return. We honor them with this fundraiser that will keep their scholarships available for years to come and do what they wanted to do; help others succeed."
Ms. O'Bryan graduated with Huntington's Class of 2011. A member of the Blue Devil soccer, basketball and lacrosse teams, she was a freshman at Penn State University when she was killed in December 2011.
The Huntington alum was a passenger in a car on its way to Buffalo for a weekend of fundraising to battle pediatric cancer when at about 8:30 p.m. it reportedly hit an icy patch of roadway in Lewis Run in northern Pennsylvania, careening out of control, flipping over, sliding down a highway embankment and crashing into a tree. Ms. O'Bryan, who was riding in the backseat of the 2011 Nissan Pathfinder was fatally injured and four other students in the car were hospitalized.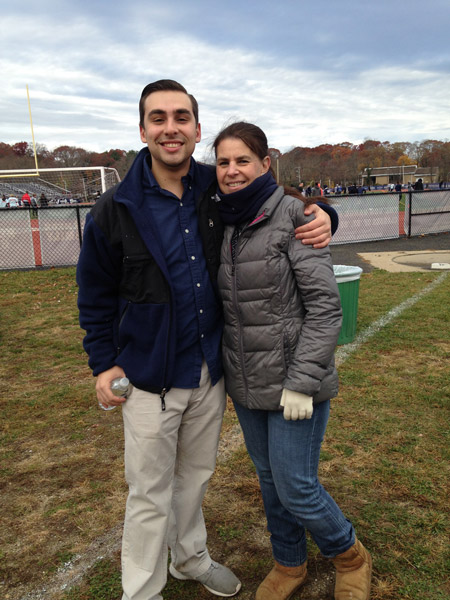 Garrett Arleo and his mom, Lynne
helped organize the Turkey Bowl.
A member of Huntington High School's Class of 2012, Mr. Bosco was struck by a car and killed in January 2015 while crossing a street during a vacation with his family in Florida. A Blue Devil lacrosse program alum, he was studying at SUNY College of Oneonta at the time of his passing.
Last Saturday's sight was impressive as the Turkey Bowl took over the grass and turf fields at Huntington High School. Players said it was a fitting tribute for two of the most popular kids to ever wear Blue Devil uniforms.
"My family started it last year to raise money for their scholarships," Lynne Arleo said. "Last year we had 230 registered. This year we had 430." An army of devoted volunteers worked behind the scenes to insure the event's success. The families of Ms. O'Bryan and Mr. Bosco were also on hand throughout the day.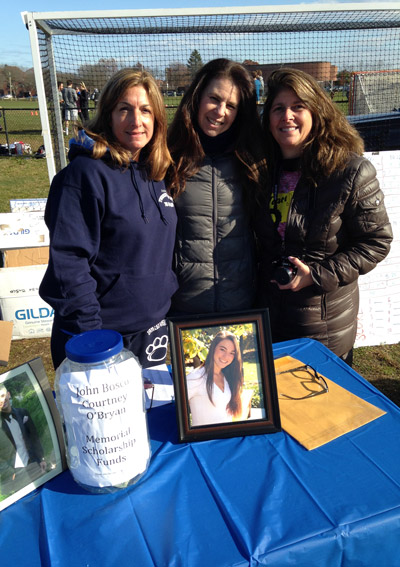 Lynne Arleo is flanked by
Lisa O'Bryan Brigandi and Michelle Bosco.
One of the most touching scenes saw Blue Devil boys' lacrosse alumni present a copy of the 2016 Huntington High School yearbook to Willie Jean Merkerson, sister of the late Jerome Merkerson, who coached many of the players and worked as a security guard in the school district. Mr. Merkerson passed away suddenly in August 2015. The yearbook included a page that paid tribute to his work with the young people of the community.
"Merk was loved by his former players and many, many wrote notes in the yearbook, memorializing what Merk meant to them as players and men," Richard McGrath said. "Willie Jean is going to give the yearbook to Merk's mom, who is 90."
The family of Huntington sophomore Eli Mollineaux, who passed away in October, was asked to blow a horn that signaled the opening of this year's tournament.
Interested in getting involved in next November's event? Contact Garrett Arleo at garrettarleo@gmail.com.
The game rules are simple: A team must always have eight players on the field, including three linemen and a quarterback. The remaining four players can be either running backs or receivers. A prize of $500 goes to the winning team.