November 23, 2016
Emma DeGennaro is gradually settling into Brown University. The Huntington High School Class of 2016 member has been adjusting to life as an NCAA Division I athlete and to being a student at a high powered Ivy League school.
The teenager finds little parallel between daily life on the Brown campus in Providence, Rhode Island and her Huntington experience. Ms. DeGennaro was a two-sport Blue Devil star and one of the top members of her class academically. She knew everyone and moved about the high school and the town at-large with an air of confidence.
"I really miss Huntington and high school," Ms. DeGennaro said. But, the teenager knows that time cannot stand still; that life marches on and she has to move on as well. She was drawn to Brown as much for its open curriculum as for its lacrosse program.
At Brown, Ms. DeGennaro is among thousands of very bright students. The instructional methods of professors and the demands of classes are both different than what she encountered in high school and so are the expectations of the lacrosse program, which recruited her after a stellar career in a Huntington uniform.
The fall lacrosse season was a blunt introduction to college athletics, where extremely talented athletes are the norm, the game is faster paced and a no-nonsense attitude pervades every aspect of the program. Ms. DeGennaro was introduced to new drilling and training methods and she was pushed hard by the coaches and by her upperclassmen teammates, who she strived to keep up with.
"Everyone is so good and I'm trying so hard to keep up with them," said Ms. DeGennaro about her lacrosse teammates. "I think about lacrosse 24/7." When she's free from the demands of sports and school, the teenager is enjoying doing fun things like rock climbing, which helps her relax.
Ms. DeGennaro always seems to land on her feet. She's a high achiever and while it might take time for her to feel entirely comfortable, once she does, she typically shines in whatever she chooses to do. Those who know her best expect history to repeat itself at Brown.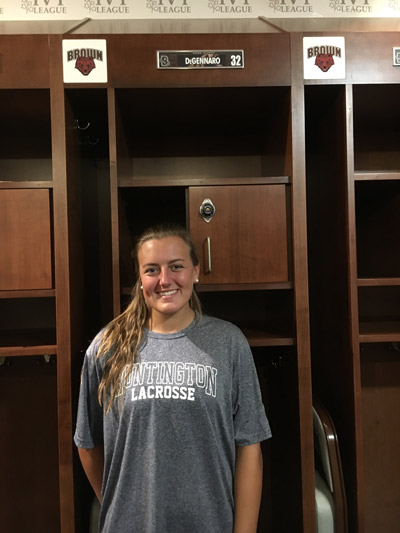 Huntington's Emma DeGennaro
at her lacrosse locker at Brown Univ.
The Huntington alum has already made many friends on Brown's campus and her roommate couldn't be nicer. Ms. DeGennaro has a varied schedule of classes as she discerns what academic area to concentrate in and which career field might be a good fit for her interests and talents.
Ms. DeGennaro has enrolled in an interesting set of classes for the spring semester, including Introduction to Political Thought, Sociology of the Family, Reading New York and Polarized Politics.
While Brown's academic demands cannot be minimized, it's lacrosse that consumes much of Ms. DeGennaro's physical and mental energy. Weight lifting and general physical conditioning are much more demanding on the college level. The time commitment is enormous and the former Blue Devil star has done plenty of work on her own, refining her already strong left handed shot along with her stickwork, footwork and moves on the field.
Named MVP of last year's Huntington team, Ms. DeGennaro tallied 52 goals and 23 assists as a senior and 165 goals and 67 assists over her four year varsity career. She captured a long list of honors and was even All-County in field hockey, notching a memorable goal on a penalty shot as a senior.
One of the adjustments that Ms. DeGennaro has had to make is the academic workload at Brown. It's substantial and includes a significant amount of reading. The teenager has gradually made the transition and is looking forward to a new group of classes in the spring and beyond.
There are many who believe Ms. DeGennaro is destined for a sensational college lacrosse career, that her style is much more suited for college than the high school level and that her size and speed with eventually result in many accomplishments. Some even think she could be a standout college field hockey player.
Right now the Huntington grad is just taking it one day at a time. Ms. DeGennaro said she "thinks about lacrosse all the time" and that it has "stressed" her out at times as she tries so hard to keep up with her teammates and make a positive impression on her coaches.
Ms. DeGennaro doesn't want to look too far ahead athletically, academically or even as far as possible careers go. She's still not sure which direction she wants to head in, but little by little she is coming to realize what she does and doesn't like and what she can see herself doing for the rest of her life.
"I'm just trying to concentrate on the positive each day," Ms. DeGennaro said.