March 23 , 2021
Dr. Frank Field spent more than 50 years on television in the New York metropolitan area, reporting on health and science topics and providing trusted weather forecasts as one of the top meteorologists in the county. His career was the focus of an award winning 10 minute documentary developed by three Huntington High School sophomores.
Sophomores Rachel Morina, Mikah Schueller and Isabella Lima created an insightful and informative short film on the colorful Dr. Field, who is related to one of the teenagers and who made himself available for an interview. The documentary was among the top award recipients in this year's National History Day contest at Huntington High School.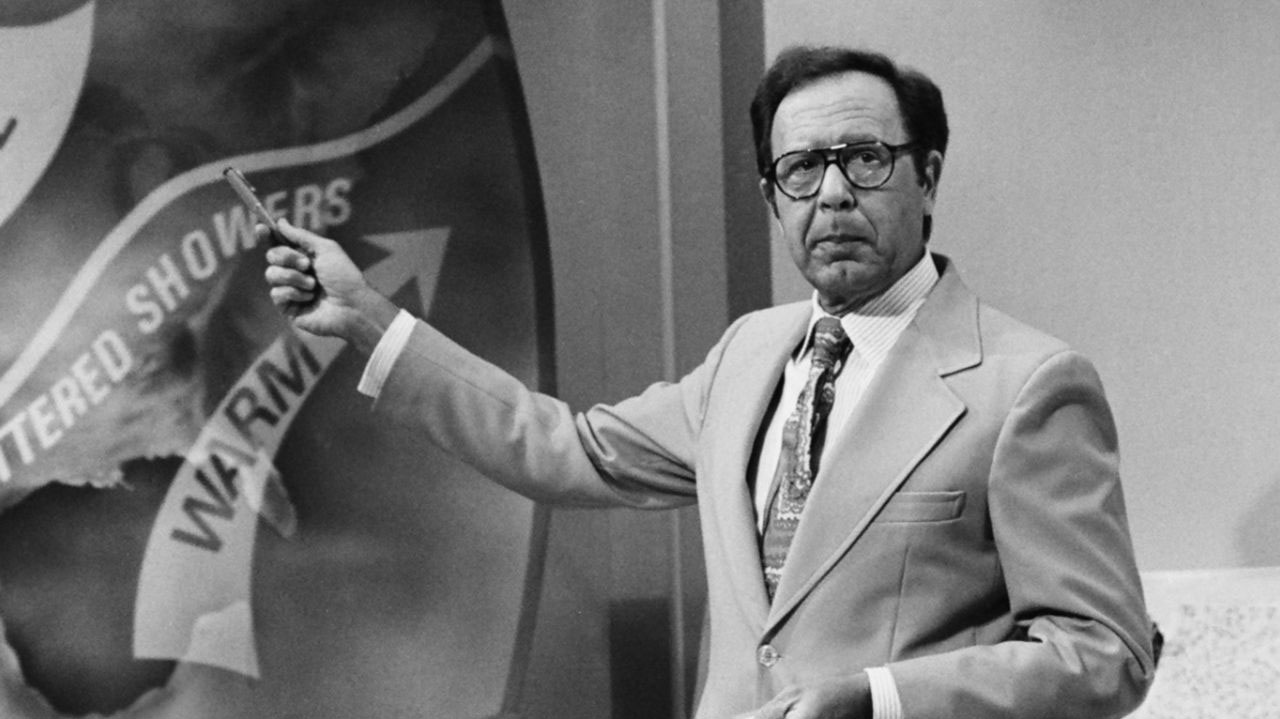 Dr. Frank Field in action on television.
"We focused on Dr. Frank Field and how he used television to communicate with the public," Ms. Morina said. "We chose this topic because Dr. Field is my great-uncle and we wanted to explore some of his accomplishments. I think that our documentary came well and we are all proud of it."
This year's National History Day theme is "Communication in History: The Key to Understanding." Participants in the competition can submit work in a variety of formats from individual and group exhibits and websites to historical papers and individual and group documentaries.
"Our topic of Dr. Frank Field had both a great historical impact and sentimental significance," Mr. Schueller said. "Dr. Field was not just a pioneer of televised news, but is also a relative of Rachel Morina. These combined factors are the reasons why we chose this topic to study further. Through our preliminary research grew a desire to learn about the beginnings of televised news and the weather presented on these stations upon which so many people rely. While creating our documentary we read articles, researched events and even conducted an interview with Dr. Frank Field himself. In this regard, our documentary was a huge success as not only did we create an amazing project that we feel did this topic justice, but also realized our hope of learning a little more about our past."
Dr. Field's son, Storm Field was also a well-known TV personality and meteorologist who is also now retired. Storm field also made himself available for an interview.
"We discovered the topic when one of my group members started talking about their weatherman great uncle and we started doing a little research," Ms. Lima said. "Initially we thought he was only a weatherman, but then we started looking into more of his accomplishments and saw his impact. We were able to set up an interview with Frank and Storm Field, clips of which are shown in our documentary. It was a hard topic to find sources for because he wasn't incredibly well-known, but we were lucky enough to have contact with the family and they sent us sources. It was a fun project to do and I'm happy with how it came out."
Click here to view the Frank Field documentary