March 19 , 2021
Six Huntington High School student-artists will be exhibiting work at the Huntington Arts Council's "High Arts Showcase XVII" at the Main Street Gallery in the village over the next three weeks.
Huntington student-artists with pieces on display include Grace Wildermuth, Ava Brosnan,
Gabrielle Trimboli, Tyler Basil, Ella Siepel and Lauren Gooding.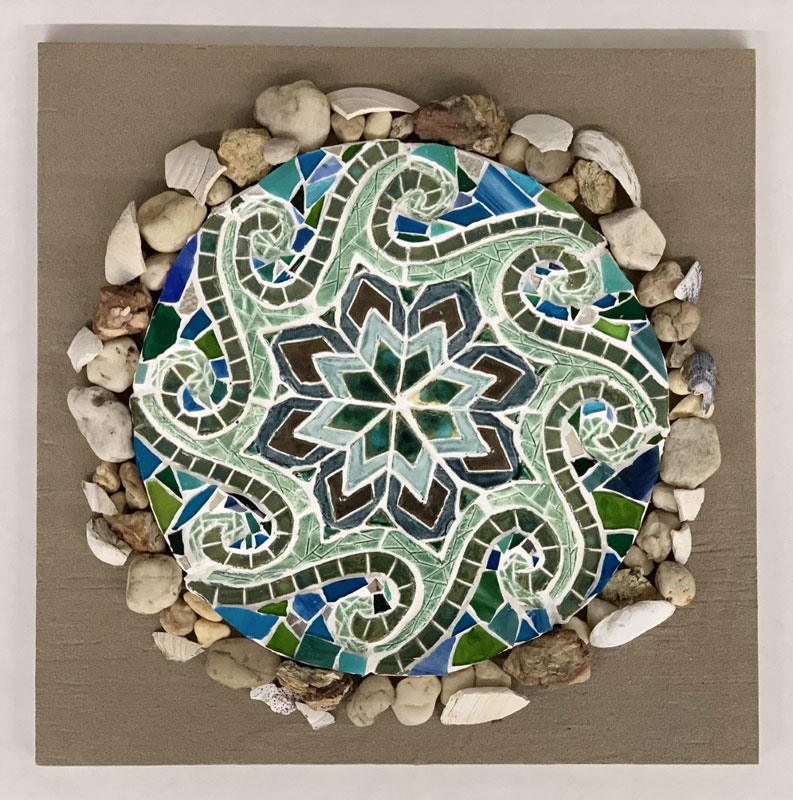 Ella Siepel created this magnficent ceramic piece of of art.
A private opening reception will be held on Friday night from 4-7 p.m. for the student-artists and their families along with their teachers and school administrators. Due to COVID-19, the event is not open to the general public.
The exhibit will run through April 10. It showcases the work of several dozen gifted junior and senior artists from the eight Long Island school districts that participate in the Huntington Arts Council's Journey program, "which fosters the appreciation of cultural diversity through the arts."
The Main Street Gallery's hours and capacity are limited to Tuesday through Friday from 11 a.m. to 4 p.m. Call 631-271-8423 in advance to confirm that a staff member is available. All visitors are required to wear a face covering and maintain social distance.
The exhibit features a wide range of work across various media forms that include oil, watercolor, digital photography, sculpture, ceramics, mixed media, fabric and collage.
The six Huntington students with pieces on display in the showcase are joined by top artists from the Cold Spring Harbor, Commack, Harborfields, Kings Park, Northport-East Northport, South Huntington and Plainview-Old Bethpage school districts.
The exhibit will also be available for viewing online at www.huntingtonartscouncil.org.
"'The High Arts Showcase' is a component of Journey arts in education program," according to the Huntington Arts Council. "Journey, established in 1985 by Chairperson Sandy Chapin, local area educators and in partnership with district administrators, integrates cultural arts into classroom curriculum encouraging an individualized experience and appreciation of cultural diversity through the arts. A multi-component arts in education program available to school districts providing resources for learning about world cultures through arts and arts experiences enhancing learning for students in kindergarten through twelfth grade."
The six Huntington High School students exhibiting pieces include:
Grace Wildermuth
Grade: 12
Title: Untitled
Medium: Mixed Media
Teacher: Kristin Singer
Artist's Statement: "My art explores the connection between music and visual art. In my art, I layered abstract backgrounds and shapes with a realistic figure in order to depict the relationship between a musician and the sound she creates. I also experimented with monotype prints to create an organic, rhythmic background. The repetition in the drawn circles and the paper-cut circles connects to repetitive sounds and beats in music. The figure is placed between the abstract shapes to create the impression that the player is surrounded by and absorbed in the music she creates."
Ava Brosnan
Grade: 12
Title: Untitled
Medium: Photograph
Teacher: Pam Piffard
Artist's Statement: "My focus in photography is to create a safe space for teenage girls. Girls are often underestimated by society, and I want to capture their spirit in my work. My subjects are valued in each set I create. My main goal with each shoot is not only to get the best image but to make young women feel confident in front of the lens.
"I created this dreamy set with orange lighting to create a peaceful and warm feeling. I was aiming for nostalgia, which my model perfects with her eyes melting into the camera. With her head in the clouds and her eyes bright, I knew that these pictures would be just what I'd imagined. This shoot confirmed to me the importance of relationships and building trust. My friend, who I had only met a few hours before this, fostered an honest and collaborative space. The connection we formed lit a passion in me and inspired me to produce more sets and relationships like this one in the future. I hope to always have this relationship with my collaborators and create spaces for them to feel confident and proud."
Gabrielle Trimboli
Grade: 12
Title: 70s Blue Diamond
Medium: Fabric
Teacher: Kim Valerio
Artist's Statement: "Through the years, it has taken a lot of time to develop my style and design choices. I've always been drawn to older music and fashion, especially of the 1960s and 70s and I try to bring that style back through my work. Upon discovering this style for myself and wearing clothes either inspired by these years or vintage clothing, I realized that this style made me feel more like myself than anything I had worn before. I find it to be a challenging yet very rewarding task to bring these past fashions back to life, as well as putting a modern twist on them. With every design, it has been important to balance the fabric, the pattern, silhouette, and details so that it presents itself as clothing from the era I'm looking for without it being an overdone caricature.
"I made this piece from a vintage pattern from 1973, and one of the most difficult parts of making this dress was finding a fabric that would do the pattern justice. The fabric I wound up with is an outdoor furniture upholstery fabric, and while I was wary of this at first, it resulted in having a beautiful structure and held up perfectly. The white cuffs and large lapels tie the piece together, and the miniskirt gives it a youthful, modern spin."
Tyler Basil
Grade: 11
Title: Floral Delight
Medium: Vector Illustration
Teacher: Kasmira Mohanty
Artist's Statement: "'Floral Delight' is an exploration of the contrast between nature and man-made/digital design. I illustrated this concept by juxtaposing organic shapes filled with a monochromatic color scheme and contrasted them with a rigid geometric low poly structure. To add visual interest I chose a vibrant fuchsia for the background coupled with a grunge paper texture overlay. The viewer can enjoy the work based on aesthetics or draw their own conclusion as to the intellectual purpose of the piece."
Ella Siepel
Grade: 12
Title: Waves
Medium: Ceramics
Teacher: Ayallah Jeddah
Artist's Statement: "In the process of making this piece, I was inspired by ancient Roman mosaics that use intricate patterns of tiles and symmetry to depict people or objects. I wanted to present a fresh take on ancient designs and muted colors, and I chose to do so in the form of an ocean-inspired piece meant to invoke feelings of peace and solitude. I used glaze and glass mosaics in order to create a diverse color scheme, and included many bright tiles meant to reflect light. This piece combines natural and geometric shapes to emphasize the cyclical nature of water and the diversity found within the natural world."
Lauren Gooding
Grade: 12
Title: The Son of Man
Medium: Video
Teacher: Heather Swan
To view the video, click here: https://www.youtube.com/watch?v=LZyJuSNskTY
Artist's Statement: "For as long as I can remember, I've had a passion for storytelling. As a kid, I explored this interest by making silly music videos and movies on my iPad with my friends or my sister. Now that I'm older, I've been able to learn real filmmaking techniques through the creative video program at my school. With the help of my teacher and classmates, I've been able to create countless projects that have helped me master these skills and prepared me to continue my work beyond the high school classroom and into college."