March 17 , 2021
Sophomores Laura Curtin and Anna Bell Young collaborated to produce a splendid website presenting their impressive research into "The Innovative Ways Patriotic Female Spies Advanced Communication During the Civil War." The project captured the Civil War History Award in Huntington High School's annual National History Day contest.
The two teenagers are veterans of the National History Day initiative. This year's contest theme is "Communication in History: The Key to Understanding." Participants in the competition were permitted to submit work in a variety of formats ranging from individual and group exhibits and websites to historical papers and individual and group documentaries.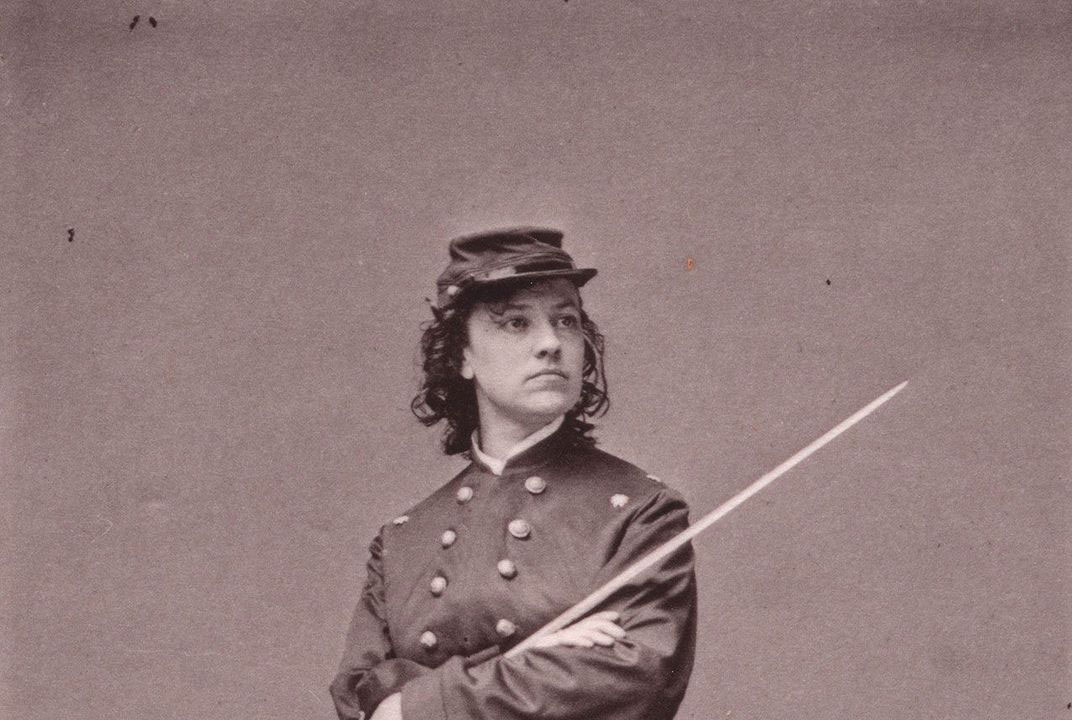 Actress Pauline Cushman was a Union spy and became a major celebrity. (NPG, Mathew Brady Studio, 1864)
"This year was a little harder to come up with a topic," Ms. Young said. "We knew we wanted to research the impact women had in history, but were not quite sure how to narrow that thought down. I then remembered a book that I read a summers ago titled "Behind Rebel Lines: The Incredible Story of Emma Edmonds, Civil War Spy" by Seymour Wright. It discussed a women named Emma Edmonds, a female unions spy who disguised as a man to gather enemy intel during the American Civil War. From there we began researching other women who participated in covert communication."
The research partners worked well together over many weeks, devoting countless hours to sifting through material, analyzing it and creating their attractive website to present it all.
"We chose our topic because Anna Bell had remembered reading about female spies in the Civil War and thought that they weren't talked about much," Ms. Curtin said. "I agreed since this was the first time I was hearing about these spies. I'm really proud of how our project turned out and I think that it is informative and interesting
The project's thesis, as outlined on the award winning website, goes like this: "Being a spy entails a lot of risk: Infiltrating the enemy, gathering information without being detected and communicating that information back to base. At any point one could be captured, imprisoned or even killed. It was most essential to get information about the enemy to their leaders. Unprecedented ways to communicate enemy information was developed on both sides."
To visit the website log onto https://site.nhd.org/25484426/home.
The teenagers said that at the start of the Civil War in 1861, "women were prohibited from enlisted in the Army. Patriotic and eager to participate, these women could not side idly by. Instead, they sought other ways to fight. While not directly involved in combat, these brave women spies played a crucial role."
Teachers who judged this year's contest, were impressed with the website. "Though it was a lot of work, and much time was spent formatting and finding reliable information, I feel very proud of the project we created," Ms. Young said.
The project shined a light on a little known area of American history. "Women spies played a dangerous, but critical role in the Civil War," according to the project's conclusion. If caught, women could be imprisoned, deported to Canada or killed. Committed to their cause, many spies devised unusual strategies in order to convey the latest enemy knowledge back to headquarters. Many sewed pieces of fabric containing the confidential information on their clothing and hid documentation in the hoops of their skirts. Women spies were an additional bonus during wartime conflict. The patriotism and fearlessness of women like Rose O'Neal Greenhow, Harriet Tubman and Elizabeth Van Lew facilitated the transmission of crucial information that might not have otherwise been factored into wartime strategies."