March 2 , 2021
History came alive as Huntington students submitted hundreds of exceptional projects in a variety of formats across numerous research areas for this year's National History Day initiative.
Students spent months developing their entries. Participants vied in categories ranging from research papers to individual and group websites, exhibits and documentaries. This year's national theme was "Communication in History: The Key to Understanding."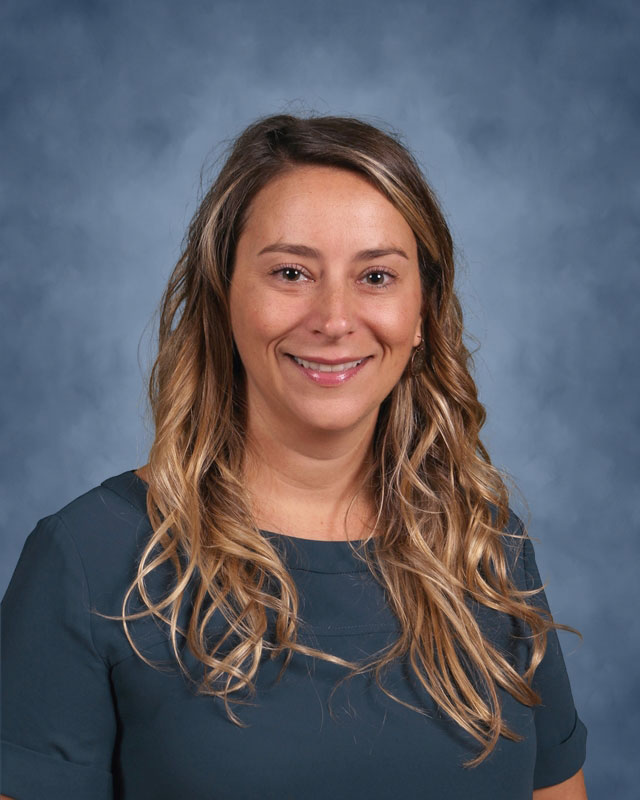 Huntington social studies teacher Lauren Desiderio coordinates the National History Day initiative.
Teams of teachers served as judges for each category and spent hours evaluating the projects. The annual history initiative seeks to make history more relevant for students and requires them to use a variety of practical and creative skills during the development of their projects.
Huntington High School social studies teacher Lauren Desiderio coordinates the annual initiative along with the History Day club, of which she serves as faculty advisor. The organization's executive board consists of Ally Kustera (co-president), Christopher Maichin (co-president), Emily Geller (vice president), Teddi Carnesi (treasurer), Cassidy Casabona (corresponding secretary), Emily Roberts (public relations), Hannah Roberts (historian) and administrative assistants Mary Grace Rorke, Emily Plachta and Allison Quinn.
"Despite the incredible challenges our students have faced this school year, they still managed rise to the challenge of creating a National History Day project and produced exceptional work," Mrs. Desiderio said. "Close to a half of million students worldwide participate in this competition annually and I am very proud that our Huntington students are amongst them. This year's theme allowed our students to foster their intellectual curiosity and select unique topics. Students discovered how different methods of communication or miscommunication could be the key to understanding how historical events unfolded."
The top place finishers in the recent local competition will now advance to the Long Island regional finals. Results will be announced on March 26. The state final results will be available on April 30. The national championship is slated for June.
"Due to the ongoing pandemic, the Long Island, New York State and national competitions will be virtual," Mrs. Desiderio said. "Our students will compete against other students on Long Island with judging rounds taking place March 14-15. We are hopeful to continue our winning tradition."
2021 National History Day Award Winners
Senior Division
Historical Paper
Third place​:​ ​The Delano Grape Strike by Jennifer Escobar
Second place: ​Communication in the Classroom: An Endeavor by the Deaf by Jasjeet Kaur
First place: ​The Unanswered Call for Justice: How Chinese-American Resistance to the 1892 Geary Act Communicated a Need for Change by Erin Ye
Individual Exhibit
Third place: ​WWII: A Battle of Persuasion by Theodora Carnesi
Second place: ​The Attica Prison Uprising of 1971: A Cry for Reform by Cassidy Casabona
First place: The Impact of Semaphore Communications on History by Sophie Bradford
Group Exhibit
Third place: The Communication of Equality: As the World Progresses, So Does Television by: Ella Kamenstein and Lillian Polak
Second place: From Fun to Fear: Johnson vs. Goldwater and the New Era of Political Advertising by Katie Browne, Emily Geller and Christopher Maichin
First place: ​Hello Girls: The Heroines of Communication in WWI by Markella Markotsis and Renee McKean
Individual Documentary
Third place​:​ ​The League of United Latin American Citizens by Jennifer Lopez Del-Cid
Second place: ​Ralph Baer: Communication Through Innovation by Ally Kustera
First place: ​Aaron Douglas: Retelling the Story of African Americans Through the Harlem Renaissance by Alexis Kaloudis
Group Documentary
Third place​:​ ​Dr. Frank Field by Rachel Morina, Mikah Schueller and Isabella Lima
Second place​:​ ​The Language of Art: How Pablo Picasso Communicated Through His Artwork by Sophie Lange, Brooke Parks, Olivia Polinsky and Reese Rinaldi
First place ​:​ ​The Enigma Code by Benjamin Edgar-McNerney, Lars Galvin and Chase Williams
Individual Website
Second place​: ​How Sign Language Helped The Deaf Become a Part of Society by Emma Hannigan
First place​: "​Mokusatsu" A Fatal Misinterpretation by Haileigh Smith
Group Website
Third place​:​ Hitler Hears a Who! The Lasting Effect of WWII Left on Dr. Seuss' Children's Books by Tallulah Pitti and Ainsley Proctor
Second place​:​ ​Anna Smith Strong: Communication Through a Clothesline by Victoria Mangan and Mary Grace Rorke
First place: ​Operation Mincemeat: The Series of Communications that Altered the Course of World War II by Talia Addeo, Laurel Bonn and McKenna Buffa
Senior Division Special Awards
U.S. Constitution History Award
Group Documentary
National Socialist Party of America vs. Village of Skokie: Changing the Lives of the Jewish Population by Adriana Abbatiello, Jada Joseph, Marley Josephy and Ava Tizzio
Native American History Award
Group Exhibit
Cracking the Code: The Navajo Code Talkers by Nicholas Zahn, Vincent Grassi and Kieran Husselbeck
Women's History Award
Individual Exhibit
The Telephone Switch: Calling All Women by Grace Allen
Lee Allen History of Baseball Award
Group Documentary
The All American Girls Professional Baseball League: A Breakthrough for Women by Jane Callery, Keira Coulter, and Riley Murtagh
African-American History Award
Group Website
Poets of the Harlem Renaissance by Andrea Mani-Munoz, Jannel Marroquin and Emily Nunez-Ulloa
Asian-American History Award
Historical Paper
The Unanswered Call for Justice: How Chinese-American Resistance to the 1892 Geary Act Communicated a Need for Change by Erin Ye
Civil War History Award
Group Website
The Innovative Ways Patriotic Female Spies Advanced Communication During the Civil War by Laura Curtin and Anna Bell Young
American Labor History Award
Group Documentary
The Newsies Strike of 1899: The World Will Know by Megan Lewis and Lily Tierney
Presidential History Award
Group Documentary
Painting the New Red & Blue Parties by Jack Semelsberger and Eli Soric
Equality in History Award
Group Documentary
Stonewall Riots: How Communication Led to Social Reformation by Kimberly Granados, Keiry Palma and Daniela Seren-Contreras
Latino-American History Award
Group Website
Zoot Suit Riots by David Canas Granados and Ashley Genao
History of Physical Sciences Technology Award
Individual Documentary
The Entertainment Software Rating Board: A History of Frustration by William Berry
Clio Award
Group Exhibit
Pigeons: Aiding the British Through Flight During WWII by Charlotte Gordon and Mary Marinello
Principal's Award
Individual Documentary
The League of United Latin American Citizens by Jennifer Lopez-Del Cid
Junior Division Awards
Individual Website
Third place: ​Morse Code by Alison Hahn
Second place​: ​Nellie Bly: A Journalist with a Passion by Eva Richter
First place​: ​Communicating Through the Punk Movement by Jordana Boxer
Group Website
Third place​: ​Communication in Auschwitz by Eli Levi and Timmy Tiliakos
Second place​: ​Rosa Parks Uses Her Voice to Fight for What is Right by Leila O'Toole and Avery Davidson
First place​: ​Fighting for Freedom: How the Stonewall Riots Changed American Society Forever by Ludo Cattano and Dylan Proctor
Group Exhibit
Second place​: ​Communication in the Underground Zhetel Ghetto by Manpreet Kaur and Olivia Lee
First place: ​King's Communication by James Ruthkowski and Zachary Matthews
Individual Documentary
First place​: ​Communicating Through Art by Charlie Stanforth
Group Documentary
Second place​: ​Navajo Code Talkers by Emma Boyle and Erin Hanlon
First place​: ​A Way Out: A Tale from Underneath the Tracks by Molly O'Brien and Maggie O'Toole
Individual Performance
First place​: ​Extra! Extra! Newsies Stand Up and Speak Out by Chloe Donovan