September 4 , 2020
Huntington Forever. That succinctly sums up the philosophy of the Blue Devil wrestling team, which has one of the most glorious histories of any mat program in the state. The current Huntington grapplers are vividly aware of that awesome tradition and they have been working hard to write a new chapter replete with championships, gold medals and first place trophies.
The COVID-19 pandemic prevented the Huntington mat squad from holding its annual dinner and awards night to celebrate a fine season that saw the team record a mark of 11-4 and turn in many strong performances in tournament competition. Planning for the festivities was well underway when the order came to close schools and move to distance learning.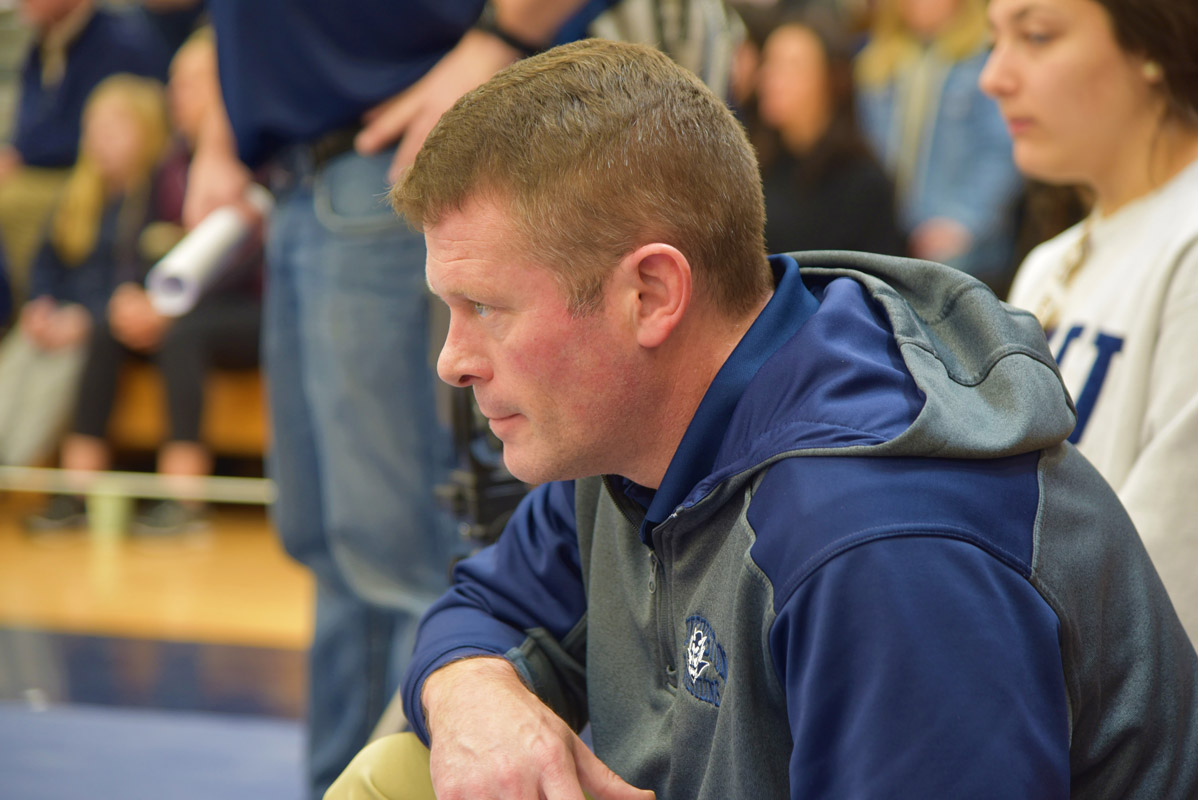 Huntington head coach Travis Smith.
Coaches Travis Smith, Michael Marinello and Jamie St. John were finally able to hold a drive through awards ceremony outside the high school during which the wrestlers were presented with trophies, athletic letters and team jackets.
Joe Petrone (34-3) garnered the MVP and Most Team Points Award. Nick Tudisco (27-6) and Robbie Smith (31-5) captured Coaches Awards. Ethan Franciscovich (16-14) claimed the Hardest Worker Award. Max Casiano (19-14) claimed the Most Improved Wrestler Award.
Joe Nicotra (33-7) pinned down the Outstanding Performance Award as well as awards for the Most Pins and the Quickest Pin. Billy Burton (26-9) won the award presented to the Senior with the Highest Academic Average.
Aedan McDonald (26-13) won a pair of awards for Most Takedowns and Most Reversals. Lucas Cirlincione (24-8) won awards for Most Near Falls and Most Technical Falls.
Christian St. John (14-11 on varsity) was named the JV MVP. Dante Salgado (four varsity wins) garnered the JV Most Improved Award. The two award winners were only eighth graders last winter.
All of the award recipients with the exception of Burton and McDonald will be returning to mats for the Blue Devils next winter.
Among the returnees who turned in fine seasons in 2019/20 was Sam Nicotra, who went 14-12 on the varsity as an eighth grader. Eighth grader Teddy Levy compiled a 9-4 varsity mark.
Underclassmen Kaleef Riley (17-10), Samir Rathore (14-11), Michael Kline (7-5), Enzo Pupillo (11 wins), Anthony Annunziata (10 wins), Zach Zboray (10 wins), Lucas Petrizzi (10 wins) and Joe Rodriquez (five wins) all made significant contributions on the varsity level.
The 2020/21 season will see two less weight classes contested. A two year pilot program enacted on the state level drops the number of weight classes from 15 to 13. The new classes are 102 lbs., 110, 118, 126, 132, 138, 145, 152, 160, 172, 189, 215 and 285.