May 29, 2020
Brian Contreras started shining on his very first day of kindergarten at Flower Hill Primary School. He learned his lessons well every step of the way and now all these years later the Huntington High School senior is set to head off to Binghamton University to study engineering.
"I chose Binghamton because I feel that it will give me room to grow as a person and I'll be able to prepare for a career in engineering, specifically mechanical, Mr. Contreras said.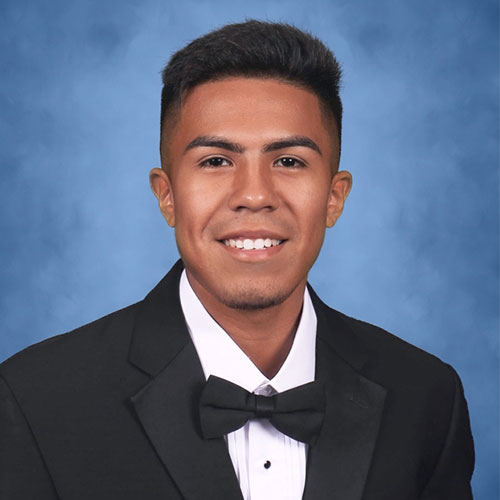 Huntington High School senior Brian Contreras
A member of Huntington's National Honor Society and Spanish Honor Society chapters, Mr. Contreras has been volunteering with the high school's Habitat for Humanity club. He's been a contributor to all three organizations.
"Huntington prepared me and got me ready for the workload that is coming my way at college," Mr. Contreras said. "The Advanced Placement classes that I have taken have been really helpful for me to understand what I must be doing in order to succeed."
A happy, respectful and very hardworking young man, Mr. Contreras is fun to be around. He has a sunny outlook on life and that has made him popular with his classmates.
"My freshman year I took Career and Financial Management and Business Management with Ms. [Paige] Tyree and although they aren't geared toward what I hope will be my career, some life skills that I learned in them were very valuable for the long run," Mr. Contreras said. "Taking AP Calculus BC is a very difficult course with a lot of work to do, but it has taught me to manage time and balance with other classes."
The teenager's closest friends include Julien Rentsch, Cole Pillion, Carmine De Ieso, Jasson Garay, Manny Reyes, Carlos Reyes and Junior Flores. Mr. Contreras has loved life at the high school and enjoyed meeting new people and participating in many of the activities throughout every school year.
"Relay for Life was a really great experience over the years where you saw a community come together and just enjoy the time through the night," Mr. Contreras said. "I also enjoyed taking part in bake-sales for clubs and honor societies. It's something silly, but trying to get people to buy a snack was always very funny and enjoyable to help raise funds for the clubs and societies."
Mr. Contreras has advice for incoming Huntington freshmen. "Enjoy these years, they go by extremely fast," he said. "The main focus is your studies and stay on top of them. It'll help in the long run."
It's easy to get along with Mr. Contreras. He's non-judgmental and open to new ideas.
"I never had a specific mentor," he said. "I utilized all my teachers for any help I needed. They're all flexible to help and they give advice when I need it. Huntington's staff has always helped me to be the best I can and helped me with my work."
Perhaps the highlight of Mr. Contreras' time at Huntington has been playing soccer for the Blue Devils. Wearing No. 18, his favorite number, he has been an impact player on the field and played a large role in the team's success. The senior was named to the All-Conference and All-County teams last fall following a season that saw him sparkle both offensively and defensively.
"Huntington will always be considered a home because of the inclusiveness behind the district," Mr. Contreras said. "Always feeling welcomed is a good thing that the school offers and the diversity of clubs and activities at the school kept the years interesting and exciting. I will miss my soccer season with the boys and coaches. It was one true experience to remember and I'll always have them and the season with me. Thank you guys for the bond and family we've created."