May 20, 2020
Sophomores Grace Colavecchio and Maddie Gabriel created a sensational documentary on the Watergate scandal for this year's National History Day contest at Huntington High School. The teenagers captured the Presidential History Award for their efforts.
"The Watergate Scandal: Breaking the Public's Trust in Government" was an insightful 10 minute short film on a grim period in the nation's political history. The Watergate scandal drove President Richard Nixon from office less than two years after a landslide re-election victory that saw him win 49 states.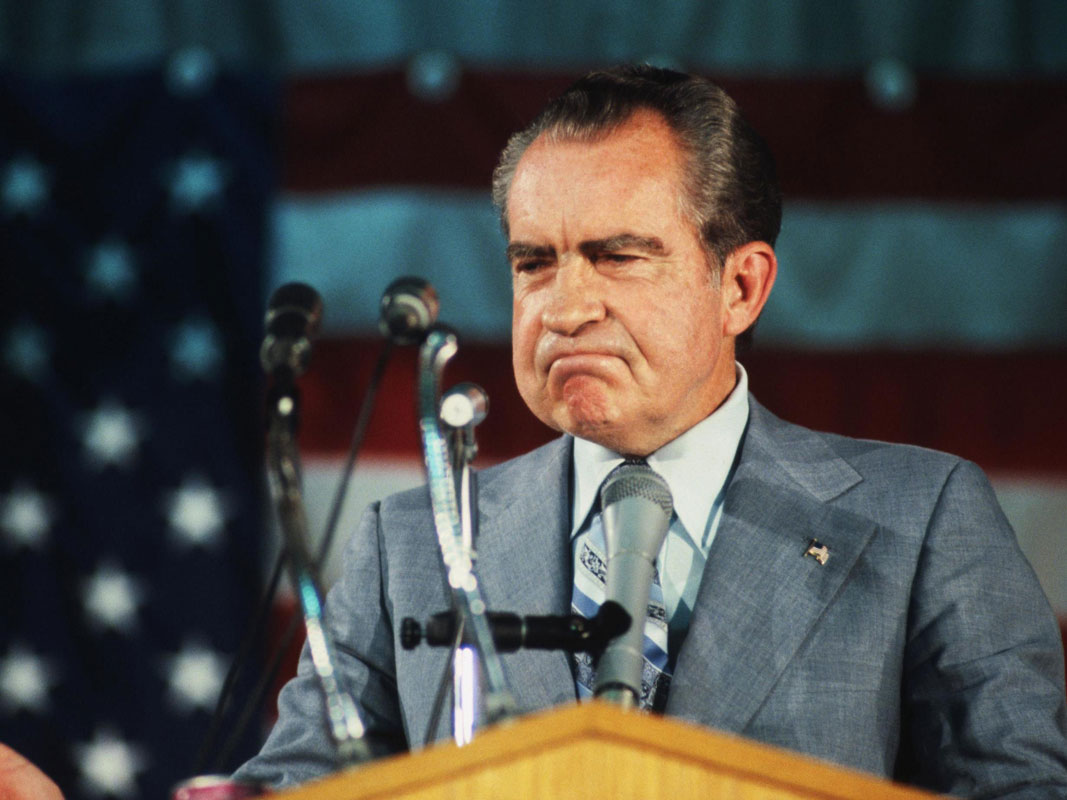 Richard Nixon resigned as president as a result of the Watergate scandal.
"Maddie and I are both interested in American history and especially America politics, so we figured Watergate was a great fit," Ms. Colavecchio said. "We used many government websites like the National Archives and also biographies about figures involved in the scandal to conduct our research. With a project like this we needed all points of view, not just one. We are very happy with how the project turned out. We put a lot of effort into our documentary. All in all it was a great experience just to learn about the Watergate scandal and conduct the research.
Mr. Nixon is the only president ever to resign the office. Watergate sent many of the president's closest aides and campaign officials to prison for their crimes.
The scandal began in June 1972 when burglars associated with the Committee to Re-Elect the President were found to have broken into the offices of the Democratic National Committee at the Watergate Hotel in Washington, DC. The purpose of the break-in was to engage in political espionage, including stealing documents and wiretapping telephones.
Over the next two years it became clear that the cover-up of these activities went as far as the Oval Office, with Mr. Nixon being implicated on tape recordings of conversations in the White House. Rather than face certain impeachment, conviction and removal, Mr. Nixon resigned his office in August 1974.
"My partner and I find that government is very interesting and especially with everything that is going on with our current government," Ms. Gabriel said. "We researched many different points of view from those who supported Nixon to those opposed to him to get a full understanding of what happened and to put ourselves in their minds. We are very happy with how it turned out and excited that we won the special Presidential History Award."
A member of the Huntington Foundation's Youth Board, Ms. Colavecchio also participates in the high school's Key Club chapter and in the Latin Club. She has been inducted into both the English Honor Society and Latin Honor Society. "Latin is one of my favorite subjects," she said. "I am really interested in writing and language studies."
Ms. Colavecchio dances competitively at a local dance studio. "I'm also on the Huntington Highsteppers, which has made my high school experience amazing."
A member of Huntington's Key Club and Habitat for Humanity club chapters, Ms. Gabriel's favorite courses and interests center on math and business. "I just think that they are really fun and logical," she said.