May 18, 2020
Baylie Larsen is a sensible young woman. So when it came time to choose where the Huntington High School senior wanted to study next fall, she went about making the same type of logical decision she is well known for and selected Marist College in Poughkeepsie.
Founded in 1905, Marist's main campus consists of 180 acres on the eastern banks of the scenic Hudson River. The college enrolls about 5,000 undergraduates. It even has a campus in Florence, Italy for those interested in studying abroad.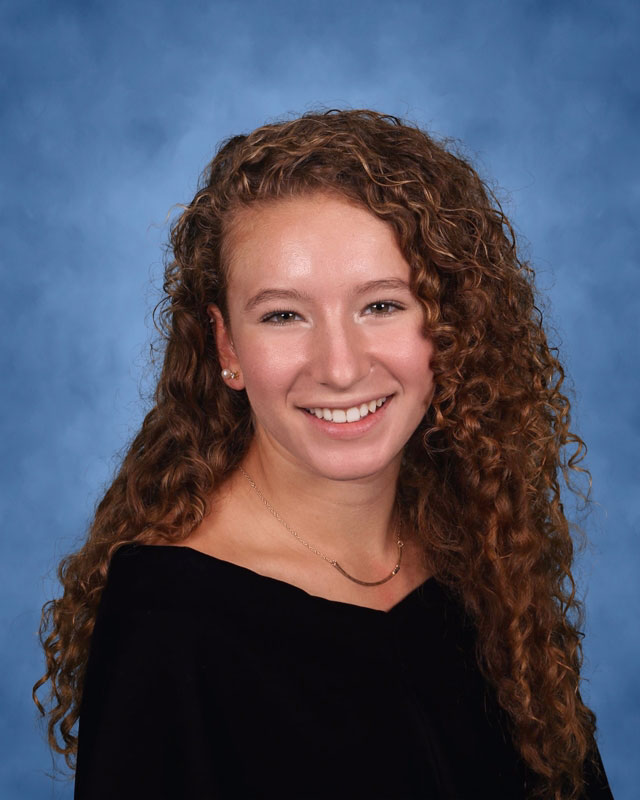 Huntington High School senior Baylie Larsen.
"I chose Marist because the location, programs and clubs are perfect for me," Ms. Larsen said. "It isn't too far and the campus is right on the Hudson River. I will also be in the honors program at Marist, which was an important factor in my decision. Other clubs and activities like the dance team and campus ministry really helped me make my decision."
The teenager has a very good grasp of her strengths and where her interests lie. "I want to major in biology and minor in fashion merchandising," Ms. Larsen said. "I hope to become a physician assistant in the future."
The senior has been especially enjoying training and performing with the Huntington Highsteppers competitive dance team and volunteering with the high school's Key Club chapter.
"Highstepping made me really feel like I was a part of the school and I enjoyed dancing with the team," Ms. Larsen said. "I also loved the Key Club because of the volunteer aspects of the organization."
The teenager has been a strong student academically and she has challenged herself throughout high school. Ms. Larsen has enjoyed a well-balanced experience, dabbling in a variety of activities and reflecting on where her long-term interests lie.
"Huntington High School has taught me to get involved in different activities and value my education," Ms. Larsen said. "I have also learned to balance my time by taking Advanced Placement courses and doing outside activities; gymnastics in particular. I feel ready to go to college and I am looking forward to meeting new people and learning more."
The senior's favorite classes are not surprising considering her interests. "AP Biology was the class that really motivated me to major in science," Ms. Larsen said. "I have loved taking Fashion Design & Illustration because it is an opportunity not many people get in high school and for me, fashion has become such a big part of me. This class gave me a lifelong hobby."
The senior's advice to incoming ninth graders? "Get involved," Ms. Larsen said. "Even if it's only one club or sport, stick with it and really get involved in it. Don't just be only a member."
The easygoing teenager is well-liked by her teachers and she has developed fruitful relationships with just about all of them.
"Mrs. [Kim] Valerio has always been a teacher who I have looked up to," Ms. Larsen said. "I was her intern this year. Mrs. [Patricia] Avelli was someone who really helped me during my junior year." (Mrs. Valerio leads the fashion program and Mrs. Avelli is a math teacher.)
"Baylie is an incredible young woman," Ms. Avelli said. "Her poise, dedication, hard work and resilience are evident in everything that she pursues. Her passion and drive will lead to tremendous success."
The senior is the type of person who is always looking to learn something from every situation she finds herself in. Of course, she has her likes and dislikes like everyone else, but Ms. Larsen always tries to walk away from any situation a little bit more knowledgeable.
"I have gained so much from Huntington High School," Ms. Larsen said. "The teachers are incredible. I will of course miss being in fashion classes and taking part in clubs and honors societies."