March 30, 2019
Seven Huntington High School student-artists are currently exhibiting work at the Huntington Arts Council's High Arts Showcase XVI at the Main Street Gallery in the village.
While the Main Street Gallery is currently closed due to the COVID-19 pandemic, the full exhibit is available for viewing online at www.huntingtonartscouncil.org.
The exhibit will run through May 2. It howcases the work of several dozen gifted junior and senior artists from seven Long Island school districts that participate in the Huntington Arts Council's Journey program, "which fosters the appreciation of cultural diversity through the arts."
The exhibit features a wide range of work across various media forms that include oil, watercolor, digital photography, sculpture, ceramics, mixed media, fabric and collage.
The seven Huntington students with pieces on display in the showcase are joined by top artists from the Cold Spring Harbor, Commack, Harborfields, Kings Park, Northport-East Northport, South Huntington and Plainview-Old Bethpage school districts.
"The High Arts Showcase is a component of Journey arts in education program," according to the Huntington Arts Council. "Journey, established in 1985 by Chairperson Sandy Chapin, local area educators and in partnership with district administrators, integrates cultural arts into classroom curriculum encouraging an individualized experience and appreciation of cultural diversity through the arts. A multi-component arts in education program available to school districts providing resources for learning about world cultures through arts and arts experiences enhancing learning for students in kindergarten through twelfth grade."
The seven Huntington High School students exhibiting pieces include:
Aniyah Toro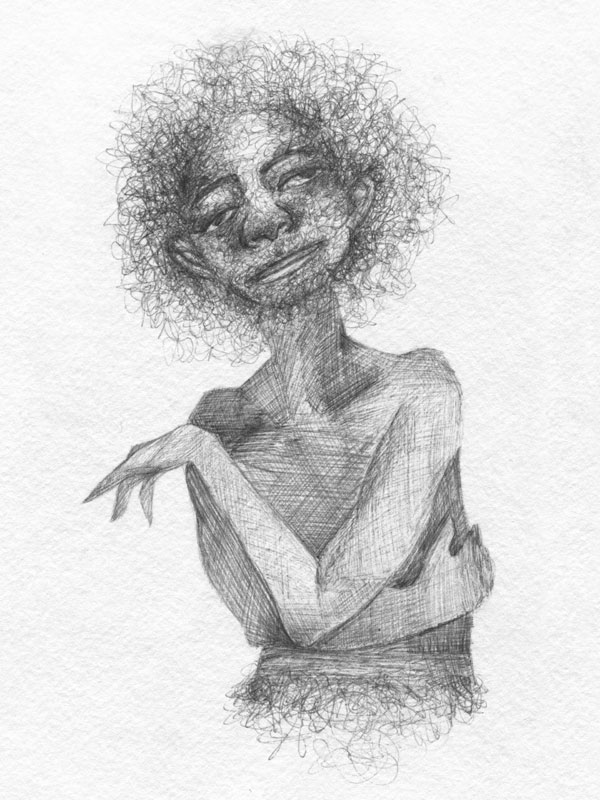 This solarplate etching by Aniyah Toro is on exhibit at High Arts Showcase XVI.
Teacher: Kasmira Mohanty
Grade: 12
Title: "Scribbled"
Type: Solarplate etching
Artist's statement: "My artwork, 'Scribbled,' was inspired by printmaker Dan Welden's use of expressive and wild line work within his solarplate etchings. I found Soft Reflection to be the most captivating. Welden's expressive lines intrigued me because although they looked careless, all together they give off a mood of turmoil and agitation. It made me think of storminess and the storms that brew within ourselves. I created a representation of myself. The figure is holding its side as if it's healing from a wound. The sporadic and chaotic implementation of line in my work is reprehensive of the hardships of healing and growth."
Caitlyn Palermo
Teacher: Heather Swan
Grade: 12
Title: "Not Enough"
Type: Video
Artist's statement: "My film, 'Not Enough,' is about an intelligent African-American teenager who questions participating in a school debate on racism because he is the only minority is his class. This project was inspired by Director Spike Lee and his films: "He Got Game," "Do the Right Thing" and "She's Gotta Have It." I studied Spike Lee because I wanted to create a film that challenged racial discrimination, a topic that has grown in importance to me over the past couple of years."
Craig Haas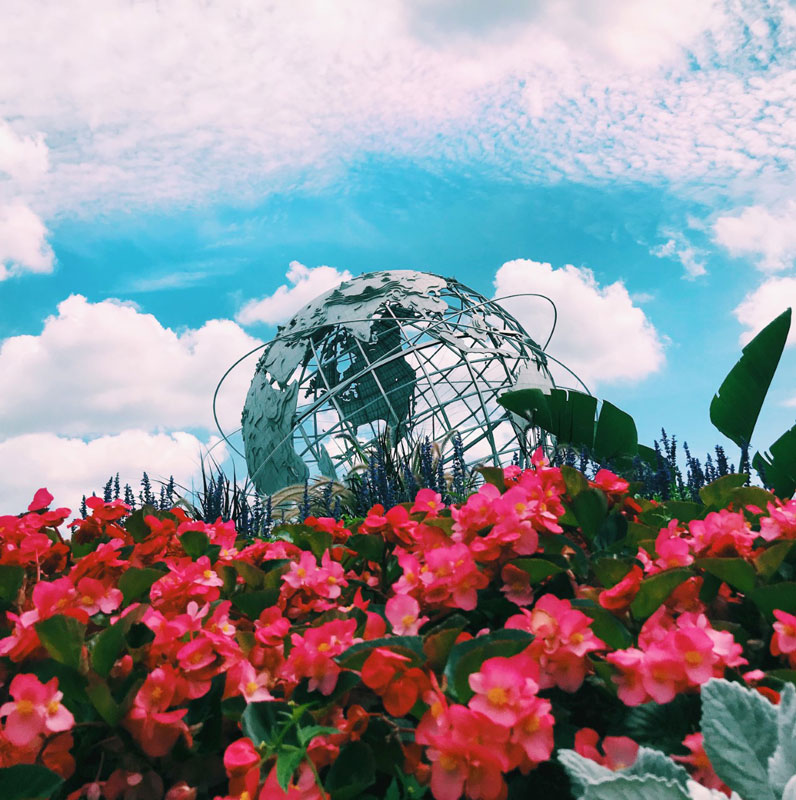 This photograph of the Unisphere by Craig Haas is on exhibit at High Arts Showcase XVI.
Teacher: Pamela Piffard-Williams
Grade: 12
Title: "World's Fair"
Type: Photograph
Artist's statement: "Through my images I like to portray the beauty of America. Each individual image represents a place and time that have a uniquely patriotic feel. I seek out places that make me feel proud of the place that I am from. In the image displayed, you see Flushing Meadow Park in Queens with the iconic globe that was created for the World's Fair in 1964. The globe feels both larger than life and somehow dwarfed next to the vivid flowers. The juxtaposition of the elements and saturated colors in the image portray the well-known location in the best light possible."
Steli Vlahos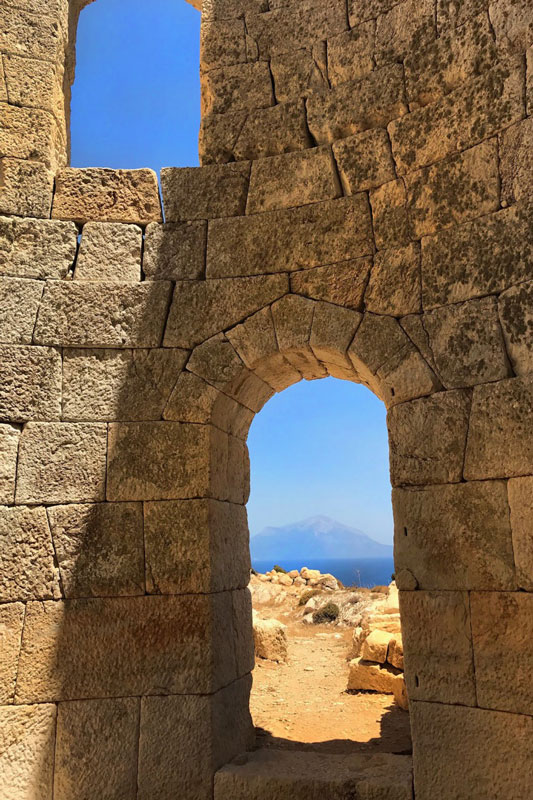 This photograph by Steli Vlahos is on exhibit at High Arts Showcase XVI.
Teacher: Pamela Piffard-Williams
Grade: 12
Title: "Ikaria"
Type: Photograph
Artist's statement: "My photographs represent and symbolize my Greek culture and heritage. I come from a 'big fat' Greek family and have been raised being around great food, great dancing, tight knit family and history. I try to capture all these aspects (and more), in my work, because they mean so much to me and have had such a large impact on my life. European cultures are underappreciated and not represented and shown in the world of art enough, as much as they used to. Our generation needs to appreciate and learn more from where they come from. Greek culture is so beautiful and I love to show it through my photography."
Niurca Chabla-Leon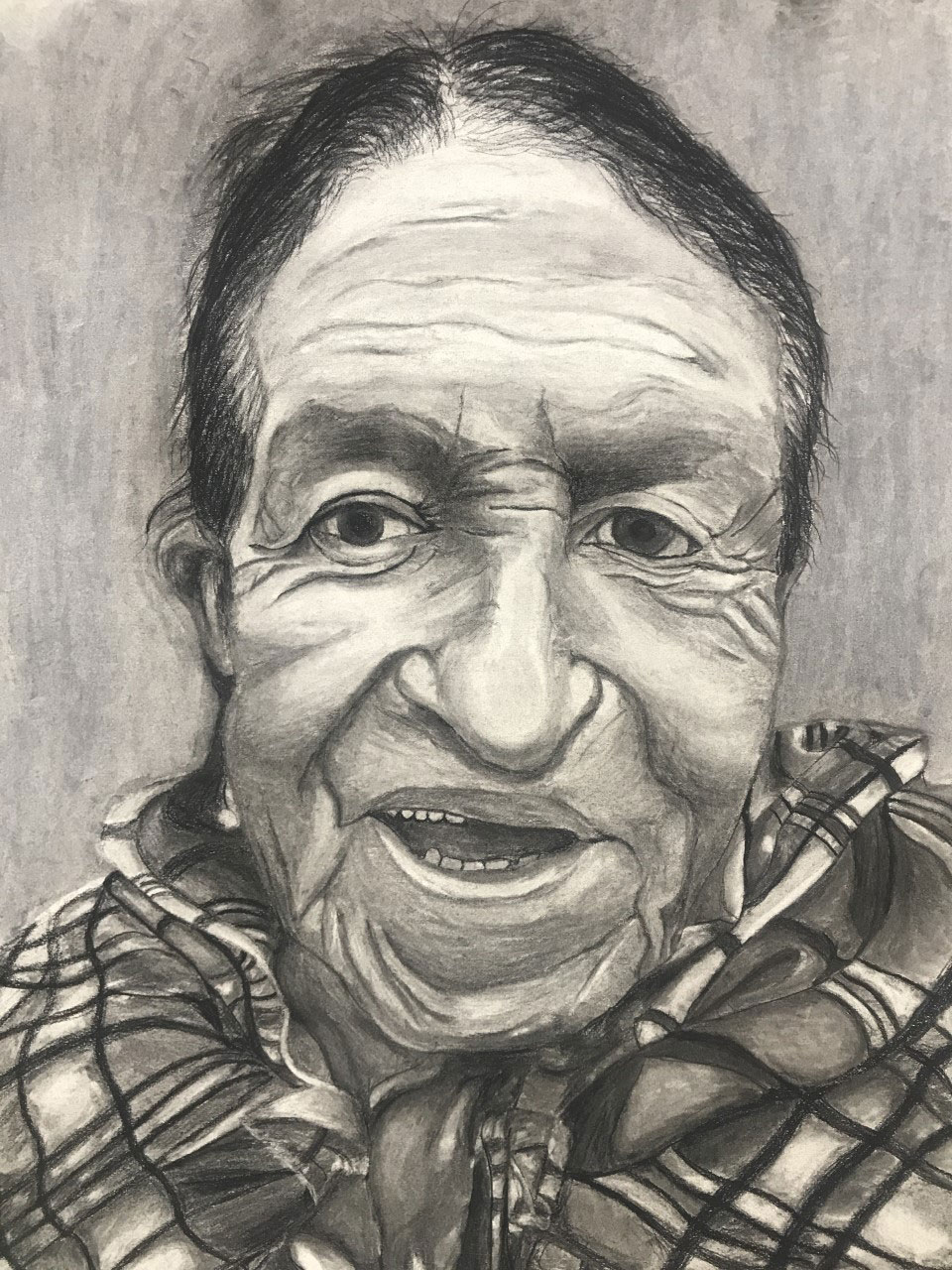 Niurca Chabla-Leon created this charcoal piece now on display at High Arts Showcase XVI.
Grade: 11
Teacher: Kristin Singer
Title: "Abuela"
Type: Charcoal
Artist's statement: "I was inspired to draw my 'Abuela' after traveling to Ecuador to visit my grandparents this past summer. Although I have only visited Ecuador a few times, the country is a special place for me since it is the birthplace of my parents. My mama left Ecuador for a better life for her family in the United States. It was a difficult decision for my mama to leave her parents and she misses them dearly. My mama is often sad that she cannot help her parents as they grow older. I drew my Abuela to make my mama happy so that she can 'see' my 'Abuela' every day. I wanted my portrait to realistically depict my 'Abuela' so I included as much detail as possible. I used charcoal to model the shadows in the face and charcoal pencils to add details in the hair and the eyes. I hope my portrait illustrates the love I have for my 'Abuela' and my mama."
Holly Wright
Holly Wright created this clay sculpture on display at High Arts Showcase XVI.
Grade: 12
Teacher: Ayallah Jeddah
Title: "Endangered Love"
Type: Clay
Artist's statement: "When I originally started this project I was planning on making a vase. As I was working on it, I began to see an elephant trunk forming and decided to change my direction. My classmates would ask me why I was not making the whole body and my reasoning was because I wanted to showcase the trunk and tusks. Ivory poaching for tusks is the main reason that elephants have been so heavily hunted and are endangered. I wanted to show the beauty of this wonderful animal using a variety of techniques. I chose to use darker colors for the body parts while using a brighter color for the tusks themselves. I also experimented with different kinds of texture, on the body and with the smoothness of the glass and tusks. The use of contrast helped to emphasize the beauty of the bold, white tusks against the darker body and glassy water. I am so glad that I decided to change my project because in the end, it has turned into one of my favorite pieces that I have made in my high school ceramics career."
Johanna Campos
Johanna Campos is exhibiting this mixed media piece at High Arts Showcase XVI.
Grade: 11
Teacher: Kim Valerio
Title: "Untitled"
Type: Mixed Media
Artist's statement: "For my project I took inspiration from my unconventional material which was in this case vinyl. Since the vinyl is transparent I wanted to demonstrate the transparency some people don't have. Nowadays people hide behind social media and pretend to be something they're not or things they don't have. People aren't able to have a conversation face to face with one another because social media makes it easier for us to filter everything for us, whether it be our face, our body, or even just conversations. I believe that we all hide under a mask for protection. I chose to add different objects in my dress to display some of the things people hide behind. My message behind my dress is to portray that it is okay to be different and be transparent with yourself and everyone around you because we're all unique in our own way."