March 12, 2019
Math is fun; it really is. Just ask the more than 300 Huntington UFSD students who challenged themselves in this year's MathCon contest.
A non-profit organization committed to promoting the study of mathematics in all its many forms, MathCon sponsors an annual two-part competition that provides students with an opportunity to vie against their counterparts across the country. More than 200,000 students in grades 4-12 have participated since 2008.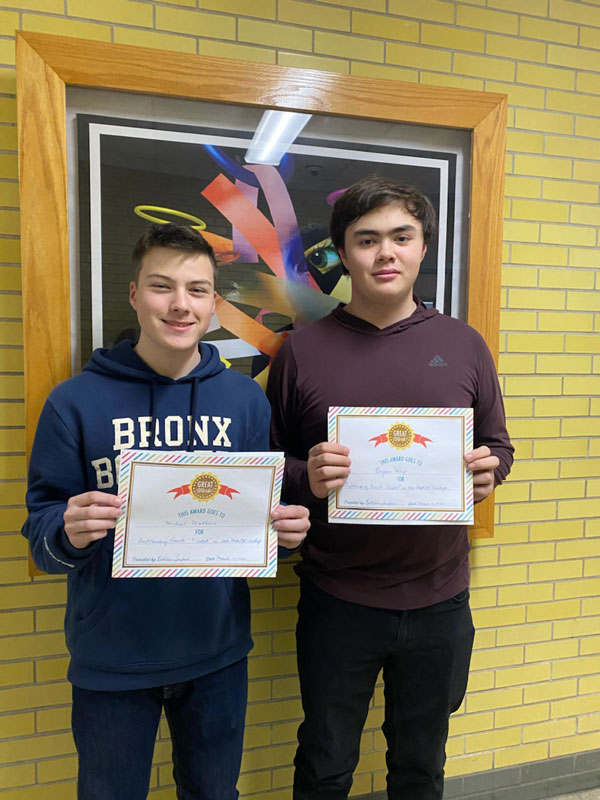 Michael Mathews and Bryan Wong have qualified for the MathCON finals
"MathCON gives us the unique opportunity to engage students in the joy of math at a young age," MathCon's Ayhan Caputlu said. "The competition encourages students from all over the nation to engage in math now, preparing them for a life and career as future innovators in science, technology, engineering, and mathematics. It does this by making math both competitive and rewarding, but also fun and interesting."
The current year saw 72 seventh and eighth graders at J. Taylor Finley Middle School and 235 fearless Huntington High School teenagers participating in the highly regarded competition, which features questions developed by notable mathematicians.
Huntington junior Bryan Wong and senior Michael Mathews have qualified for the MathCon national finals in Chicago in May.
Recognized for their achievement in this year's contest and named alternates for the national finals are Huntington students Enzo Pupillo, Mikah Schueller, Matthew Gennarelli, Oskar Kilgour, Gabriel Medina-Jaudes, Kyle Colleluori, Lily Stein, Emily Plachta, Michael Reed and Aislyn Franciscovich.
"We are very proud that we had two students that were invited to the finals and 10 students that were recognized for their achievement and invited as alternates for the final competition," said Kathleen Aufiero, Huntington UFSD math chairperson. "The accomplishments of these students is truly inspiring and we look forward to the years to come. Congratulations to all of the students who participated and good luck to the finalists if they choose to compete in Chicago."