March 3, 2019
In the final tune-up before the state and national championships the next two weekends, the Blue Devil boys' and girls' indoor track and field teams set three new meet records at the Long Island Elite invitational at St. Anthony's last Saturday night.
Huntington sophomore Analisse Batista set a new meet record in the 600m run, easily turning back a challenge from runner-up Michele Daye, a Half Hollow Hills West senior. Batista crossed the finish line in 1:34.69, nearly four seconds in front of Daye. The rest of the field trailed far in the distance.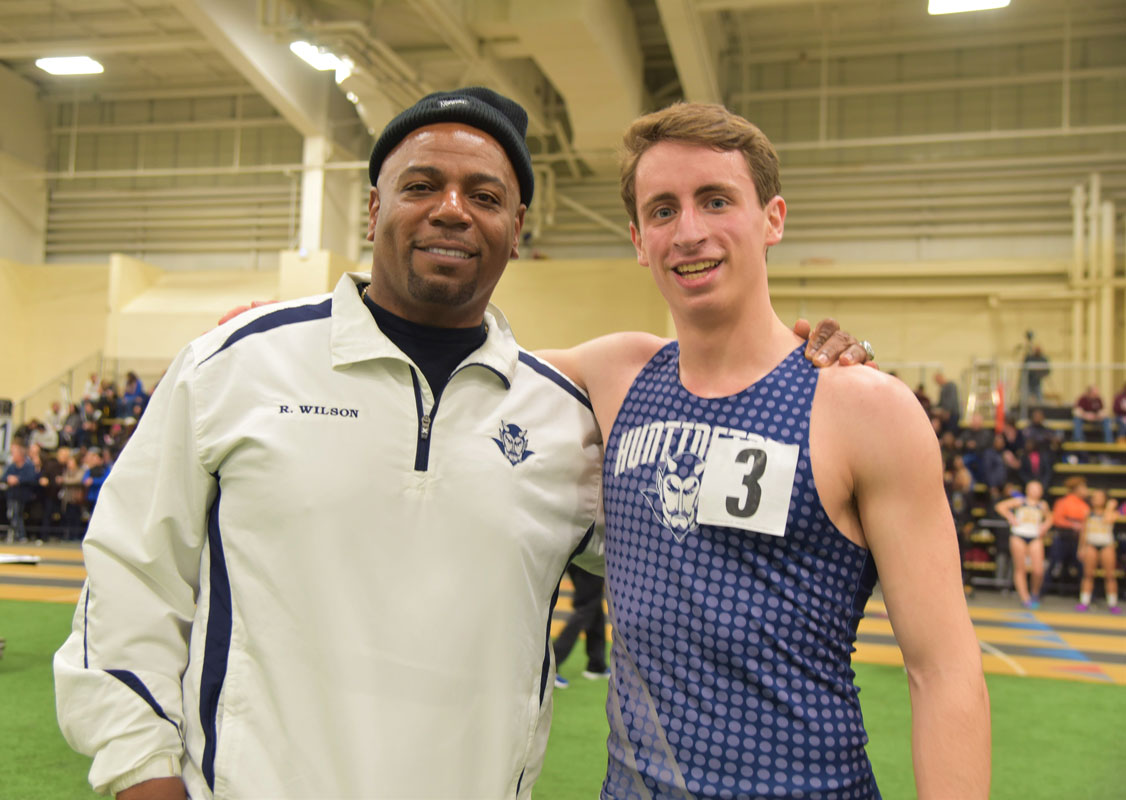 Coach Ron Wilson and Justin Stevens
The Blue Devil girls' team set a second new meet record in the 4x200m relay. Batista, Hope Bilkey, Alicia Brooks and Olivia Conte were spectacular, running the race in 1:42.84 to edge runner-up Walt Whitman by more than three full seconds.
The Blue Devil boys' 4x200m relay also set a new LI Elite meet record, edging Westbury by about one second in a time of 1:30.85. Sophomore Tyriek Mays-McKoy ran the first leg before juniors CJ Kiviat, Jason Turner and Anthony Joseph took the baton for the last three legs. Huntington's time was less than two seconds off the Long Island record of 1:29.08 set by St. Anthony's in 2014.
The Huntington boys' also won gold in the 4x400m relay with an amazing performance that came within a second of setting still another new meet record.
Sophomore Julio Martinez, juniors Isaiah James and CJ Kiviat and senior Justin Stevens overwhelmed the field, finishing in 3:26.84 or more than five full seconds ahead of runner-up St. John the Baptist, which ran the race in 3:32.03.
In other action for Huntington:
Alicia Brooks finished sixth in the 55m dash in 7:45 seconds.
Brianna Halbeisen won the freshman/sophomore 300m dash in a time of 42.66 seconds, nipping Walt Whitman's Lizzie Schreiber by 2/100ths of a second.
Alicia Brooks took fourth place in long jump with a leap of 17-05.25 feet.
In the 600m run, Justin Stevens finished second (1:23.39) and Isaiah James (1:24.20) took fifth place.
Gary Barash placed sixth in weight throw with a best effort that measured 52-08.75 feet.
Tyriek Mays-McKoy placed sixth in the 55m dash in 6.62 seconds.
Anthony Joseph took second place in long jump with a leap of 22-10.75 feet.
Gary Barash placed fourth in shot put with a throw of 48-02.50 feet. Mekai Butts placed eighth with a throw that measured 44-02.50 feet.